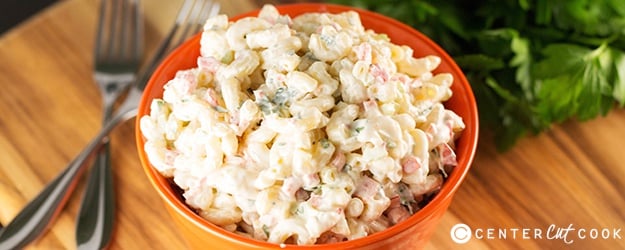 Macaroni Salad is such a classic side dish for BBQs and potlucks! Today I will be teaching you how to make macaroni salad that tastes even better than the pre-made macaroni salad from the deli at the grocery store. Easy macaroni salad pairs perfectly alongside burgers, hot dogs, ribs, and so many other summer staples.
Classic Macaroni Salad is super easy to make at home, and tastes just like what you might expect from buying macaroni salad at the grocery store. With just a few simple ingredients, you can make this classic summer side for your next BBQ. Don't forget to check out our other pasta salads if you are looking for something a bit different!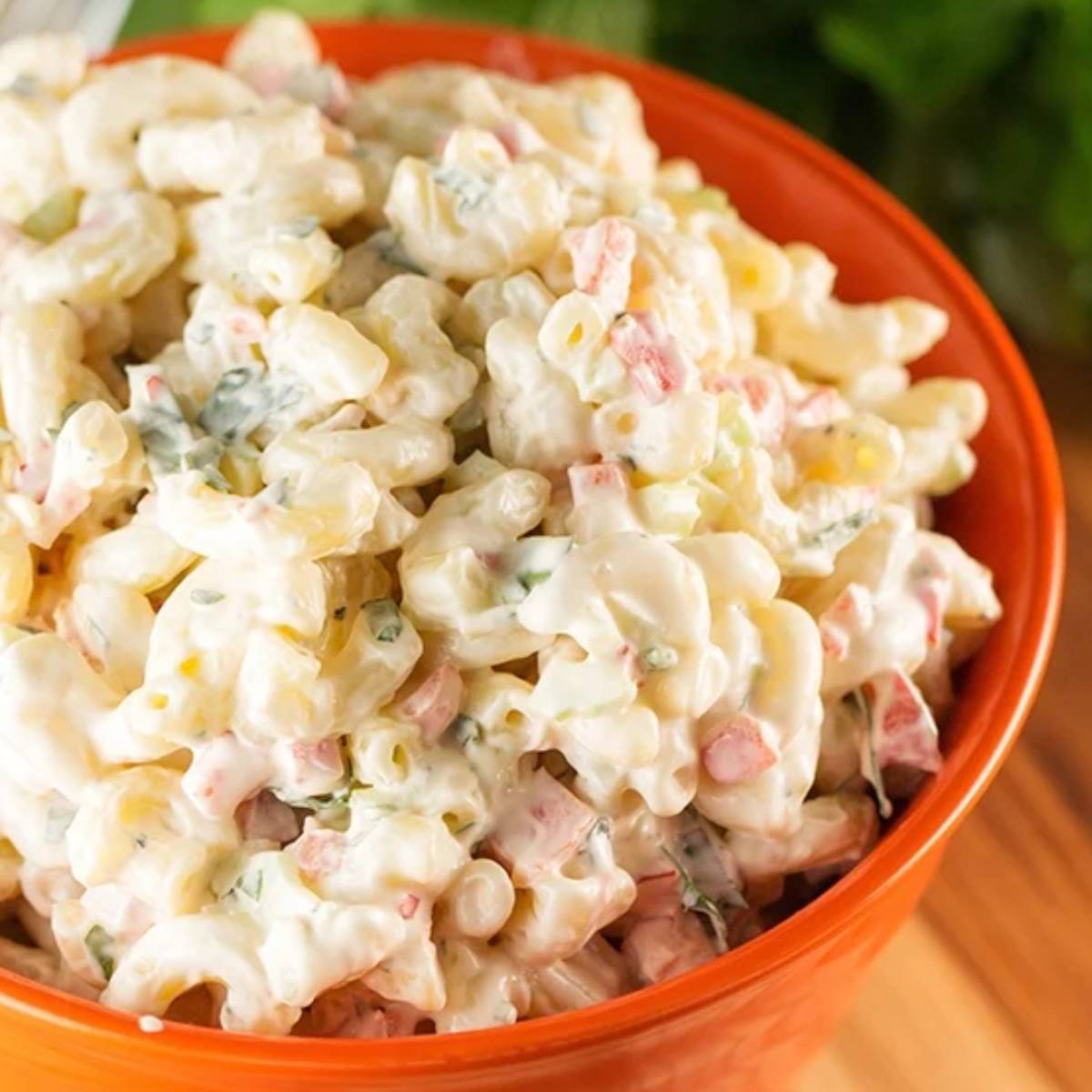 How to Make Macaroni Salad
Easy Macaroni Salad comes together quickly. You'll start by cooking 1 pound of elbow macaroni according to package directions, then draining it and rinsing it under cold water until it has cooled. Be sure to allow the macaroni to cool completely.
While the macaroni is cooking, you'll prepare the dressing and the other ingredients. To make the dressing for this easy macaroni salad, you'll need mayonnaise, sour cream, apple cider vinegar, yellow mustard, sugar, salt, and black pepper. Classic macaroni salad is also going to have 1 ½ cups finely chopped celery, along with 1 cup of finely chopped bell pepper. Add in finely chopped parsley if you wish.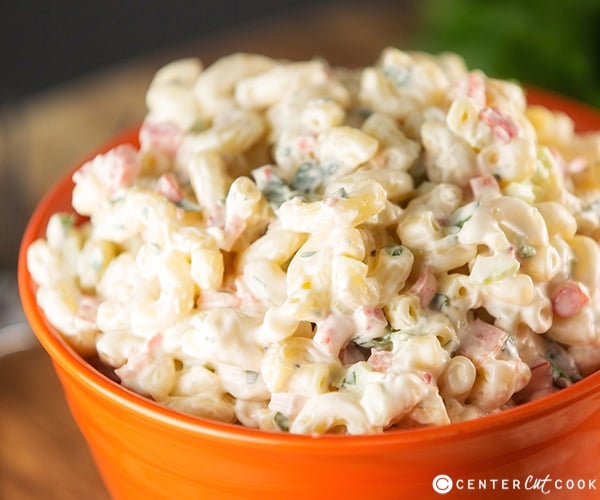 Easy Macaroni Salad Ingredient Notes
Mayonnaise is an important ingredient to make the dressing for this macaroni salad. I prefer to use Hellman's mayonnaise or Best Foods mayo. You'll need 1 ½ to 2 full cups of mayo – more if you like it extra creamy. Up to three full cups of mayo may be necessary to achieve your desired creaminess.
When chopping up your veggies, be sure to finely chop the celery and the bell pepper. Especially if you're goal is to make a macaroni salad that is reminiscent of what you'd buy from the deli at your grocery store.
Tips and Tricks to make incredible Macaroni Salad!
The beauty of this recipe is that it's super simple and basic, but it can be modified to suit your tastes. Want to throw in some peas? Go for it? Think tuna sounds good? Toss it in! There are so many ways to change up this recipe, yet it's still super delicious in its most basic form.
I actually prefer to eat it as it's written, just because it reminds me of the macaroni salad I ate growing up from the deli, but go ahead and change up this recipe however you'd like. I've even heard of adding shrimp or eggs!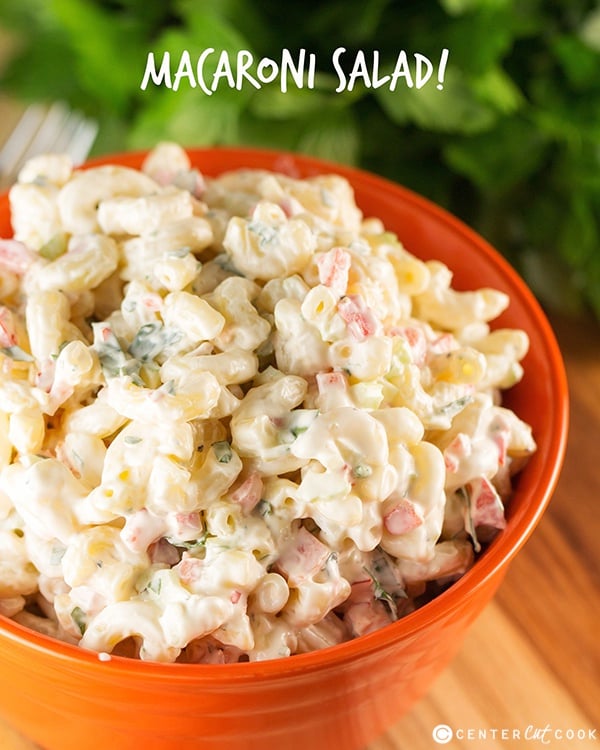 As I mentioned, this Macaroni Salad is really easy to make. It'll require only about 15 minutes of your time but will need to chill in the fridge for about an hour for the best result. You can eat it as is, but it definitely tastes a little better after it's had time to hang out in the fridge.
If when you go to eat it, it seams a little dry, stir in a little milk, about 1 tablespoon at a time until you get your desired consistency.
Easy Macaroni Salad is perfect for summer or any night of the week! I like to serve it alongside Grilled BBQ Ribs or these Everyday French Dip Sandwiches. Enjoy!
If you love macaroni recipes as much as we do, you must make this delicious Hawaiian Macaroni Salad. While I will always love this Easy Macaroni Salad, the Hawaiian variation is so delicious. And for those of you looking for a warm, more savory way to enjoy macaroni, try our Instant Pot Easy Mac and Cheese or our Cheesy Macaroni and Beef Casserole.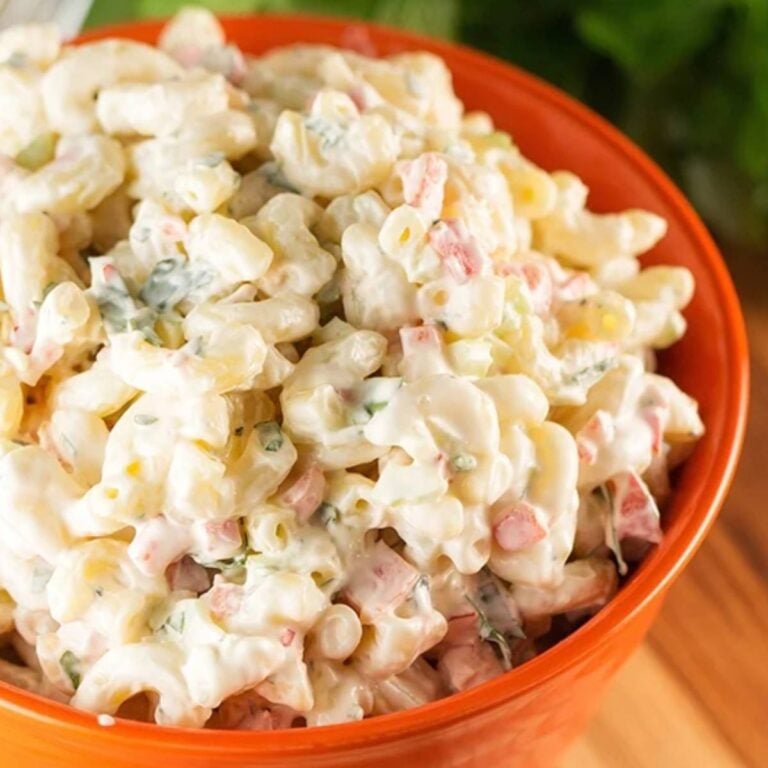 Easy Macaroni Salad
Easy Macaroni Salad, just like you'd get from the deli at the grocery store! Wondering how to make classic Macaroni Salad? This homemade recipe is easy and versatile. Add tuna, peas, or any of your favorite add-ins.
Ingredients
1

pound

elbow macaroni

cooked according to package directions

1 ½-2

cups

mayo

3

tablespoons

sour cream

3

tablespoons

cider vinegar

1

teaspoon

yellow mustard

2

teaspoons

sugar

1

teaspoon

salt

1/2

teaspoon

black pepper

1 1/2

cups

finely chopped celery

1

cup

red bell pepper, diced

1/4

cup

finely chopped parsley
Instructions
Cook elbow macaroni according to package directions, then drain and rinse under cold water until the pasta has cooled. Drain well.

In a large bowl combine mayo, sour cream, cider vinegar, yellow mustard, sugar, salt, and black pepper.

Combine the macaroni with the dressing, then stir in finely chopped celery, diced red bell pepper and finely chopped parsley.

Chill for 1 hour before serving. Enjoy!