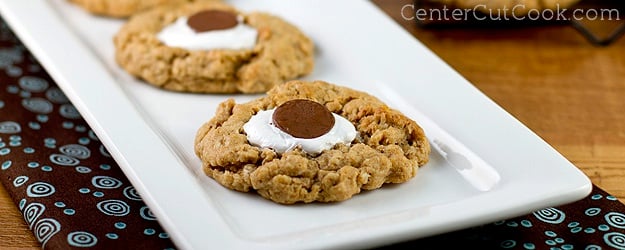 S'mores seem to be all the craze lately. Everywhere I turn I'm seeing S'mores fused into brownies, pies, cakes, muffins, and macaroni and cheese. Kiiiding, not macaroni and cheese, but you get my point. S'mores are everywhere! Not wanting to neglect the trend (like I did with Jeggings), I decided to try my hand at S'more cookies, but I kicked it up a notch with the addition of my favorite, peanut butter!
Despite my love for all things peanut butter, the thought never occurred to me to add peanut butter to S'mores (try it, it's fabulous) until a trip to the fondue restaurant, The Melting Pot. For dessert the waitress recommended the S'more's fondue, and told us to add peanut butter because it was her favorite and it was uh-mazing. As a result of this trip to the Melting Pot, when I came across a recipe for plain S'more cookies, it was a serious no-brainer to add peanut butter.
These cookies are delicious for SO many reasons, and not just the peanut butter! There are hints of honey, cinnamon, oatmeal, and then you get a little crunch from ground up graham crackers. No S'more would be complete without chocolate and marshmallows , so each cookie gets a little marshmallow creme in the middle, and a Hershey's Kiss (placed point side down). The result is a tasty little cookie that after having one, you'll be asking for s'more (sorry, I just couldn't help myself!). :) Enjoy!
Notes: Do not stack these cookies. The marshmallow creme will stick! I even tried stacking with a layer of wax paper, which did not work. Your best bet is to lay them out on several plates, or store on a large cookie sheet. Additionally, the dough needs to chill for 2-3 hours, so plan accordingly.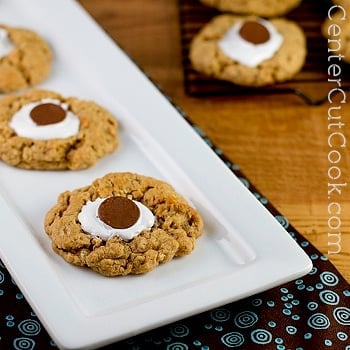 INGREDIENTS
4 cups regular rolled oats (old fashioned oats)
1 1/2 cups all purpose flour
1 cup finely crushed graham crackers
1 teaspoon baking soda
1 teaspoon baking powder
1 teaspoon ground cinnamon
1/2 teaspoon salt
1 cup butter, softened
1 cup brown sugar
1/2 cup sugar
2 eggs
1/4 cup milk
1 tablespoon vanilla
3/4 cup peanut butter
1-7 ounce jar marshmallow creme
36 Hershey's Kisses (Milk Chocolate), unwrapped
DIRECTIONS
In a large bowl combine rolled oats, flour, ground-up graham crackers, baking soda, baking powder, cinnamon, and salt. Set aside.
In the bowl of your mixer, beat the butter for a few seconds, then add in brown sugar and sugar and mix for a minute.
Add in eggs, milk, and vanilla and mix until combined.
Mix in peanut butter.
Slowly begin pouring dry ingredients into the wet and mix until all is combined. Cover the bowl and place in the refrigerator.
Allow the dough to chill in the refrigerator for 2-3 hours.
Preheat the oven to 375 degrees and lightly grease your baking sheets.
Place heaping rounded tablespoons full of dough on your cookie sheet, about two inches apart.
Bake for 8 minutes, then remove from the oven.
Using a round teaspoon or other small rounded utensil, make a small indentation in the center of each cookie.
Fill a ziplock bag with marshmallow creme, cut the tip off the bag, and pipe about 1 teaspoon of marshmallow creme in the center of each cookie. Don't over-do the marshmallow creme, otherwise it'll ooze out of the indentation.
Place a Heshey's Kiss in the middle, point side down.
Bake the cookies for an additional 3-5 minutes or until the edges start to brown.
Remove from the oven and allow to cool on the cookie sheet for a few minutes, then use a spatula to transfer the cookies to a wire cooling rack to finish cooling.
This recipe yields about 3 dozen cookies.
Recipe adapted from
Midwest Living, May 2012