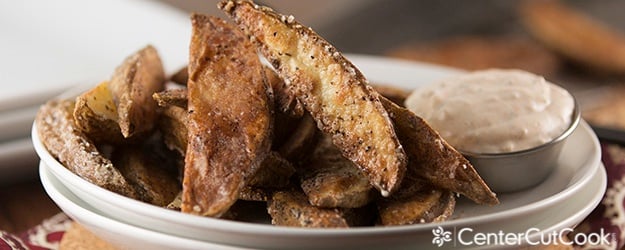 Let's talk about potatoes, shall we? If you are anything like me, you have not met a potato that you didn't like. French fries, baked potatoes, mashed potatoes, did I mention fries? Potato casseroles, hash browns, Hash Brown Casserole (and you tried it? It's awesome!) and on and on… Seriously, I have not tried a potato recipe that I didn't like. Potatoes, for me, often define and describe comfort food to a perfect T.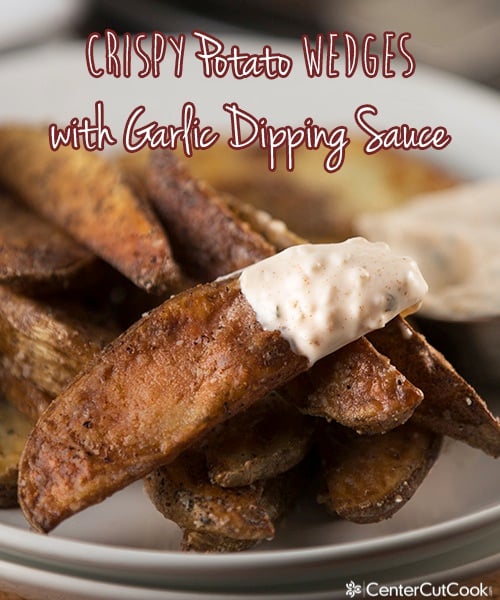 Today's recipe for Crispy Potato Wedges with Garlic Dipping Sauce ranks up there as one of my favorite potato recipes of all time. They are baked in the oven with a relatively small amount of oil, compared to deep frying them, and the result? Crispy baked Potato Wedges! The seasoning is pretty basic too, consisting of salt (kosher salt if you have it), black pepper, and a little garlic powder.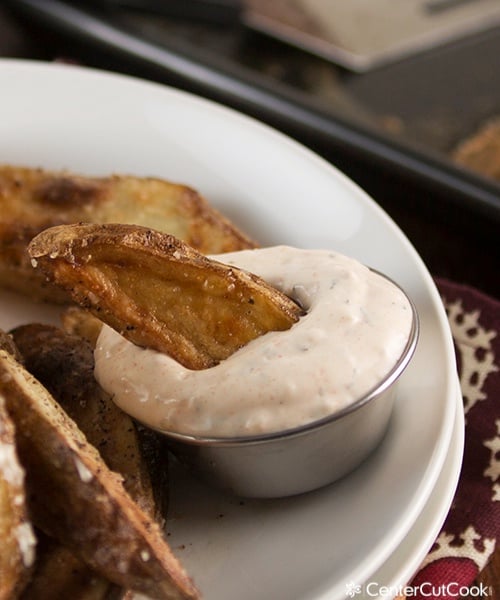 To complete the whole crispy potato wedge experience, I decided they needed a dipping sauce. Is there anything better than dipping crispy crunchy french fries (or potato wedges, in this case) into a saucy yummy dipping sauce? I think not! I decided to go with a garlicy creamy sauce, because I'm all about garlic these days.
The method is pretty simple, and the oven really does most of the work! One of the reasons this recipe works is the high oven temperature. You'll set it to about 475 degrees, and you'll want to make sure that the rack in the oven is as low as it can go. Having the pan close to the heat source also helps these guys crisp up perfectly. I tend to get the best results with a dark coated pan, but you can use whatever you have.
So, to recap, Crispy Potato Wedges are baked in the oven (with the temperature set pretty high) instead of fried, yet they are still super crispy with just the right seasoning! The dipping sauce is creamy with lots of garlic flavor, and perfect for dipping the crispy potato wedges! With a recipe as delicious as this, there's no need to resort to fast food (I hear KFC has potato wedges) to satisfy your hankering for crispy potato wedges.
POTATO WEDGE INGREDIENTS
3-4 russet potatoes, scrubbed and cut into wedges slightly larger than 1/4 inch thick.
6 tablespoons canola oil
1 1/2 tablespoons cornstarch
1 teaspoon salt
1/2 teaspoon black pepper
3/4 teaspoon garlic powder
GARLIC DIPPING SAUCE INGREDIENTS
1/3 cup mayo
1/4 cup sour cream
2 teaspoons minced garlic
1/4 teaspoon smoked paprika
Pinch of salt
1/4 teaspoon black pepper
DIRECTIONS
Pre-heat your oven to 475, and make sure one of the racks is in the lowest position.
Drizzle 5 Tablespoons oil on a large rimmed baking sheet (a dark coated pan works best if you have one available), coat the baking sheet and place in the oven for 5-7 minutes to heat the oil.
In a large bowl add 1 tablespoon canola oil. Add in potato wedges and toss to coat. Cover the bowl with plastic wrap and microwave for 4-6 minutes, stopping halfway to toss the potatoes. The goal is to soften the potatoes a bit, until they are translucent around the edges.
In a small bowl combine cornstarch, salt, pepper, and garlic powder.
Use a slotted spoon to transfer the potatoes to a paper towel lined plate. Dab the potatoes with paper towels to remove any excess liquid. Drain any remaining oil/liquid from the bowl. Return the potatoes to the bowl and toss them with the cornstarch mixture.
Transfer the seasoned potatoes to the prepared baking sheet.
Bake for 15 minutes, then turn once, and continue baking for anywhere from 10-20 minutes longer, or until the potatoes are crispy and golden brown. You'll want to keep an eye on the potatoes towards the end to ensure that they don't get too crispy.
While the potatoes bake, make the garlic dipping sauce. In a small bowl combine 1/3 cup mayo with 1/4 cup sour cream, 2 teaspoons minced garlic (more or less depending on your preference), 1/4 teaspoon smoked paprika, a pinch of salt, and 1/4 teaspoon black pepper.
When the potatoes are done baking, transfer them to a paper towel lined plate to soak up any excess oil and serve immediately with dipping sauce on the side.
Yields approximately 4 servings.
Recipe from
CenterCutCook