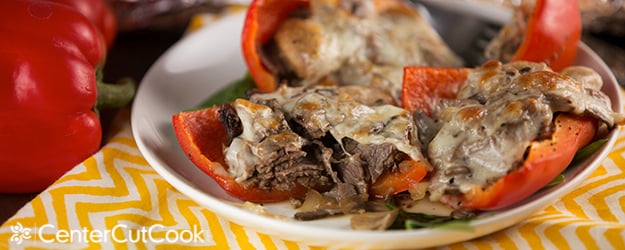 My recipe for melt-in-your-mouth delicious Philly Cheesesteak Sandwiches is one of the most popular recipes on CenterCutCook! What's not to love about tender steak with ooey gooey cheese? Since posting it, I've gotten a handful of messages from some of you who follow low-carb and/or gluten free diets, wondering if I could possibly create an option that would suitable for your diet restrictions which is how this delicious recipe for Philly Cheesesteak Stuffed Peppers came to be!
Now, traditionally stuffed peppers are made with ground beef, rice, and tomato sauce in peppers that are sitting upright. I ditched all of those things to come up with this version, without rice, without ground beef, and without the tomato sauce. Instead I cut the peppers down the center to create two halves which speeds the cooking time up a bit! Then I stuffed them with thin slices of deli roast beef, sautéed some onions and mushrooms, and topped them with melty provolone. The result? A low carb, gluten free, fabulous version of Philly Cheesesteak Stuffed Peppers.
The result? Tender peppers with tender beef and veggies with all that melty cheese! Exquisite! If you enjoy traditional stuffed peppers, I'm certain you'll enjoy this recipe for Philly Cheesesteak Stuffed Peppers. The best part is that they are ready in about 35 minutes with very little hands on prep time.
I chose to use deli roast beef, just to speed things up, but you could certain follow the method I used in my Philly Cheesesteak Sandwiches recipe. In that recipe I put sirloin steak in the freezer for about an hour to make it easy to slice the beef into ultra thin slices. That route will take just a bit longer, but the result will be just a bit better. If you're trying to get dinner on the table quickly, I'd suggest just picking up some quality roast beef from the deli.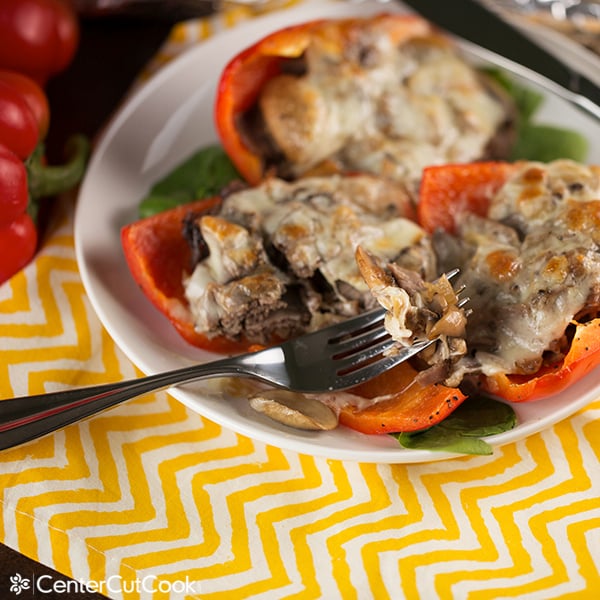 I planned for 2 halves (or 1 whole pepper) per person. This recipe will serve 4. I used red peppers because that's what I had on hand, but feel free to use green peppers. Enjoy!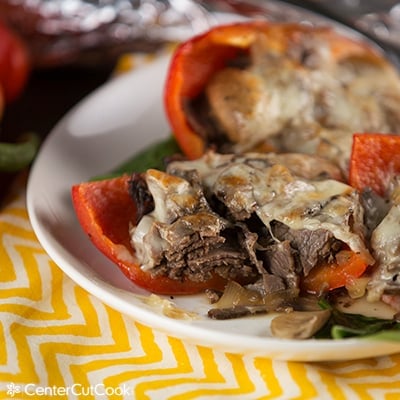 INGREDIENTS
4 large red bell peppers
3/4 pound sliced deli roast beef, cut into small pieces
1 tablespoon olive oil
6 ounces sliced mushrooms
1/2 of a medium yellow onion, thinly sliced
Salt and black pepper for seasoning
8 slices provolone cheese, or any other cheese of your choice
DIRECTIONS
Preheat your oven to 400 degrees.
In a large skillet, heat 1 tablespoon olive oil over medium heat. Sauté the mushrooms and onions until tender, about 5-10 minutes. Season the veggies with a little salt and pepper. Add in pieces of deli roast beef and just stir to combine the meat with the veggies.
Meanwhile, as the veggies cook, prep the bell peppers by cutting top off the pepper. Cut the pepper in half from top to bottom, to create to halves that you can fill with the beef mixture. Be sure to remove seeds and membranes.
Arrange the pepper halves on a large rimmed baking sheet and season each pepper with a little salt and pepper.
Divide the meat mixture among the 8 halves. Top each pepper with a slice of provolone cheese.
Cover the peppers with foil (I like to spray a little non-stick cooking spray on the foil so that it won't stick to the cheese) and bake for 15 minutes.
Remove the foil and bake for another 5-10 minutes, or until the cheese is all bubbly and melted. If you want to brown the cheese a little, you can broil them on high for just a couple of minutes (keep an eye on the peppers, they'll brown up quick!).
Serve immediately and enjoy!
Recipe adapted from
CenterCutCook