Pepperoni pizza dip is the perfect, delicious appetizer to serve at your party and it is incredibly easy to make. This dip is cheesy, warm, gooey and so good! There's really not much more that I need to say, I'll just let the pictures of this fabulous Pizza Dip do the talking:
Creamy cream cheese and a bit of sour cream get combined with freshly shredded mozzarella and parmesan cheeses, and a hint of Italian seasonings for the first layer of the dip. The pizza sauce of your choice comes next for the second layer, then comes more cheese. Finally, this masterpiece is topped with all of your favorite pizza toppings and baked until warm and bubbly.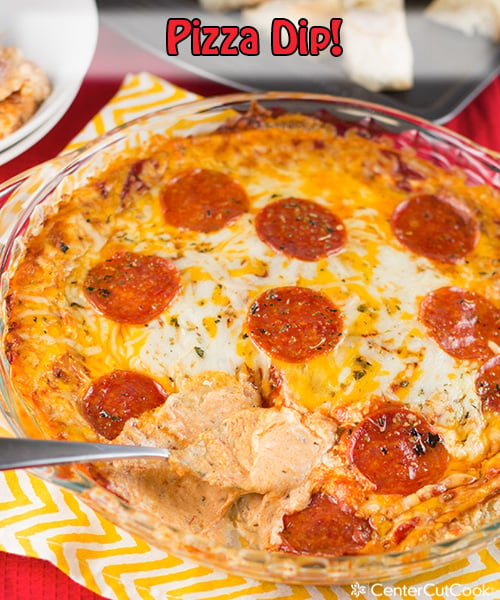 Did I mention that this incredible Pizza Dip is so easy to make? There are so many things you could dip into this pizza dip – everything from crackers and veggies to pretzels and bread. We typically toast up a loaf of French bread to serve alongside this gooey dip and it's just perfect!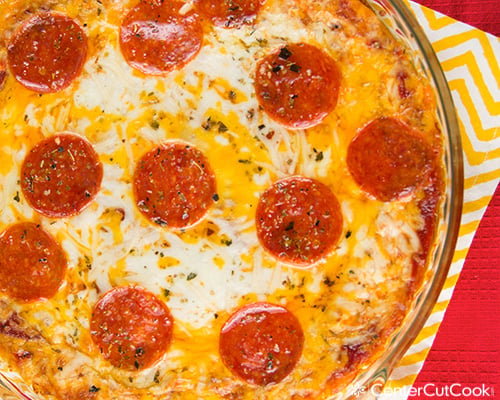 Ready in 30 minutes, Pizza Dip is suited perfectly for parties and entertaining!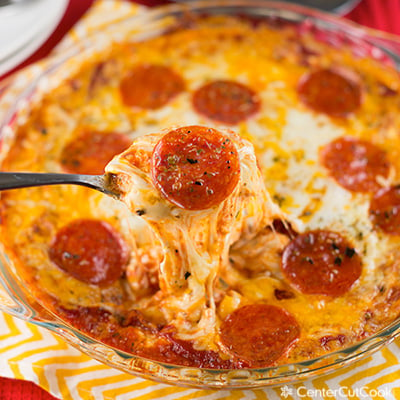 INGREDIENTS
8oz package cream cheese softened
1/2 cup sour cream
1 cup freshly grated parmesan cheese – divided
2 cups freshly grated mozarella cheese – divided
1/2 teaspoon dried oregano
1/2 teaspoon dried parsley
1/2 teaspoon dried basil
1 cup pizza sauce
Pizza toppings like pepperoni, mushrooms, green peppers, etc.
1/2 teaspoon Italian Seasoning for garnish
Dippers of choice – pretzels, crackers, vegetables, bread, etc.
DIRECTIONS
Pre-heat your oven to 350 degrees.
In your mixer bowl, combine cream cheese, sour cream, 1/2 cup of the parmesan cheese, and 1/2 cup of the mozzarella cheese.
Add in oregano, parsley, and basil. Mix until mixture is light in fluffy.
Spread in the bottom of a pie pan, then top with 1 cup of pizza sauce.
On top of the sauce, add remaining 1/2 cup of parmesan cheese and 1 1/2 cups mozzarella cheese.
Top with your favorite pizza toppings and add a dash of Italian Seasoning for garnish.
Bake in the oven for 20 minutes or until the dip is warm and bubbly.
To serve with toasted baguette – cut baguette into 1 1/2 inch slices, drizzle with a bit of olive oil to coat, then bake in the oven for 10 minutes at 350 degrees, flipping the bread half way to toast both sides.