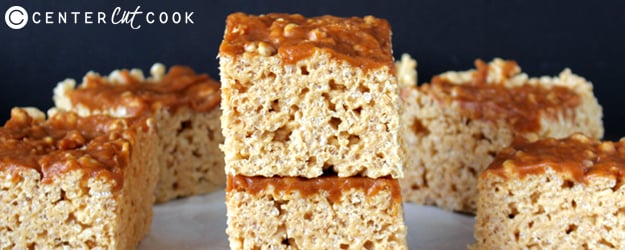 These rice crispy treats are no-bake, made in just minutes, and are incredibly delicious! They are a little fancier than regular Rice Krispy Treats, but they are just as easy to make.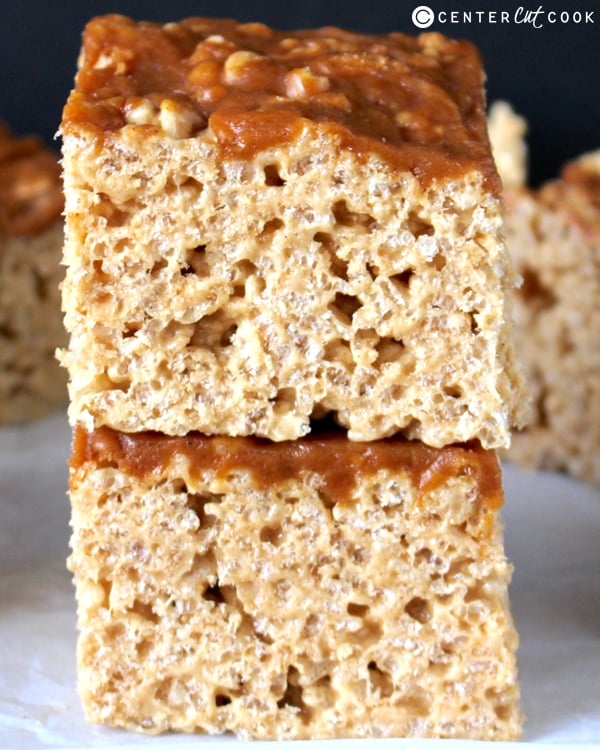 People always go crazy for these when I bring them to church. Everyone seem to have a soft spot for Rice Krispy Treats and I don't blame them. They are an old-time favorite that people can't get enough of–adding a little pumpkin caramel to them puts them over the top and they disappear so fast! Each bite is full of gooey caramel and marshmallow and the crunch of the Rice Krispies makes them perfect!
One tip is to have everything ready before you start making them. Measure out the Rice Krispies, line the pan with foil and spray it, and have the caramel sauce ready and warmed (if stored in the fridge). That will make things go smoothly once you start melting the butter.
If you love regular Rice Krispy Treats, then you will certainly love these!! In less than 10 minutes these can be made and you can be enjoying this delicious quick treat.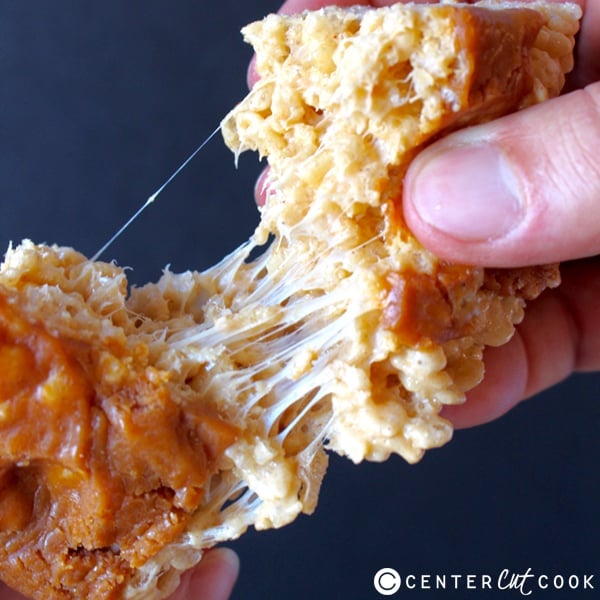 INGREDIENTS
5 cups Rice Krispy cereal
1 10 oz bag marshmallows
4 tablespoons butter
1/3 cup pumpkin caramel sauce
1/4 cup pumpkin carmel sauce, for the top
DIRECTIONS
Measure out the Rice Krispies into a large bowl.
Line a 9×9 square pan with foil and spray with non-stick spray; set aside.
In a large pan, melt butter on medium heat until completely melted. Add in the marshmallows and stir until all they are melted and the mixture is smooth. Turn off the heat and add 1/3 cup caramel.
Pour mixture the rice krispies and mix well, making sure the cereal is evenly coated with the mixture.
Gently press into the prepared pan as evenly as possible.
Top with 1/4 cup caramel sauce.
Servings: 9-12