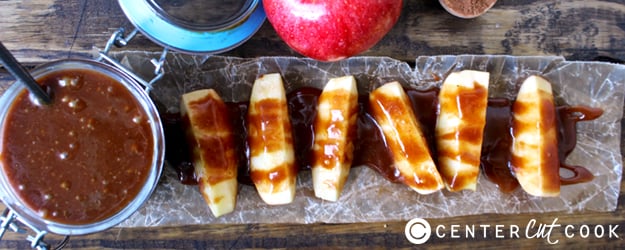 Okay, a little disclaimer: there is no pumpkin in this caramel, it is just the spice mixture which is what people associate with pumpkin. Pumpkin itself is pretty bland tasting without much flavor- it's those seasonings that really give it that "pumpkin" flavor. This caramel has so much flavor and will not disappoint!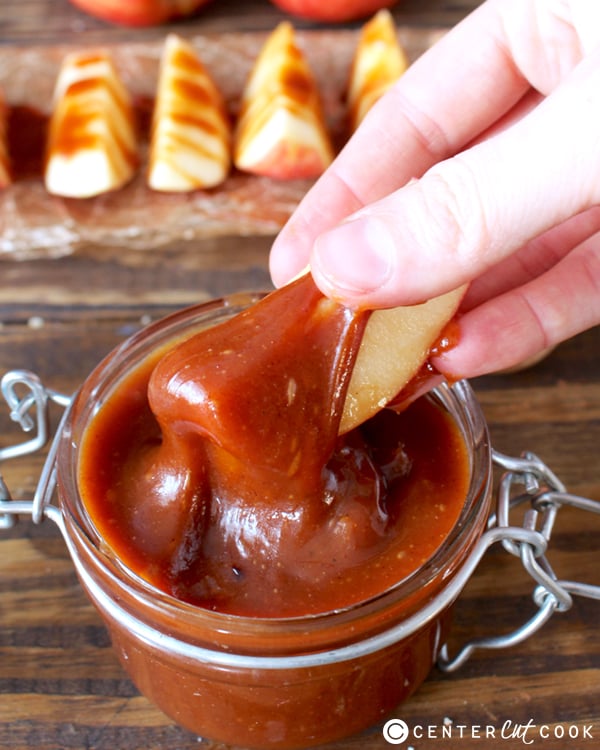 I absolutely love this caramel and I know you will too! I've always been a little scared of making caramel because it usually requires a candy thermometer and being precise on the temp is needs to get to. Not with this one though, there's no thermometer needed, it's super quick, and I've never messed it up!
This is a fast moving recipe so I suggest having all the ingredients measured out so they can be added quickly. The mixture needs to be stirred constantly so you can't take a break to measure ingredients out. I like to keep my butter and heavy cream on the counter next to the pan so I can add them easily. It's also important to use a wooden spoon or something that won't melt. I've learned this the hard way when I melted a spatula. I have included step-by-step pictures so you can know what to expect it to look like.
Place sugar in pan and turn on heat to medium. Stir consistently using a wooden spoon.
Clumps will start to form and the mixture will start turning brown. Continue to stir until completely melted and smooth.
Once the mixture is totally smooth, add the butter. It will bubble up- continue to stir until the butter is completely melted.
Once the butter is melted, add in the heavy cream. Boil for 1 minute, stirring the whole time. Take off the heat and add in the salt and pumpkin pie spice. Pour into a glass container and let cool before using.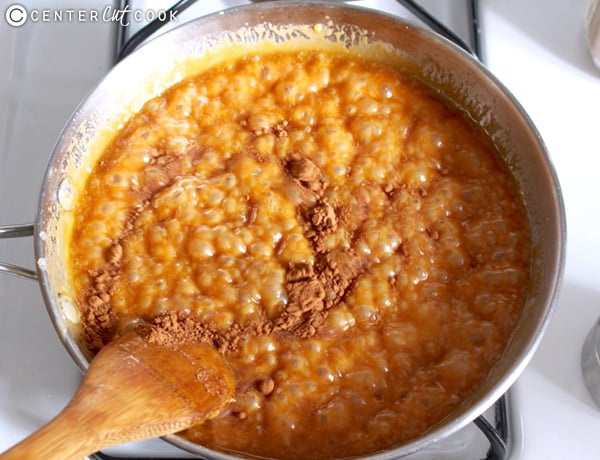 If you're wondering what to do with it, here are a few ideas:
Dip apples into it for the ultimate fall treat
Use as a topping for ice cream
Drizzle over cake instead of frosting
Eat with a spoon :)
You will love how easy this caramel is and how delicious it is! So creamy, smooth, thick, and full of pumpkin spice.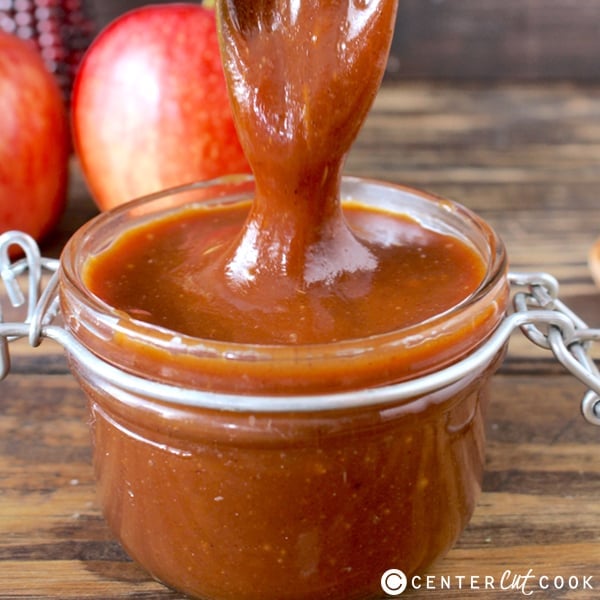 INGREDIENTS
DIRECTIONS
In a large skillet, cook sugar on medium heat until fully melted. It will start out dry, then start to clump, then become mostly melted and turn brown, then be smooth and brown.
Once it's smooth, add butter and stir quickly. Mixture will bubble up.
Once butter is completely melted, add in the heavy whipping cream. Again the mixture will bubble, just continue to stir. Boil for 1 minute, then take it off the heat and add the pumpkin pie spice and salt. Stir to incorporate and pour into a heat safe container. Glass works best. Mixture is extremely hot so don't be tempted to test it right away. Store in the fridge for up to 2 weeks. Serve with apples, on top of ice cream, or any way desired.
Servings: 6-8