Have you ever tried making your own granola? If not, you're in for a treat!
Making homemade granola is very easy to do and the actual granola is so much crunchier, more flavorful, and fresher than what you can buy at the store. It's hard to believe just how much better it is, once you've tried it.
Plus, when you make your own granola, you can control all the ingredients you're using which can make your granola a whole lot healthier than if you purchased it pre-made. Oftentimes, store-bought granola is loaded with additional sugar – so much so that it can have a higher sugar content than sugary cereals.
This recipe for pumpkin spice granola is really delicious. I use all non-refined sugars so this is a very healthy, yet sweet granola that has the warmth of the pumpkin spice flavors and then the nice crunch from the oats, pumpkin seeds, and flaxseeds. It's also high in protein and good fats so you're doing your body and your tastebuds a favor with this tasty snack.
I hope you try this recipe out for yourself this Fall!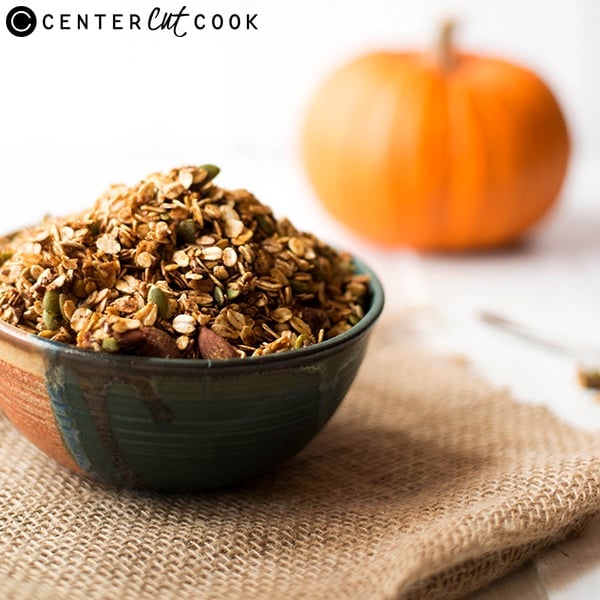 INGREDIENTS
1/4 cup maple syrup
1/2 cup fresh pumpkin puree, divided
3 tbsp. coconut oil
4 cups old fashioned oats
1/4 cup coconut sugar
1 tsp. vanilla extract
1 1/2 tsp. ground cinnamon
1/2 tsp. ground nutmeg
1/8 tsp. ground cloves
1/8 tsp. ground ginger
1/8 tsp. ground allspice
1/4 tsp. kosher salt
1/2 cup almonds
1/2 cup raw pumpkin seeds (pepitas)
3 tbsp. flaxseeds
DIRECTIONS
Heat an oven to 300 degrees.
Line a baking sheet with tin foil or parchment paper
Combine the maple syrup, roughly 1/3 of the puree, and oil in a small mixing bowl and mix well. Set aside.
In a large bowl, combine the oats, coconut sugar, vanilla, and spices plus 2/3 of the pumpkin mixture.
Lay flat on baking sheet.
Cook in oven for 12-15 minutes.
Add the almonds, pumpkin seeds, and flaxseeds plus the remaining maple puree mixture and toss.
Place back in oven for 5-10 minutes, to golden.
Let sit – the granola will harden as it cools.