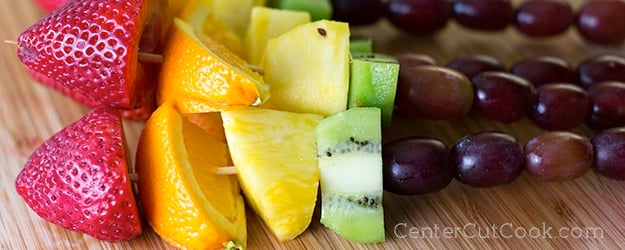 If you are looking for a beautiful, fun way to serve fruit, look no further than these rainbow fruit kabobs! Kid-friendly, and delicious, they are perfect for an after-school snack, a party, or even as a side for dinner during the summer months. Each kabob has a variety of fruits like strawberries, oranges, pineapple, kiwi, and grapes. You can select any fruits you'd like, but these kabobs tend to look best if you follow the colors of the rainbow as best as you can (Red, Orange, Yellow, Green, Blue, Indigo, Violet). They also make for a beautiful presentation when entertaining. I've made these for Christmas parties, a baby shower, and even brought them to girl's night one week.
Choose any fruits you'd like, as long as they go along with the rainbow theme! If you've never cut a pineapple before, and you're not quite sure what to do, check-out this handy guide: how to cut a pineapple. A pineapple can look a little intimidating, but it is really pretty painless to cut up!
Don't they look so pretty? You'll get compliments left and right when serving these guys! Fresh, healthy, delicious! Love 'em!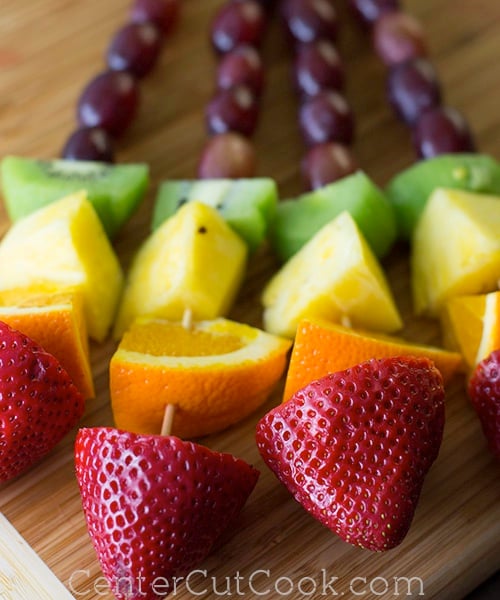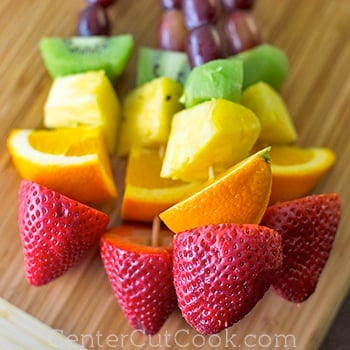 INGREDIENTS
Skewers (I find them in the baking aisle at my grocery store, I've also seen them in the cooking section at stores like Target or Wal-Mart)
Strawberries
Orange chunks
Pineapple chunks
Kiwi chunks
Grapes
*Please feel free to swap fruits in and out as you see fit. I've made these with blueberries, raspberries, green grapes, and bananas before. I always leave the strawberry because it just looks so pretty on the end.
DIRECTIONS
Wash and prepare all of your fruit by cutting the oranges, pineapple, and kiwi into chunks.
Take a skewer and begin adding one piece of fruit at a time. Start with a strawberry, then add an orange, pineapple, kiwi, and finally grapes.