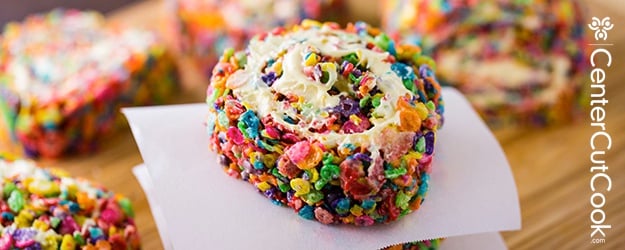 Rice Krispie Treats…. a treat that just about everybody has had at one point or another. They're a classic, not to mention versatile! A couple of weeks ago, Ryan and I went out for dinner to our favorite BBQ restaurant where I spotted these beautiful colorful Rice Krispie Treats. It turns out, they were made with Fruity Pebbles. I suppose if they aren't made with Rice Krispies cereal, you can't actually call them Rice Krispie treats, but Fruity Pebbles Treats just doesn't flow like Rainbow Rice Krispie Treats does.
At any rate, I decided I wanted to add them to my never-ending list of recipes to try. And then a couple of days later, I was perusing one of my favorite blogs, Cookies & Cups, and spotted Krispie Treat Pinwheels. What's that you ask? It's a Rice Krispie Treat made in a jelly roll pan, slathered with frosting, then rolled up into a log and sliced into pinwheels! It looked beautiful, and I just couldn't resist combining that idea with the new idea I had to use Fruity Pebbles.
And here we are….
Today's recipe for Rainbow Rice Krispie Pinwhels is such a fun, bright, colorful dessert that everyone, but especially kids will love. And it's easy, easy, easy!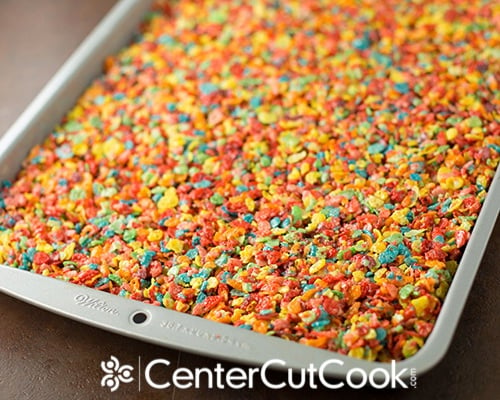 You'll start by preparing Rice Krispie Treats like you normally would by melting a little butter in a large saucepan or stock pot. When the butter is melted, you'll toss in some mini marshmallows and stir them until those are melted too. Add in a pinch of salt, then remove from heat and stir in 6 cups Fruity Pebbles Cereal. Arrange in a greased jelly roll pan (a rimmed baking sheet). Spray your hands with a little cooking spray so that you can use your fingertips to firmly pack down the mixture.
*Side note: I FULLY understand why certain cereals were not allowed in our house growing up. Fruity Pebbles worked FABULOUS as a dessert, but for a nutritious breakfast? I get why my Mama always said no when we'd beg for certain cereals at the grocery store!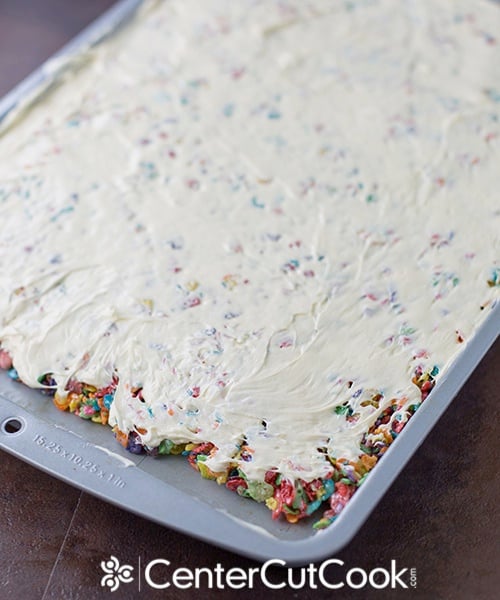 Allow the Rainbow "Rice Krispies" to firm up for about 20 minutes. Then, slather it with about 1 and 1/2 cups to 2 cups of the frosting of your choice. I used Buttercream Frosting from this recipe. Start at the short end of the pan and roll it up.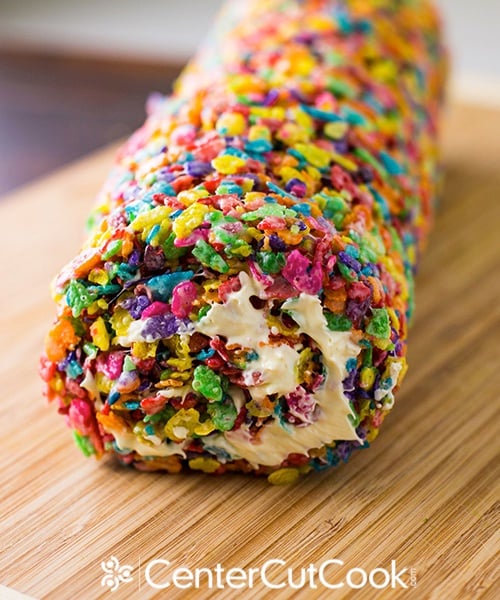 Ta-da!!! Rainbow Rice Krispie Pinwheels! Okay, they're not pinwheels yet. Not until you slice them up! I used a serrated knife to help with this process. I cut pinwheels about one inch wide and was able to get about 10.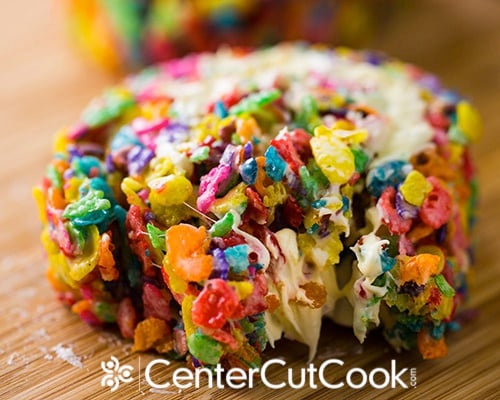 Look how beautiful and colorful they are! The beauty of this is that you can use any frosting that you like! I used buttercream, but cream cheese frosting would also be delicious!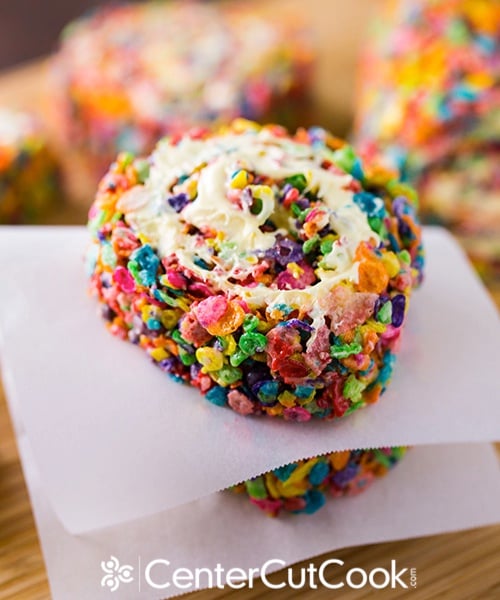 Looking for a fun, dessert idea for your child's birthday party? I think you've found it! Rainbow Rice Krispie Pinwheels!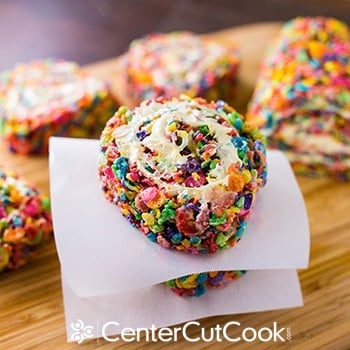 INGREDIENTS
3 Tablespoons unsalted butter
4 cups mini marshmallows
1/8 teaspoon table salt
6 cups fruity pebbles
1 1/2 cups frosting of choice (I used buttercream!)
DIRECTIONS
Melt 3 tablespoons unsalted butter in a large saucepan or stock pot over medium heat. When melted, stir in 4 cups mini marshmallows.
Continue stirring until the marshmallows are melted. Add in 1/8 teaspoon table salt.
Remove the mixture from the heat, then stir in 6 cups Fruity Pebbles. Stir well.
Grease a 15 x 10 x 1 inch jelly roll pan (I used cooking spray), then spread the mixture evenly into the pan. Spray your fingertips with cooking spray and use them to press the mixture into the pan firmly. Allow it to cool for about 25 minutes.
When cool, spread 1 and 1/2 cups to 2 cups frosting over the top. Start at the short end and roll it up tightly. Use a serrated knife to cut the log into pinwheels about one inch thick. You should get around 10-11 pinwheels.
Recipe adapted from
Cookies & Cups