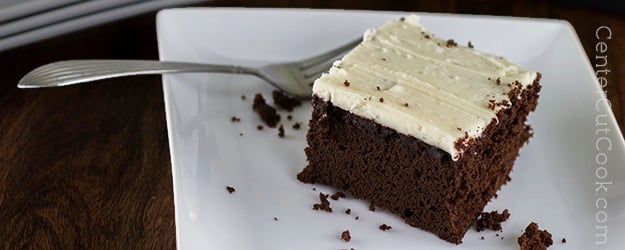 When it comes to cake, around these parts, we're pretty partial to Better Than Sex Cake, a simple cake concocted from a box of Devil's Food Cake. It just oozes with goodness in the form of caramel, cool whip, and Heath candy pieces. I honestly don't have a single complaint about the cake, but sometimes, you just need plain' ole chocolate cake to indulge in!
Today's recipe for Simple Chocolate Cake with Buttercream Frosting is a winner in my book. It's made from scratch, but don't let that scare you off because it's so simple! You don't have to fuss with round cake pans because the batter just gets poured in a 9 x 13 inch pan which means frosting it is as simple as plopping the frosting on top of the cake and spreading it out nice and even.
How is this recipe different from these fabulous Chocolate Peanut Butter Cupcakes, (which can also be made into a cake) you ask? Well, it's quite simple. With the Chocolate Peanut Butter Cupcakes, the chocolate flavor of the cake is mild, so as to let the peanut butter frosting shine. In this recipe, the buttercream frosting is simple, so that the chocolate cake really shines! It includes two types of chocolate, both cocoa powder (Use dutch process for the best results) and semisweet bakers chocolate. The end result is a sinfully delicious chocolate cake with a buttercream frosting to die for!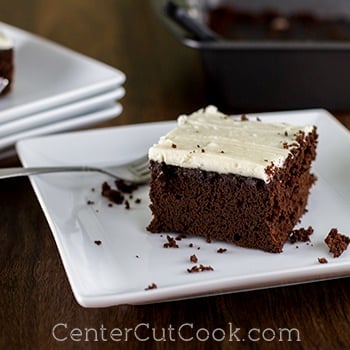 CAKE INGREDIENTS
FROSTING INGREDIENTS
DIRECTIONS
Pre-heat your oven to 325 degrees.
In a small bowl, combine 8 ounces semisweet chocolate with butter. Microwave at 50% power for about 2 minutes, or until the chocolate is melted. Stir well until the butter and chocolate are melted together and smooth.
While the chocolate/butter combo is melting in the microwave, grease the bottom and sides of a 9×13 inch baking pan.
In a medium bowl, sift together the dry ingredients: flour, baking soda, salt, and cocoa powder.
In a separate medium bowl, use a whisk to combine sugar, vanilla, and eggs. Stir in buttermilk until smooth.
In a large bowl, combine chocolate/butter combo with the egg mixture.
Next, add in the dry ingredients and stir until the mixture is smooth.
Pour into a greased 9 x 13 inch baking dish and bake for about 40 minutes, or until a toothpick inserted in the middle of the cake comes out clean.
While the cake is baking, prepare the frosting. Place the butter in the bowl of your mixer. Using the paddle attachment, mix the butter on medium speed until it's light and fluffy. Mix in salt and vanilla.
Add sifted confectioners sugar one cup at a time, until all sugar has been added, mixing well in between each cup. Add milk one tablespoon at a time until you've reached your desired consistency. If you added too much milk, just add a little more confectioners sugar. If you've added too much confectioners sugar, just add a little more milk.
When the cake is done baking, allow it to cool for at least an hour. When it's cool to touch, slather the frosting all over the cake and serve.
Recipe slightly adapted from
The New Best Recipe