Confession: I am a huge fan of snacking.
In between meals. After meals. While I'm cooking my meals. When I'm eating my meals. Right before bed. Snacking is amazing.
In fact, the only thing that would make snacking even better would be if my snack were a healthy snack. That way, i could enjoy my lovely (and potentially obsessive) snacking and NOT feel guilty about the food I'm eating.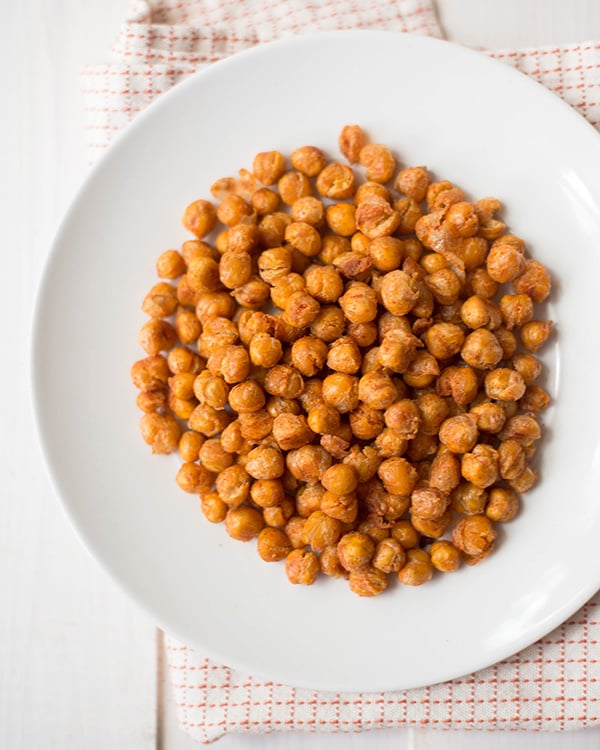 Enter: Roasted Chickpeas. These roasted chickpeas are the solution to all my problems. Well, my snacking problems, at least.
Roasted chickpeas are incredibly easy to make, plus they're jam-packed with all sorts of protein and other vitamins and nutrients. In other words: read guilt-free snack.
If you're not used to the term "chickpeas," that's okay – neither was I until I moved to Texas. Growing up in California, "chickpeas" were called "garbanzo beans." They're both the exact same thing FYI. Weird, I know.
So, if you're looking for a great new snack to try, I hope you'll consider these tasty and healthy chickpeas. They're really addicting and very versatile with the flavors you can add.
INGREDIENTS
DIRECTIONS
Heat the oven to 400.
Rinse the chickpeas thoroughly under running water using a strainer.
Pat the chickpeas very dry with a clean dishtowel or paper towels. They should look matte and feel dry to the touch.
Spread the chickpeas out in an even layer on the baking sheet. Drizzle with olive oil and sprinkle with salt. Toss to make sure the chickpeas are evenly coated.
Roast the chickpeas in the oven for 20 to 30 minutes, shaking the pan every 10 minutes, until golden and slightly darkened, dry and crispy on the outside, and soft in the middle.
Toss the chickpeas with the paprika and garlic powder.