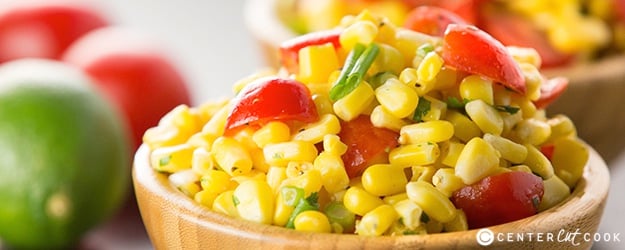 This Summer Corn Salad recipe incorporates almost everything that I love about summer – fresh tomatoes, fresh cilantro, and yes, fresh corn. Growing up in Northern Illinois, there were oodles of corn fields which meant fresh corn stands were pretty easy to come by. Sweet corn on the cob was on the menu in our house at least one night a week during the summer months and to this day, there's nothing I love in the summer more than farm fresh corn… we'll, except maybe pasta salads like my Creamy Cheddar Pasta Salad. What can I say? I'm a sucker for corn AND pasta!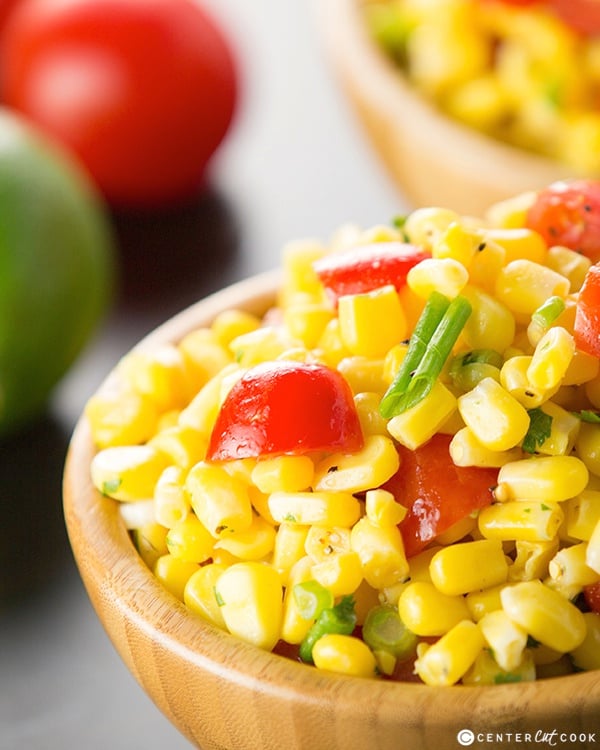 You can make this corn salad with either fresh or frozen corn which means that it can be made year round. However, I always think it tastes best during the summer and early fall months when the tomatoes are in season and you can get your hands on juicy sweet corn. You can use grape tomatoes and cut them in half or cherry tomatoes and quarter them.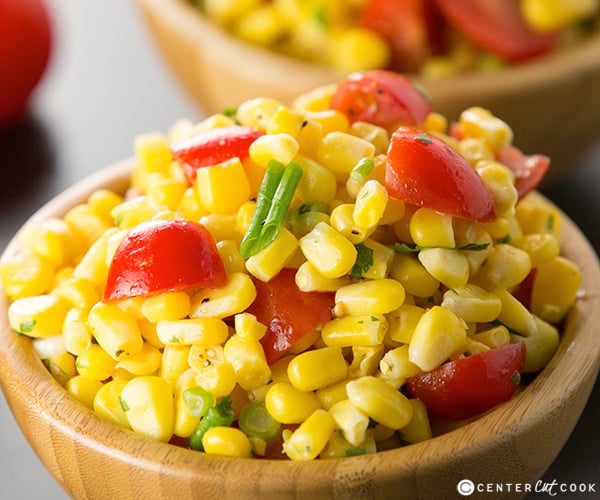 The dressing for this Corn Salad is light and simple, and with no mayo, it makes this a lighter and healthier side dish. Make sure to use fresh lime juice for the best result, okay? Allow the salad to chill in the fridge for about one to two hours before digging in. We have found that leftovers the next day taste even better. Enjoy!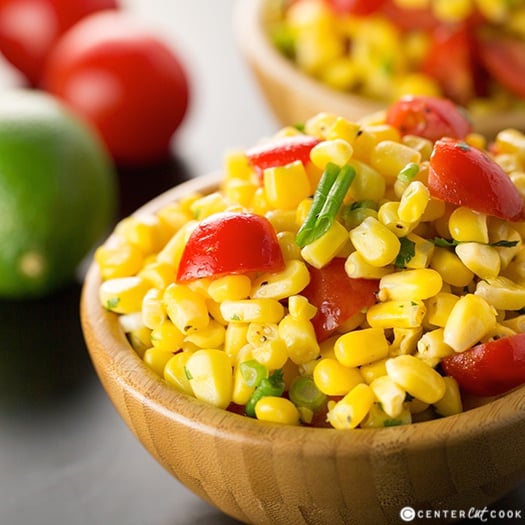 INGREDIENTS
3 cups frozen corn, thawed, OR 3 cups fresh corn
2 green onions, sliced
1/4 cup chopped fresh cilantro
1 1/2 cups cherry tomatoes, cut in half
3 tablespoons olive oil
Juice from 1 lime
1/2 teaspoon black pepper
1/2 teaspoon salt
1/4 teaspoon ground cumin
DIRECTIONS
In a small bowl combine olive oil with lime juice, cumin, salt and black pepper.
In a large bowl combine corn, green onions, chopped cilantro, and cherry tomatoes.
Pour the dressing over the salad and toss to coat. You can eat this corn salad immediately, or chill in the fridge for 1-2 hours before serving.
Leftovers the next day are even better!
Recipe from
CenterCutCook