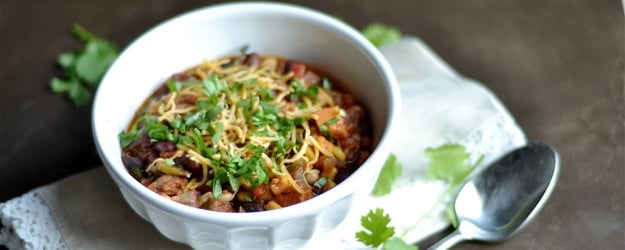 You are going to feel like a million bucks when you serve your family this Instant Pot Vegetarian Chili with Sweet Potatoes because not only does it taste amazing, but it comes together so quickly with the help of the Instant Pot. The pressurized cooking process allows the flavor of this vegetarian chili to be maximized in a fraction of the time that it would take to simmer chili low and slow on the stovetop. The Instant Pot is truly a cook's best friend, especially during the winter months when comforting soups, stews and chili are on the menu.
Over the years, our recipe for Slow Cooker Chili has received RAVE reviews and while it remains a reader favorite and a personal favorite, we also know that many of you like to incorporate meatless Monday recipes and more veggies into your diet. That's where this Instant Pot Vegetarian Chili with sweet potatoes comes into play. The addition of sweet potato along with three different beans make this chili filling (and full of fiber!). And the traditional seasonings we incorporated make this recipe taste just like a meat chili, but without the meat.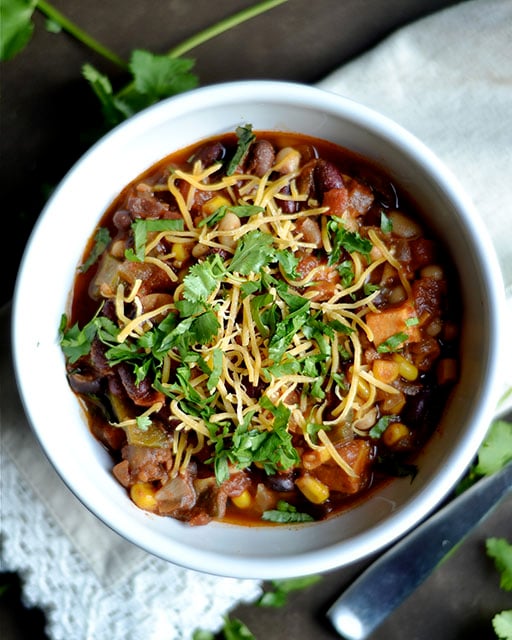 Instant Pot Vegetarian Chili Ingredient Notes:
Sweet Potatoes: If you haven't had vegetarian chili with sweet potatoes before, you must try it. Often times vegetarian chili recipes simply omit the meat without replacing it with something else. In this recipe, the sweet potato is a perfect replacement for the meat. You'll only need one average sized sweet potato, and make sure you cut it into smaller bite-sized chunks.
Poblano pepper and Jalapeño pepper: This recipe calls for both poblano peppers and a jalapeño pepper. While poblano peppers are mild, jalapeño peppers can offer a range of heat and spice. If you are trying to keep the heat level mild, you have two options — omit the jalapeño pepper or be sure that you remove the seeds and ribs of the jalapeño pepper because that's where the heat lies. If you don't have poblano peppers, you could also use green pepper but I think you'll enjoy the mild flavor that poblanos add to this recipe.
Beans: This recipe calls for black beans, Great Northern Beans (also called White Beans), and Kidney beans — you do not have to use this variety of beans, feel free to use whichever beans your family enjoys. We prefer the variety in this recipe. If using black beans, make sure to drain and rinse the black beans.
Chili Powder: You will need anywhere from one tablespoon to two tablespoons of chili powder. Adjust according to your heat preference. You can always add more, so start with one tablespoon and go from there. Additional seasonings that you'll need include cumin, paprika, salt, and cayenne pepper (optional)
Beer: This recipe calls for ½ cup of beer. You can use a pilsner or lager. If you don't have beer on hand or prefer not to use it, replace it with broth.
Vegetable Broth or Chicken Broth: You will need 2 cups of broth – chicken broth, or vegetable broth will work
Diced tomatoes with chiles: I like to include diced tomatoes with chiles in this recipe because it adds so much flavor. This is also known as Rotel and works great in vegetarian chili.
Garnishes: We like to garnish our chili with chopped fresh cilantro, diced purple onion, sliced avocado and shredded cheddar cheese.
Easy Instructions – Instant Pot Vegetarian Chili
One of the beauties of the Instant Pot is that it is multi-functional. The sauté feature is a favorite because when you're wanting to sauté veggies, you don't need an additional pan. You'll start by using the sauté function on your instant pot to cook the onion, garlic, poblano and jalapeño peppers. The goal is to soften the veggies in this step. It'll only take a few minutes. Once the veggies are softened, you'll add in the spices and salt.
From here you'll add in the Great Northern Beans (also known as white beans), black beans and kidney beans along with the sweet potatoes, beer, corn, and broth. Make sure that the valve is set to sealing, then select manual pressure and cook on high for 8 minutes.
If you are new to cooking with your Instant Pot, you may not realize that it will take a bit of time for the Instant Pot to come up to pressure. Once it pressurizes, the countdown will begin. Allow around 10 minutes for the Instant Pot to pressurize. Once the 8 minute timer goes off, you'll use a quick release which simply means that you switch the valve to release the pressure. I like to place a towel over the valve so that it does not spew juices all over the kitchen.
Remove the lid, then stir. If you'd like to thicken up your vegetarian chili, use the sauté feature on high to cook the chili for an additional 3-5 minutes.
Adjust seasoning to taste – you may want to add additional chili powder or salt at this point.
What to serve with Vegetarian Chili
?>
Is there anything that pairs better with chili than cornbread? Our old-fashioned corn bread pairs perfectly with this Instant Pot Vegetarian Chili. If you decide to make our recipe for cornbread to go along with this chili, we'd recommend getting the cornbread started first before starting the chili. It'll need about 35 minutes to bake in the oven which means it'll be finishing up right around the time the chili is done cooking in the Instant Pot.
Other ideas for serving include scooping this chili atop of tortilla chips to make nachos, or even using it as a filling for burritos or tacos. It's also delicious spooned over baked potatoes (How to make a Baked Potato perfect every time!) Yum!
Chili is an incredibly delicious, comforting meal, especially during those cold winter months. We LOVE this recipe for Instant Pot Vegetarian Chili, especially with the addition of sweet potatoes, and hope you do too. If you'll be serving chili to someone following a low-carb or keto lifestyle, our Low Carb Beanless Chili is a great option!
Enjoy!
Looking for more recipes to make in your instant pot? Try our Instant Pot Easy Mac and Cheese or our Instant Pot Cheddar Broccoli and Potato Soup! This Easy Instant Pot Taco Soup is always a favorite as well!
INGREDIENTS
1 tablespoon olive oil
2 cloves garlic, minced
1 small white onion, diced
1 large poblano pepper, diced
1 jalapeno, diced and seeds removed (for less spicy variation)
1-2 tablespoons chili powder
2 teaspoons cumin
1 teaspoon paprika
1 teaspoon sea salt
1/4 teaspoon cayenne pepper
1 15 oz can black beans, drained and rinsed
1 15 oz can Great Northern Beans or Pinto beans
1 15 oz can Kidney Beans
2- 14.5 oz cans diced tomatoes with chiles or Rotel
1 sweet potato, peeled and chopped into small chunks
1 cup frozen corn
1/2 cup beer (pilsner or lager) or water
2 cups vegetable or chicken broth
DIRECTIONS
Select the sauté function on your instant pot and let it heat up for a minute or two. Add olive oil to coat pot.
Add onion, garlic, and poblano and jalepeño peppers. Stir and sauté for 3 minutes, or until veggies are softened.
Toss in all of the spices – chili powder, cumin, paprika, salt, and cayenne pepper, and mix well to coat the veggies. Sauté for another minute.
Add all of the beans, tomatoes with juice, sweet potatoes, beer (or water), broth and corn. Secure the lid.
Select manual and cook on high pressure for 8 minutes.
Once cooking is complete, quick release the pressure. Remove the lid and stir.
For thicker chili, sauté on high for an additional 3-5 minutes.
Adjust the seasonings including chili powder and salt if needed and serve immediately with your favorite toppings – cilantro, avocado, diced onion, shredded cheddar, etc.
Servings: 5-6