Inspired by a classic Greek spread, known as htipiti, traditionally served as a starter. This is without a doubt what you should take to your next party. It was inevitable, but by now people are getting kind of tired of the classic hummus and veggies. This is a nice change of pace and will keep your guests coming back for more.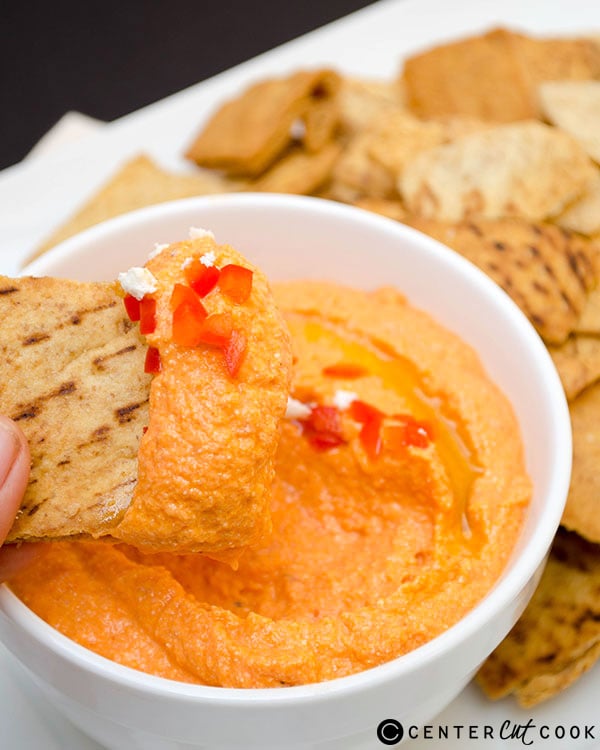 To roast the peppers there are two options. If you have a gas stove, you can char them directly on the flame, rotating them every few minutes so they char evenly. The downside to this method is that it requires some supervision; you can't just leave them on the flame and walk away. The other option is to place the peppers on a foil-lined sheet tray and place under your oven broiler set to high. This method takes a little bit longer, but it requires less attention.
Once all of your peppers are roasted, place them in a plastic bag or closed container for 5 to 10 minutes to let the steam work it's magic. After this, the skins will come right off. Next, place all of the ingredients in the food processor and pulse until you reach the desired consistency. My personal preference is completely smooth, but you might like it chunky. Serve the dip cold, with pita chips and raw veggies. Enjoy!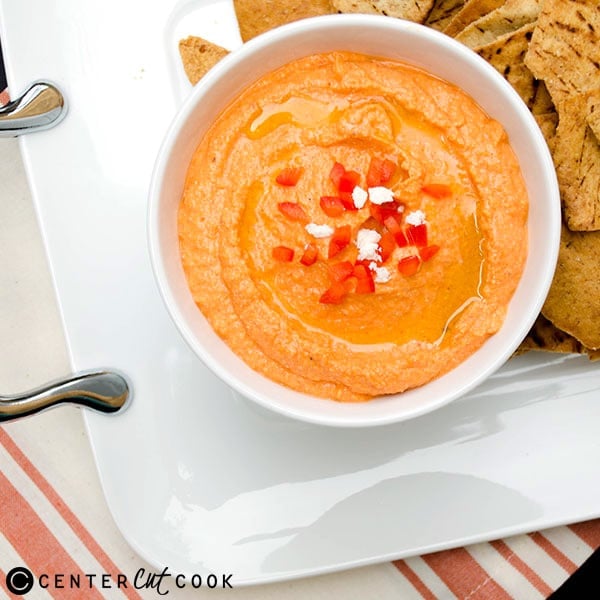 INGREDIENTS
5 Red bell peppers, roasted, peeled
1/2 lb. Feta cheese, crumbled
1 Garlic, clove, peeled
1/2 tsp. Red pepper flakes
DIRECTIONS
Set oven on to broil.
Place red bell peppers on a sheet tray lined with foil. Place pan in oven. Let the peppers char underneath the broiler for about 7 minutes. Every two minutes turn the peppers to ensure they char evenly.
Remove peppers from oven and place in a medium bowl, cover with plastic wrap. Let sit covered for 4-5min.
Remove peppers from bowl and peel off the charred skin. Take seeds out, cut out stem, and dice pepper.
Place the cut peppers in a colander lined with paper towels to drain excess moisture.
In a food processor combine the garlic, bell peppers, red pepper flakes, and feta cheese. Process until smooth. Season with salt and pepper to taste.
Serve cold with pita chips or cut vegetables.
Serves: 4-6
Note: The bell peppers may also be roasted directly over a lit gas stove burner.