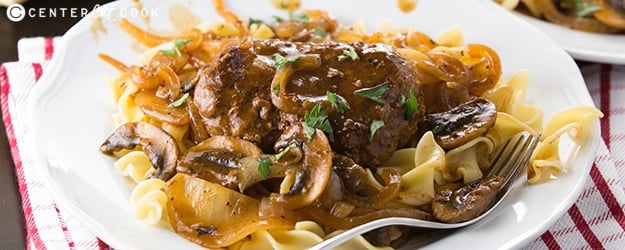 Salisbury Steak is one of those classic meals that reminds me of my childhood. On busy Saturday nights when my Mom didn't have time to make dinner, she'd turn to TV dinners to get us fed. You know the ones, right? The Banquet TV dinners in the red box? I almost always had Salisbury Steak with the corn and mashed potatoes.
I didn't have a discerning palate back then to know if the frozen Salisbury Steak was any good or not. All I know is that I'm certain my homemade version must taste better! I make my Salisbury Steak with mushrooms and onions, and serve it with gravy over the top. My favorite way to serve this Salisbury Steak is over noodles, but you could also serve it over rice.
All you need to make Salisbury Steak is ground beef, bread crumbs, an egg and some seasonings. That's it! Then you'll use your hands to shape the beef into oval shaped patties. This recipe is NOT the same without the tender onions and mushrooms. If you don't like one or the other, leave them out, but they compliment the salisbury steak perfectly!
Oh, and the gravy? It's made with ingredients you likely already have in your pantry! It's so easy but so flavorful and really compliments the salisbury steak just perfectly.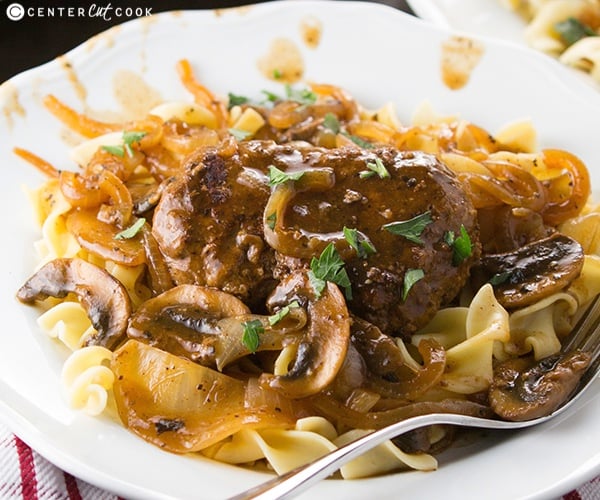 As I mentioned, I like to serve Salisbury Steak over egg noodles, but you could also use rice. You need something to soak up that extra gravy! I made a quick salad to go along with this meal and it was just perfect. Enjoy!
SALISBURY STEAK INGREDIENTS
1 1/2 pounds lean ground beef
1/2 teaspoon black pepper
1/2 teaspoon salt
1/2 teaspoon garlic powder
1 tablespoon Worcestershire Sauce
2 cloves garlic, finely minced
1/4 cup bread crumbs
1 large egg
2 tablespoons butter
Egg noodles for serving
GRAVY INGREDIENTS
1 yellow onion, sliced
8 ounces mushrooms, sliced
2 tablespoons flour
1 tablespoon ketchup
2 teaspoons Worcestershire
2 cups beef broth
Salt and pepper to taste
DIRECTIONS
In a large bowl, combine ground beef with black pepper, salt, garlic powder, worcestershire sauce, garlic, bread crumbs and 1 large egg.
Form into 4-6 oval or circular patties.
In a large non-stick skillet, melt 2 tablespoons butter over medium high heat.
Add the patties to the pan and cook for about 4 minutes, then flip and continue cooking until the patties are cooked through.
Remove the patties from the pan, cover with foil and set aside.
Drain off any excess grease in the pan.
Over medium-low heat, add the onions and mushrooms to the pan and cook for 15-20 minutes, or until the mushrooms and onions are tender and golden brown.
Sprinkle 2 tablespoons flour over the onions, stir, and allow the flour to cook for a minute or two, then stir in 1 tablespoon ketchup, 2 teaspoons Worcestershire sauce and 2 cups beef broth. Bring to a boil, then reduce heat to low. Add the Salisbury Steak patties back to the pan and simmer for about 15 minutes, or until the gravy has thickened.
Serve over egg noodles.
Recipe from
CenterCutCook