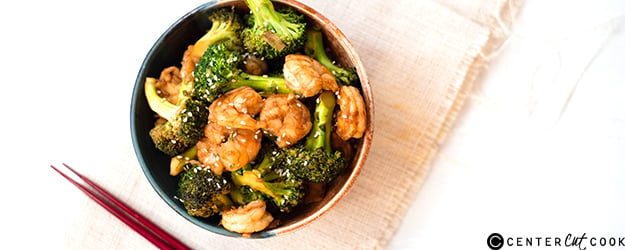 Growing up, having stir fry for dinner was a very common occurrence. My mom would even keep frozen vegetables and meat on hand just so she had something she knew she could throw together quickly and still make a homemade meal.
I didn't think much of it then, but, looking back now, that was a really good plan and guaranteed she would serve her family a home-cooked meal.
Now that I'm a mom of three little kiddos, having go-to homemade meals available to make on any weeknight are worth their weight in gold. So many times, how much easier would dinner have been if I had the stuff on hand to make a quick stir fry?
BUT stir fry doesn't have to be just a last-minute kinda meal. Instead, it can be well-thought out and use fresh ingredients, like this easy shrimp and broccoli stir fry recipe. This recipe uses all fresh ingredients and is extremely delicious and full of flavor.
To save even more time, you can always purchase the shrimp already deveined and peeled – that will save a lot of time and make this meal extremely easy to put together, whether it's planned or not.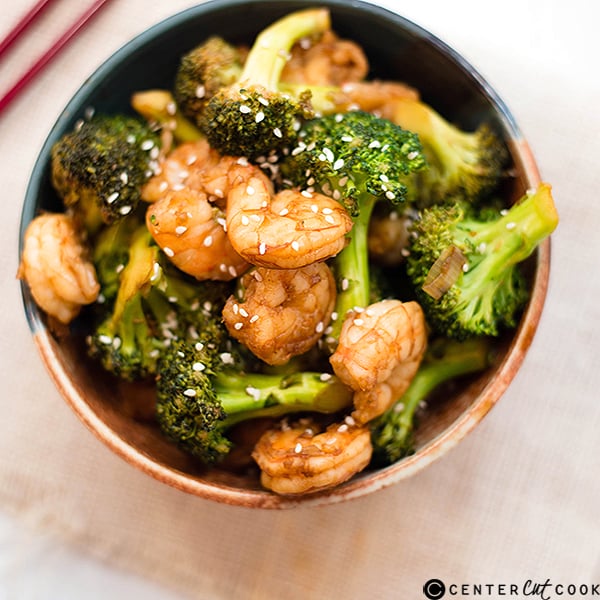 INGREDIENTS
3 tbsp. reduced sodium soy sauce
1 tbsp. rice wine vinegar
1 tbsp. coconut sugar, packed
1 tbsp. freshly grated ginger
2 cloves garlic, minced
1 teaspoon sesame oil
1 tbsp. olive oil
5 cups broccoli florets (about 3-4 heads)
1 1/2 lbs. shrimp, peeled and deveined
1 green onion, thinly sliced
1 tsp. sesame seeds
Optional: steamed brown rice to serve with
DIRECTIONS
In a small bowl, whisk together the low-sodium soy sauce, rice wine vinegar, coconut sugar, ginger, garlic, and sesame oil and then set aside.
Heat olive oil in a large skillet over medium high heat. Add the broccoli florets, and cook, stirring frequently, until tender, about 6-8 minutes.
Push the broccoli to the side of the skillet and then add the shrimp to the empty side of the skillet. Cook the shrimp, stirring occasionally, until the shrimp is pink, about 2-3 minutes.
Add the soy sauce mixture and stir until well combined and heated through.
Serve immediately, garnished with sesame seeds and sliced green onion, if desired. Can be served with steamed brown rice.
Servings: 4