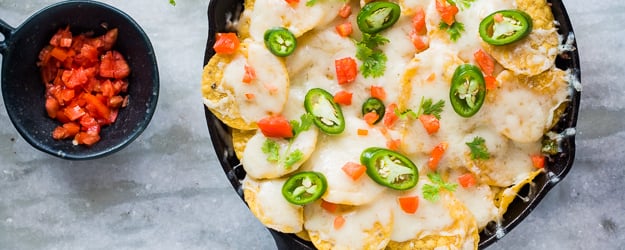 What if I told you that you can have this delicious skillet beef and taco casserole aka dinner on the table in under 30 minutes? Hard to believe that this gorgeous casserole is so easy to make? Me too, till I actually tried it – once, twice, three times – five actually!
We made this a couple of days ago when we had all the trimmings of beef tacos around. It was the husband who decided to shake things up a bit and layered up the ingredients with cooked beef and put them under the broiler for 5 minutes in a skillet. The meal was sooo good that it vanished in a matter of minutes. But we realised that the chips got soggy, and we wanted the texture to be slightly different – more beef, less chips.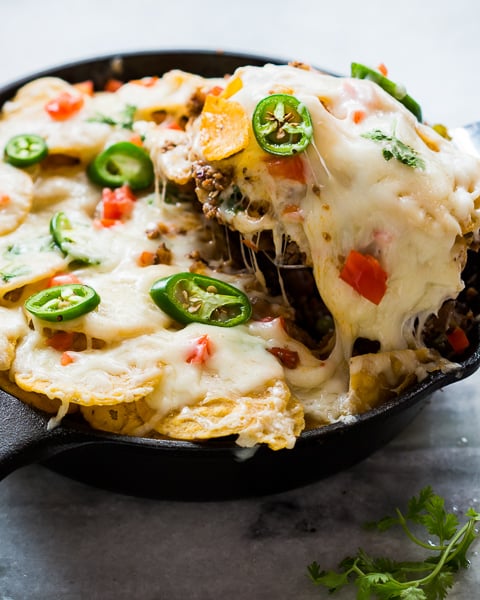 We tried it again with the tortilla chips on top and it worked! There's lots of flavorful, juicy ground beef at the bottom, topped with crunchy chips and cheese melted just right!
We've been going a little crazy for this since then and have made this meal five times in the last 3 weeks – that's saying something!
INGREDIENTS
1 tablespoon Oil
4 Garlic Cloves, minced
1 large White Onion, diced
1 pound Ground Beef
1 large Green Bell Pepper
1 cup Chunky Salsa
2 cups Corn Tortilla Chips
1 1/2 cups Shredded Cheese (I used Cheddar and Monterey Jack)
Salt to taste
Diced Tomatoes, Olives, Jalapenos and Cilantro for topping
DIRECTIONS
In a 10 inch skillet, heat oil and add garlic and onions. Saute the onions for two minutes and add ground beef. Season the beef and cook till the meat is browned and all the water has evaporated.
Add green bell peppers and cook for another minute or so. Add salsa to the pan and bring this to a boil. Once the mixture starts bubbling, simmer for 5 minutes.
While the meat is simmering, preheat oven to 425 degrees.
After 5 minutes of simmering the meat, switch off the flame. Top the skillet with crushed tortilla chips, and sprinkle with cheese.
Bake in the oven till cheese melts, about 3-4 minutes. Top with diced tomatoes, olives, jalapenos and cilantro and serve hot.