One of my favorite things to do is turn classic comfort foods into healthy recipes that taste just as good – maybe even better. I enjoy the creativity it requires to figure out how to turn something so valuable and loved into something even more awesome.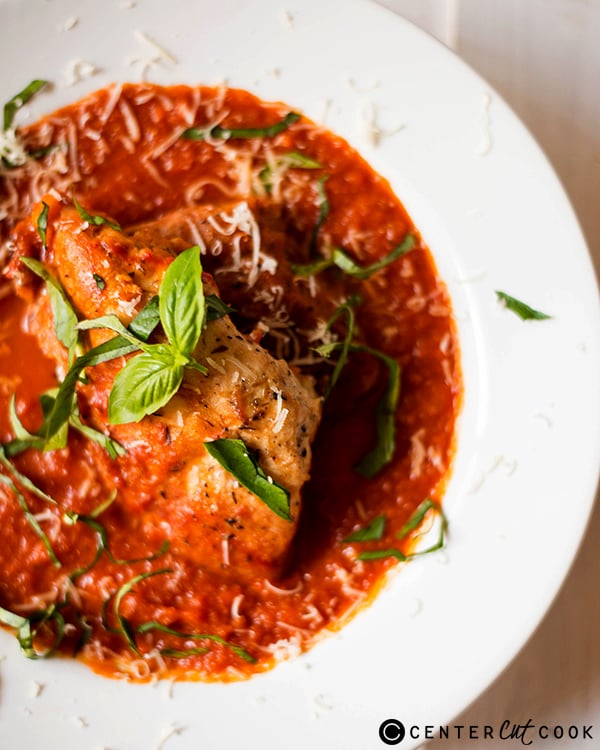 Not sure what exactly that might say about me, but let's not dwell on that!
Oftentimes, doing this requires replacing refined sugars, oils, and flour. In this slow cooker parmesan chicken recipe, I have replaced the common breading which is high in carbs and empty calories with rice flour. Rice flour is an unrefined, clean flour that also happens to be gluten-free.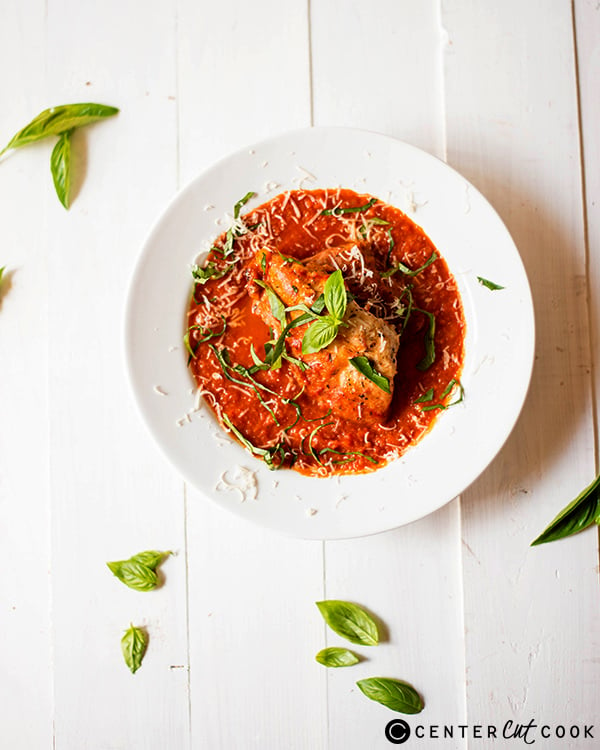 I also love how the chicken slowly cooks in the crock pot while it creates a delicious tomato sauce to accompany it. It's rare you get an opportunity to flavor the tomato sauce with the actual protein that it's going to be served with. This gives it tons of flavor, especially if you puree the sauce once the chicken is cooked.
I recommend that you taste the tomato sauce once you've pureed it to make sure it doesn't require any additional salt or pepper. That way, the sauce will be perfectly seasoned for serving.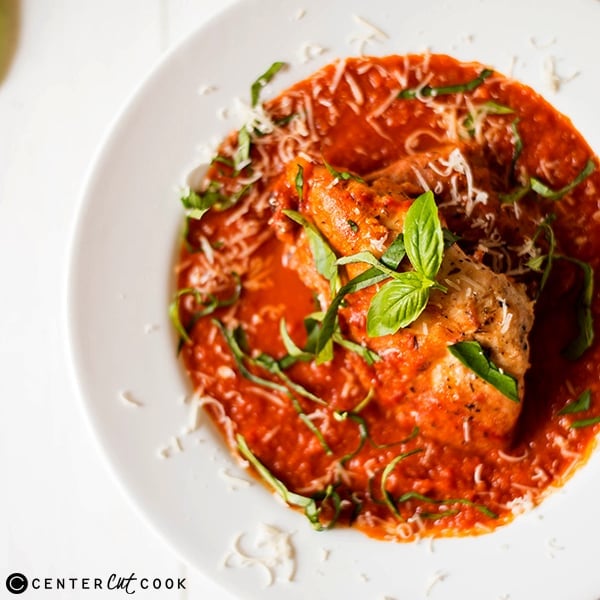 INGREDIENTS
1/2 cup rice flour (can sub all-purpose flour or unseasoned breadcrumbs)
1 tsp. kosher salt
1 tsp. kosher salt
1/2 tsp. ground black pepper
1 tsp. dried basil
1 tsp. dried thyme
1 tsp. dried oregano
2 tbsp. olive oil
5 boneless, skinless chicken breasts
2 15 oz. cans crushed tomatoes
1 yellow onion, diced
4 cloves garlic, minced
2 carrots, diced
1/4 cup parmesan cheese, shredded
DIRECTIONS
Combine the flour, 1 tsp. salt, pepper, basil, thyme, and oregano in a medium mixing bowl and set aside.
Heat the olive oil over high heat.
One breast at a time, dredge each chicken breast in the seasoned flour mixture until fully coated. Transfer to hot oil. Repeat with remaining breasts.
Cook over high heat for 2-4 minutes per side, until golden brown.
While the chicken is browning, add the crushed tomatoes, remaining 1 tsp. salt, onion, garlic and carrots to the bowl of a slow cooker.
Place the browned chicken into the slow cooker and toss to combine. Cover and cook on LOW setting for 4 hours, or until the chicken is cooked through and the vegetables are tender.
When ready to eat, remove the chicken and set aside. Using an immersion blender, kitchen blender, or food processor, puree the remaining tomatoes, carrots, onion, and garlic in the pot. Once pureed, return the chicken to the pot. Check for flavor and add additional salt or pepper if needed.
To serve, drizzle the pureed tomato/marinara sauce over the chicken, followed by the parmesan cheese. Can be served with noodles, if desired.
Servings: 6