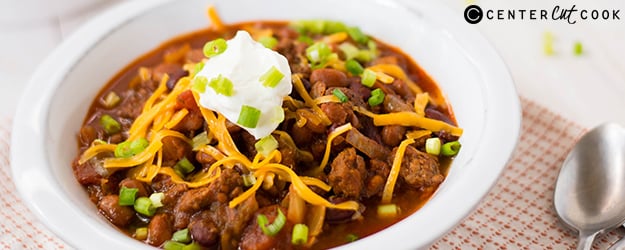 There's something so wonderful about a big, hot bowl of homemade chili with beans during the fall. Not only is chili totally satisfying, but it's also high in protein and fiber, especially when you add in the kidney and pinto beans.
In order to add extra flavor, I like to use half ground brisket and half lean ground sirloin. That way, you still balance out the fats, but you also get tons of flavor. If you can't find ground brisket in your grocery store, you can use ground chuck instead and that will still be a great combination.
I like to brown the ground beef before adding it to the slow cooker in order to get the most flavor out of the meat. Getting the meat nice and golden brown is one of the best ways to add lots of delicious flavor and depth to your food and will make this chili very yummy.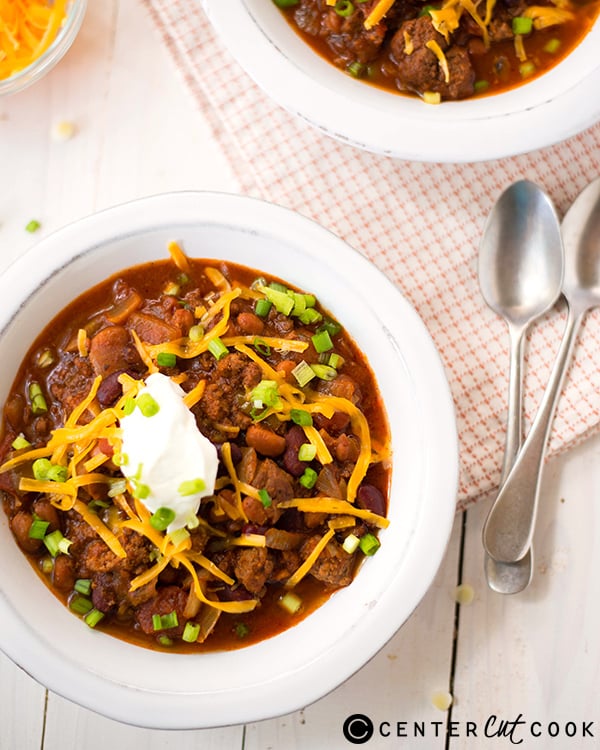 While cornbread is always a great side for this chili, it's also perfect with just a dollop of plain greek yogurt (or sour cream), some shredded cheddar cheese, and sliced green onions. One bowl and you'll be totally satisfied.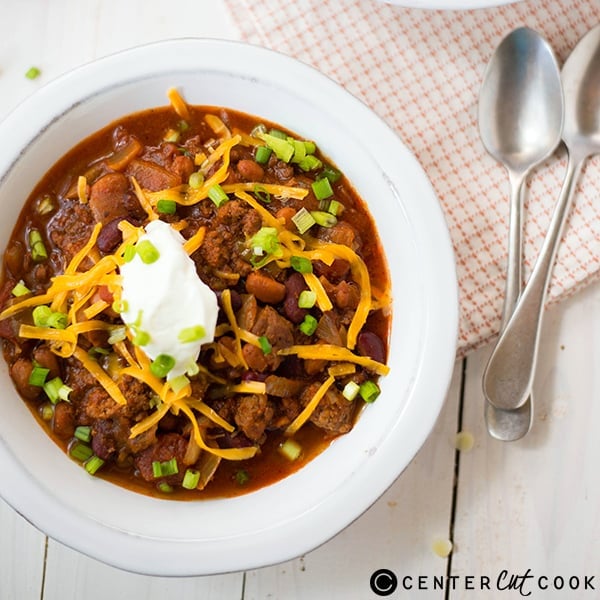 INGREDIENTS
1 tbsp. olive oil
1 lb. lean ground beef (90/10)
1 lb. ground brisket (can substitute for ground 80/20 beef)
1 1/2 tsp. kosher salt
1 tsp. ground black pepper
1 8 oz. can tomato sauce
1 28 oz. can diced tomatoes
2 yellow onion, diced
1 green bell pepper, diced (seeds and membrane removed)
1/2 jalapeño, minced (seeds and membrane removed)
1 15 oz. can kidney beans, drained
1 15 oz. can pinto beans, drained
2 tsp. ground cumin
2 tsp. dried oregano
1 1/2 tsp. garlic powder
1 tsp. paprika
1/4 tsp. cayenne pepper
Dollop greek yogurt, plain, for topping (can substitute sour cream)
Grated cheddar cheese, for topping
Green onions, sliced, for topping
DIRECTIONS
Heat the olive oil in a large fry pan over medium-high heat.
Add the ground beef and ground brisket as well as the salt and pepper. Break the beef into small chunks and stir occasionally. Cook until well-browned, about 8-10 minutes.
While the beef is cooking, combine the tomato sauce, diced tomatoes, onions, bell pepper, jalapeño, kidney beans, pinto beans, and spices (cumin, oregano, garlic powder, paprika, and cayenne) in the bowl of a slow cooker.
Once the beef is well-browned, add to the slow cooker and stir to combine well.
Cover and cook on low 4-6 hours or on high for 3-4 hours, or until the vegetables are tender.
To serve, garnish with additional dollop of greek yogurt, shredded cheddar cheese, and/or sliced green onions.
Servings: 6-8