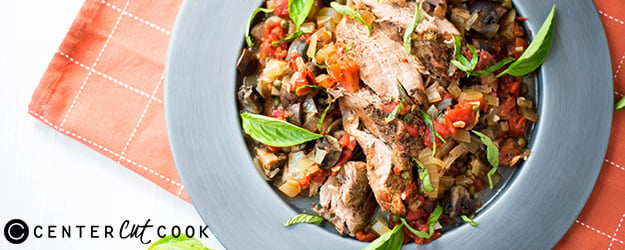 I'm a huge fan of slow cookers, especially during the Fall. It's such a comforting thing to come home, tired from a long day, to a home that smells amazing — AND to know that the amazing smell is the food you already prepared for dinner…just waiting for you.
Slow cookers are a great way to eat healthy – since you can cook the food all day and allow those deep flavors to develop without using tons of salt, cream, or oils. You're essentially braising your meat all day, rather than having to watch it in the oven.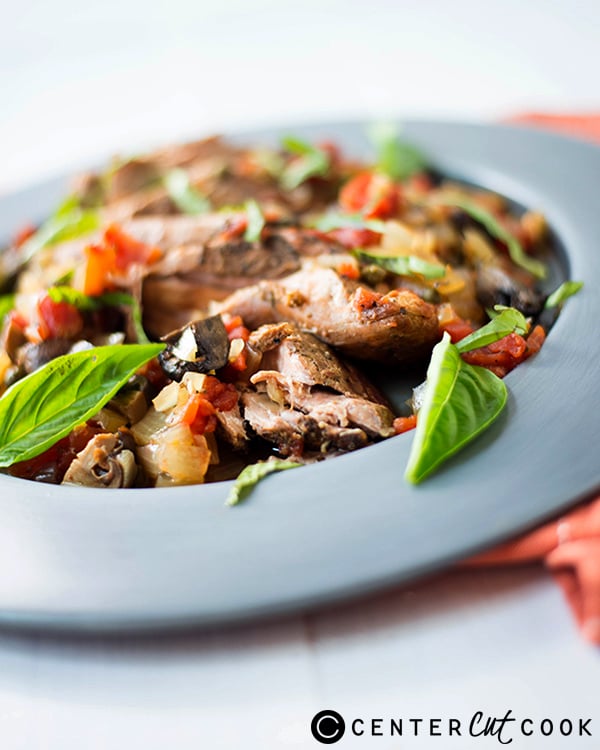 This Slow Cooker Pork Tenderloin Cacciatore is simply amazing. It's vibrant and bursting with flavors. It's hearty. It's healthy. And, it's super easy. The only prep work you have to do is brown the pork tenderloin before placing everything into the slow cooker for several hours. The reason you want to give the pork a good sear is to add that extra flavor into the meat and, ultimately, into the dish. Browning meat is really the secret to any good meal so I highly recommend you take the time to do it.
The pork tenderloin will be so tender, so fall-apart, melt in your mouth delicious, it'll make you a slow cooker lover for sure.
If you prefer not to add alcohol to your food, you could replace the white wine with chicken stock. The flavor won't be exactly the same, but it'll still be delicious.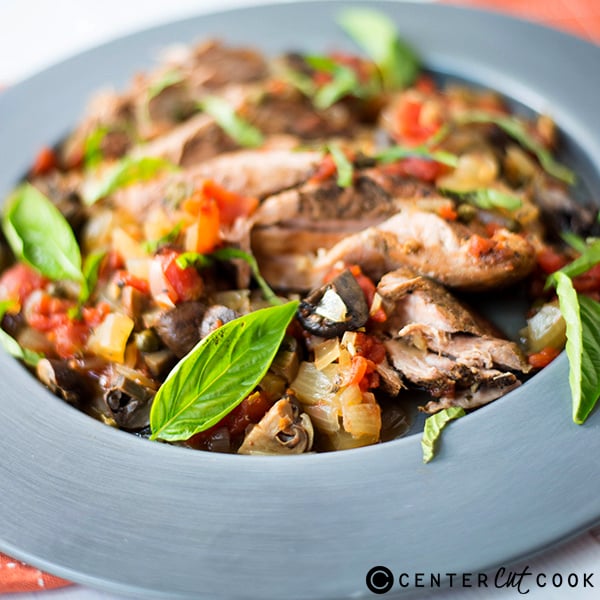 INGREDIENTS
1 tbsp. olive oil
2 1/2 lbs. pork tenderloin
1 tsp. kosher salt
1 tsp. black pepper
28 oz. diced tomatoes
3 tbsp. capers, drained
1 yellow onion, diced
5 cloves garlic, minced
3/4 cup white wine (I use Chardonnay)
8 oz. (10-12) small cremini mushrooms
1 tsp. dried oregano
1/2 tsp. dried basil
6 leaves fresh basil, thinly sliced
DIRECTIONS
Heat the olive oil over high heat in a large skillet.
Season the pork on all sides with the salt and pepper.
Add the pork to the hot pan and cook on all sides until well-browned, about 2 minutes per side. Once fully browned, transfer to the bowl of a slow cooker.
Add the diced tomatoes, capers, onion, garlic, wine, mushrooms, oregano, and dried basil to the slow cooker and toss to evenly coat and combine.
Cover and cook on Low heat for 4-5 hours or until the pork is cooked through and tender.
To serve, garnish with the thinly sliced basil leaves.
Servings: 6