I am so glad I decided to make this Slow Cooker Pork Tenderloin for dinner. Because I have officially decided, there is no other way to eat pork tenderloin. This is it. I wasn't exactly sure if the meat would turn out perfectly, but it was so moist and full of flavor! A simple sauce of dijon mustard, maple syrup, balsamic vinegar, and soy sauce gives the meat such a bold taste that pairs well with anything.
This dinner is perfect for any time of year. In fact, we enjoyed this on one of the hottest days of the summer. You see, my slow cooker and I are in a very good relationship right now. I have been so busy, that I have barely had any time to prep and cook dinner. I thought I would have long lazy days in the summer with plenty of time in the kitchen. But it hasn't quite worked out that way! I have been so grateful for to be able to hit the easy button, throw everything into my slow cooker, and go about my busy day with dinner ready for me when I get home!
Once your meat is finished cooking, add some cornstarch or arrowroot starch to thicken up the sauce. It's an absolute must to spoon extra sauce over the top of your pork! Make it a complete meal by serving alongside some rice, couscous, potatoes, or vegetables. My entire family loved this, and we will definitely be adding it to our rotation of regular dinners.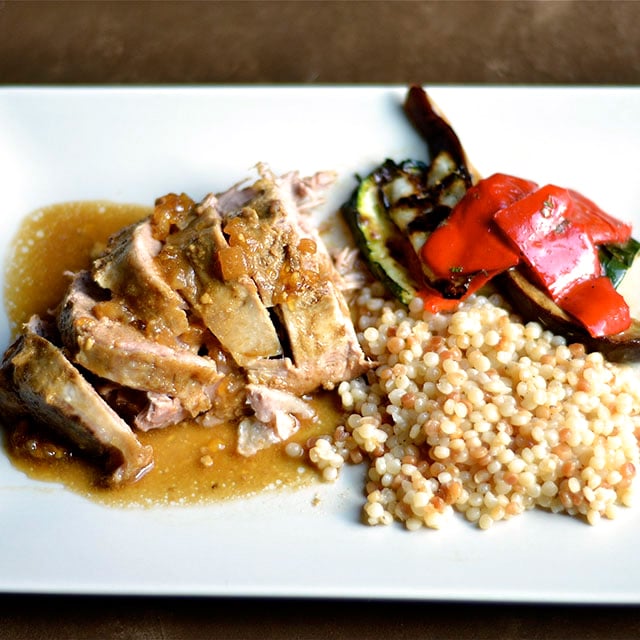 INGREDIENTS
DIRECTIONS
Place your pork tenderloin at the bottom of your slow cooker.
In a small bowl, combine soy sauce, mustard, syrup, vinegar, olive oil, and garlic. Pour on top of pork. Top with onions.
Cook on low for 4-6 hours. If you have one large pork tenderloin it may take 6 hours, for 2 smaller pieces it will take around 4 hours. Tenderloin should be very moist and easy to cut through.
Mix together cornstarch with 1 tbsp water. Pour inside slow cooker and cook for another 10 minutes or until sauce thickens.
Pour sauce over pork and serve immediately.