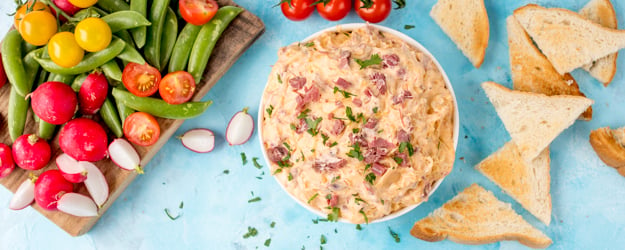 Did you know that The Reuben sandwich is not Irish? It did not originate in Ireland. Did I just blow your mind and are you upset by this fact?
I have so many fond memories of eating Reuben Sandwiches at my grandma's house on St. Patrick's Day and I always just assumed that the tasty sandwich I grew to love- piled high with corned beef, Swiss cheese, sauerkraut, and Thousand Island Dressing, always on rye bread, was somehow part of an authentic Irish St. Patrick's Day. It's not. But that's ok, because it's still delicious!
What is St. Patrick's Day?
St. Patrick's Day is celebrated annually on March 17th. You can go ahead and Google the details of St. Patrick's Day to learn all about its history if that's interesting to you, but in a nutshell, it started as a religious celebration to honor Saint Patrick, the patron saint of Ireland.
Today, St. Patrick's Day is a day to celebrate Irish culture and often times includes parades, dancing, and if you're in Chicago, a dyed green river. It also includes plenty of delicious food and drink. While corned beef and cabbage IS a traditional Irish meal, the Reuben sandwich is not. However, if a Reuben sandwich is an important part of your St. Patrick's Day, by all means, you continue enjoying it! I know I sure will.
If you love a Reuben as much as I do, you need to try this Reuben Dip!
Reuben Dip Ingredients
The ingredients list for this Reuben Dip has zero surprises if you're familiar with the sandwich. It includes the most essential ingredients: corned beef, sauerkraut, Swiss cheese, and Thousand Island Dressing (you could also use traditional Russian dressing).
You will also need cream cheese and a bit of mayonnaise. These are the ingredients that that turn the Reuben Sandwich into a delicious dip that is perfect with toasted mini rye bread or crunchy fresh veggies which leads me to the next question…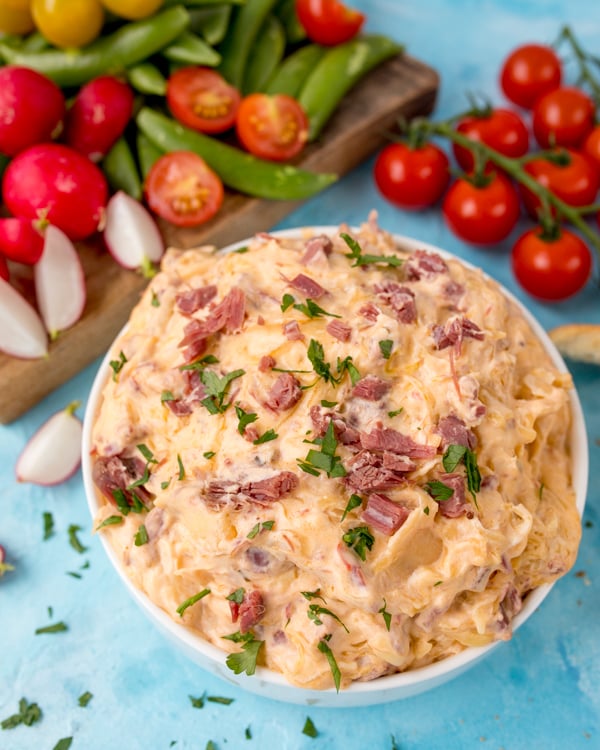 What to serve with Reuben Dip?
If you haven't experienced cocktail rye bread before, you're missing out. It can be found at most grocery stores and it is often in the bakery or deli section of the grocery store as opposed to the bread aisle. Cocktail rye bread are cute little pieces of rye bread that toast up perfectly to pair with this Reuben Dip. I also like to serve it with a variety of fresh veggies like celery, carrots, or sugar snap peas.
Making Reuben Dip in the Slow Cooker
Did I mention that this dip is made right in the slow cooker? You will start with corned beef that has already been cooked and shredded. Add it to your slow cooker along with sauerkraut (make sure to drain it!), cream cheese, mayo, shredded Swiss, and thousand island dressing and give it a good stir.
You will heat it on high in the slow cooker for about 45-55 minutes or on low for about 2.5 hours. Make sure to stir it once or twice. The cheese will melt and everything will come together to make the most delicious, creamy Reuben Dip.
When you are ready to serve the Reuben Dip, toast cocktail Rye bread in the oven at 350F for about 3-4 minutes and prepare your fresh veggies.
Top with chopped fresh parsley if you have it on hand, otherwise garnish it with an extra drizzle of Thousand Island Dressing.
I hope you enjoy this recipe for Slow Cooker Reuben Dip as much as we do!
Now, go make it, taste it, and please come back here to let me know what you think! Happy Eating!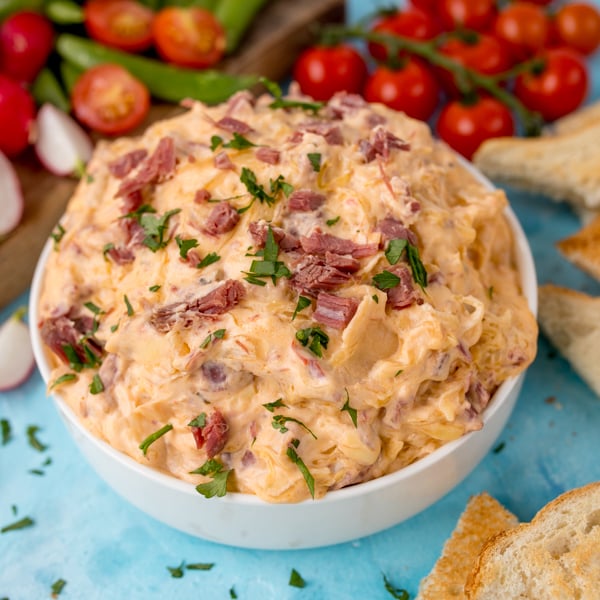 INGREDIENTS
14-16 ounces sauerkraut, drained
8 ounces full fat cream cheese
1/2 cup mayonnaise
2 cups shredded Swiss/Gruyere/Emmental cheese
1 1/2 cups shredded cooked corned beef
1/2 cup thousand island dressing
Small bunch fresh parsley, finely chopped
INGREDIENTS TO SERVE:
Cocktail Rye bread (or other bread of choice), toasted
Fresh vegetables – such as radish, snow peas and peppers
DIRECTIONS
Add all of the Reuben dip ingredients, except for the parsley, to the bowl of your slow cooker.
Mix well with a wooden spoon until combined.
Heat on high for 45-55 minutes, or low for 2-2 1/2 hours. Stir once or twice during cooking.
Once hot, all of the cheese should have melted. Stir again and transfer to a serving dish, then sprinkle with parsley before serving with vegetables and toasted rye bread.
Servings: 8-10