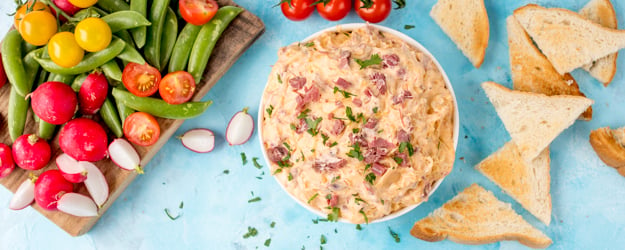 It's warm and melty, with all the flavours of the classic Reuben sandwich. A fantastic party dip!
I don't think I've ever met anybody who doesn't love a Reuben sandwich.
Thick slices of rye bread, piled high with salty corned beef, nutty Swiss cheese, tangy sauerkraut and creamy dressing.
Whoever originally came up with the idea of turning it into a dip is a genius!
For this recipe, I've added nothing more than some cream cheese to the basic Reuben sandwich ingredients. The cream cheese helps to bring all the ingredients together and will melt down with the Swiss cheese for a delicious creamy dip.
Throw it all in the slow cooker and let it melt together.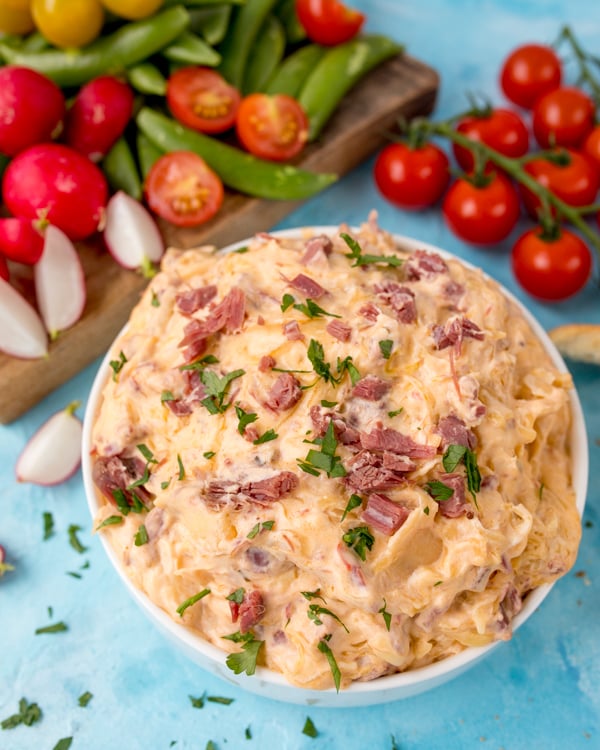 Not only does it make a great dip, but it any leftovers are great for making a speedy sandwich. Add some crunchy salad leaves and tomorrow's lunch is ready!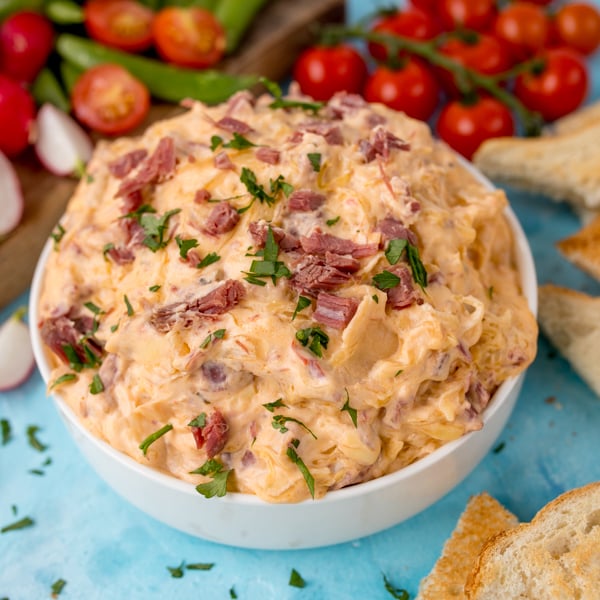 INGREDIENTS
1 x 16 ounce jar sauerkraut, drained
8 ounces full fat cream cheese
2 cups shredded Swiss/Gruyere/Emmental cheese
1 1/2 cups shredded cooked corned beef
1/2 cup thousand island dressing
Pinch of black pepper
Small bunch fresh parsley, finely chopped
INGREDIENTS TO SERVE:
Fresh vegetables – such as radish, snow peas and peppers
Fresh bread, toasted and cut into triangles
DIRECTIONS
Add all of the Reuben dip ingredients, except for the parsley, to the bowl of your slow cooker.
Mix well with a wooden spoon until combined.
Heat on high for 45-55 minutes, or low for 2-2 1/2 hours. Stir once or twice during cooking.
Once hot, all of the cheese should have melted. Stir again and transfer to a serving dish, then sprinkle with parsley before serving with vegetables and toasted bread.
Servings: 8-10