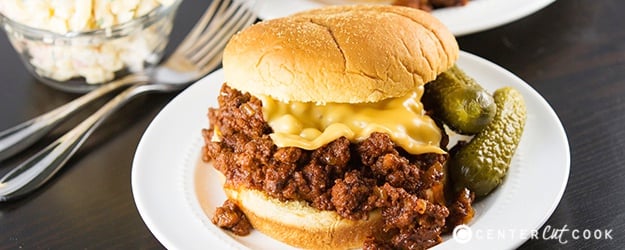 Oh hey you guys! Today I'd like to introduce you to Slow Cooker Sloppy Joes. They're made right in your crock pot and require super minimum effort yet these Sloppy Joes are saucy and delicious! The sauce is homemade, no canned sauce here; no siree, which if you ask me, is a good thing! If you've had Sloppy Joes made from a canned sauce, you know that they aren't necessarily bad, but trust me when I say these are better!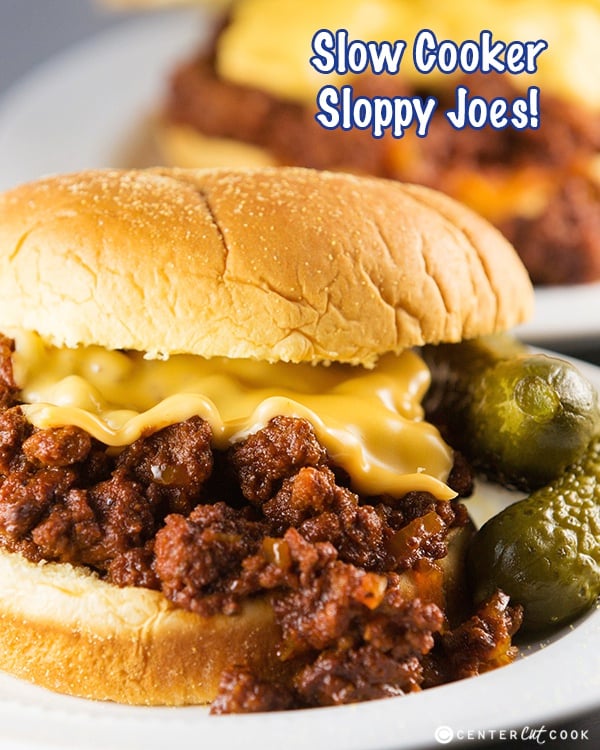 You can make these Slow Cooker Sloppy Joes with lean ground beef, or ground turkey. You'll start with already browned meat. Please don't put raw ground beef in the slow cooker, the result will not be pretty. I like to brown the beef the night before so that in the morning, I can just toss everything into the slow cooker and call it good!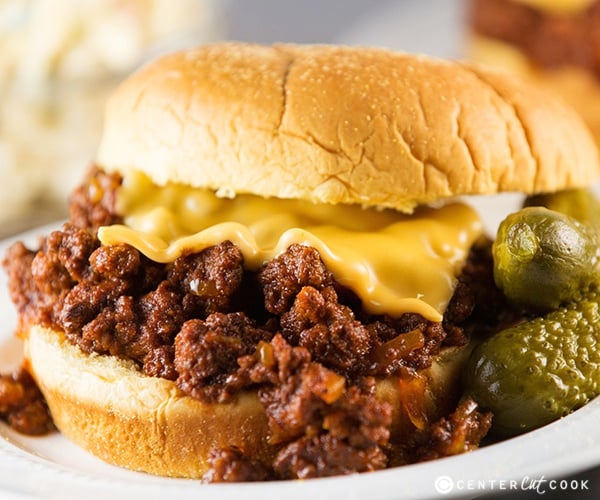 The sauce is pretty basic and includes a combination of ketchup and BBQ sauce with flavor enhancers like Worcestershire sauce, yellow mustard, and just a little brown sugar to sweeten it up! The result is a saucy, tangy, slightly sweet sauce that you'er going to love.
Raise your hand if you're in the cheese-on-your-sloppy-joe camp? I grew up eating Sloppy Joes with a slice of American cheese, so naturally, that's what I continue to do. Cheese or no cheese, this is a super simple supper made right in the slow cooker that your whole family will enjoy! I like to serve these Sloppy Joes with pickles and my Easy Macaroni Salad.
Note: You'll only need to slow cook the sloppy joes for about 4-5 hours. If you go longer than that, the sauce will start to burn. Burned sauce = no bueno. Enjoy!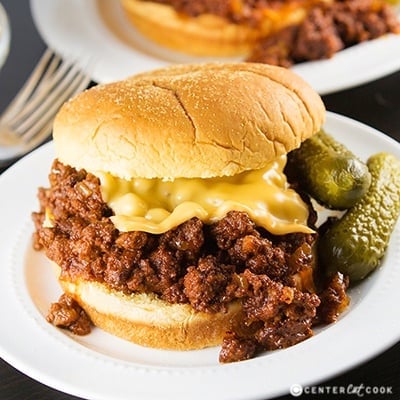 INGREDIENTS
2 pounds ground beef
1 yellow onion, diced
2 cloves garlic, minced
1/2 teaspoon garlic powder
1/2 teaspoon salt
1/2 teaspoon black pepper
1/4 cup water
3 tablespoons Worcestershire sauce
1 teaspoon yellow mustard
2 tablespoons packed brown sugar
1 cup ketchup
3/4 cup BBQ sauce
10 hamburger buns
Cheese slices *optional
DIRECTIONS
In a large skillet over medium high heat, brown the ground beef and sauté the onions. When the meat is just about done and the onions are tender, add in the garlic and cook for a minute longer. Drain excess fat from the meat and transfer the meat to your slow cooker.
In a large bowl combine garlic powder, salt, and black pepper with 1/4 cup water, 3 tablespoons Worcestershire sauce, 1 teaspoon yellow mustard, 2 tablespoons packed brown sugar, 1 cup ketchup and 3/4 cup BBQ sauce. Stir to combine.
Pour the sauce over the ground beef and stir.
Cover and cook on low for 4-5 hours.
Shortly before serving, toast the buns if you wish. Spoon the meat on each sandwich, top with cheese if desired and serve.
Recipe from
CenterCutCook