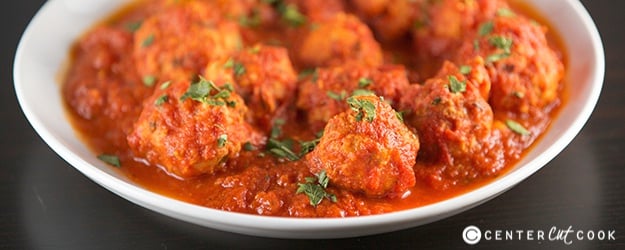 So often I get requests for more slow cooker recipes, the kind that are so easy to make; just throw everything in the crock pot and walk away! Those simple recipes are wonderful for hectic busy nights which is why I know you're going to love these Slow Cooker Turkey Meatballs. They require only about 10-15 minutes of prep work and the rest of the work is done by the crock pot. These turkey meatballs are perfect as an appetizer but they are also wonderful served over spaghetti or any pasta of your choice. The best part is that they are a bit more healthy than traditional beef meatballs feeling a little less guilty.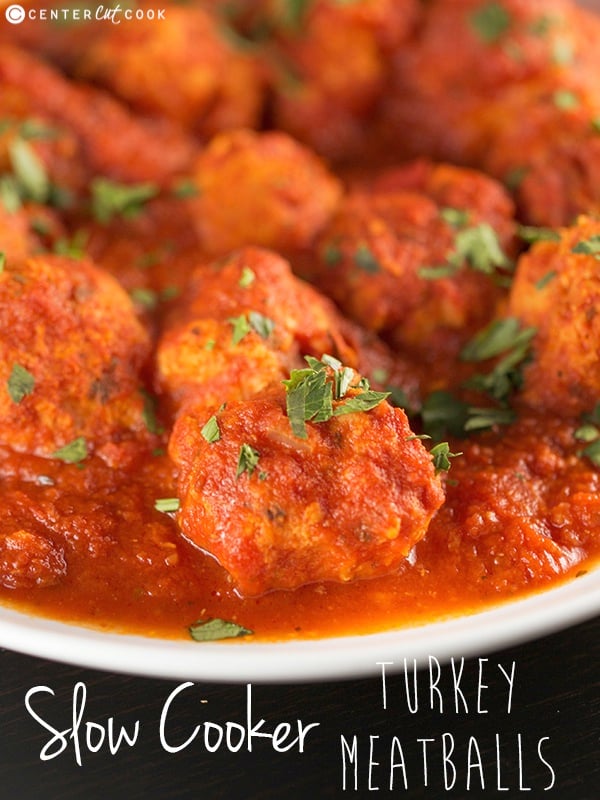 The most time consuming part of this recipe is actually forming the meatballs, but it will only take about 10-15 minutes. I like to use my cookie dough scoop to help me form these meatballs, just because it goes a little bit quicker and the meatballs end up a little more uniform in size than if I were to just eyeball it.
If I am buying ground turkey, I always make sure to buy the extra lean ground turkey breast. Make sure to read the label because some of the ground turkey out there is not any lighter in fat than ground beef, but the lean ground turkey breast definitely is. Just keep an eye out and pay attention to what you are buying.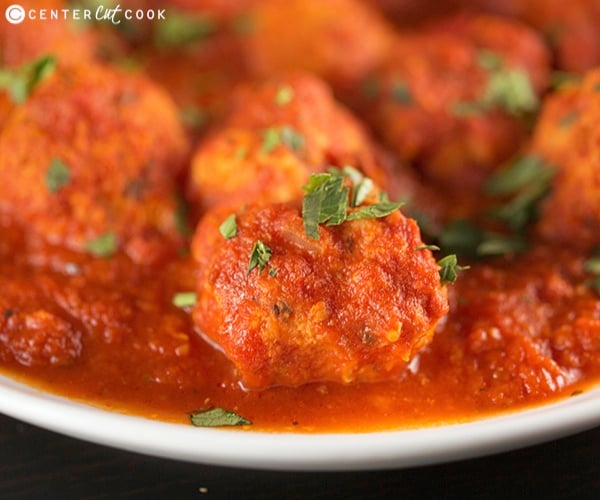 If you will be serving these Slow Cooker Turkey Meatballs as an appetizer, just place a toothpick in each meatball so that they are easy for people to take and eat. Be sure to garnish them with a little extra parsley, just because it really adds a pop of color and looks more exciting to eat than plain ole meatballs. Often times we eat with our eyes, don't we?
I tend to serve these over spaghetti but any pasta will work. Serve alongside my favorite Perfect Cheesy Garlic Bread with a salad and you've got a super simple, super awesome supper that your family will enjoy.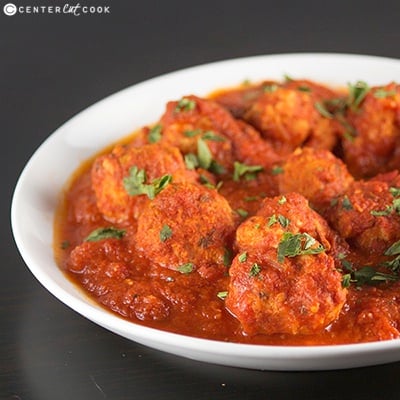 INGREDIENTS
1 1/2 pound ground turkey
1 egg, beaten
1 1/4 cup Italian seasoned bread crumbs (plain is fine if you don't have Italian on hand)
2 tablespoons chopped fresh parsley, plus a bit more for garnish
2 cloves garlic, finely minced
1/2 of a small yellow onion, finely chopped
28 ounce can crushed tomatoes
28 ounce jar marinara or make your own
1 teaspoon dried basil
1 teaspoon dried oregano
1/4 teaspoon red pepper flake
1/2 teaspoon garlic powder
DIRECTIONS
In your slow cooker, combine the marinara sauce, crushed tomatoes, basil, oregano, red pepper flake, and garlic powder.
In a large bowl, combine ground turkey, egg, bread crumbs, fresh parsley, garlic, and yellow onion. Use your hands to combine everything together. It's messy, but your hands work best! Just make sure they are clean and wash them really good after you mix everything together.
Divide the meat mixture into 30-36 meatballs (approximately). You will use about 1 heaping tablespoon of meat mixture for each meatball.
Place the meatballs in the sauce mixture and cook on low for 6 to 8 hours or on high for about 3-4 hours.
Serve as an appetizer or over spaghetti for a super simple supper.
Recipe from
CenterCutCook