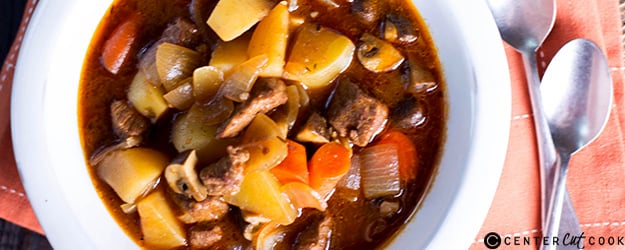 Beef stew is big in our house. There's something about the slowly braised beef, mixed with the vegetables in a tomato and balsamic vinegar base that just makes everything better on a cold day.
I usually have a go-to hearty beef stew, but that requires staying in the kitchen for a good 4-5 hours over the course of a day because you need to braise it and it has many steps. While it's amazingly delicious, I wanted to try to replicate the same delicious flavors in a slow cooker.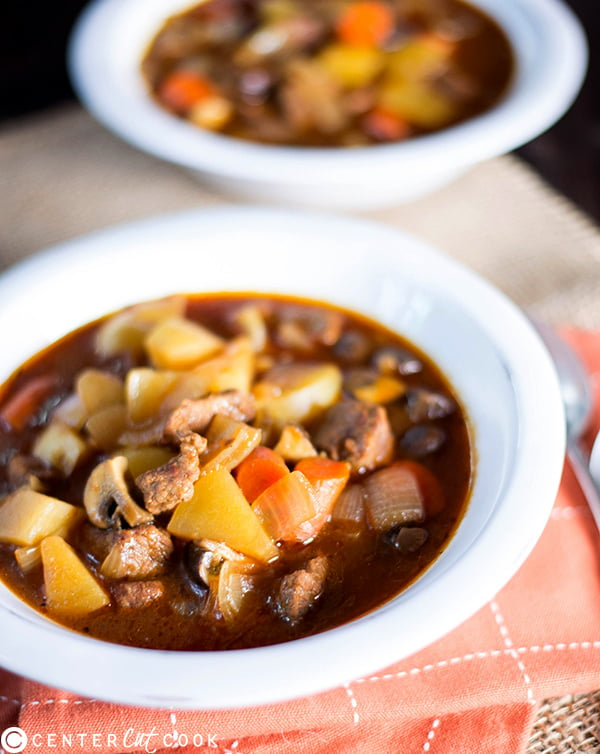 Because slow cookers are amazing and easy and make delicious food.
And that is how this lovely slow cooker vegetable beef stew came to be. It's really yummy and takes so much less work. Now, I have two recipes I can choose from. Yay!
If you're pressed for time and looking for a super easy stew that will make your home smell amazing and your tastebuds happy, try this slow cooker vegetable beef stew and I think you'll be a happy camper.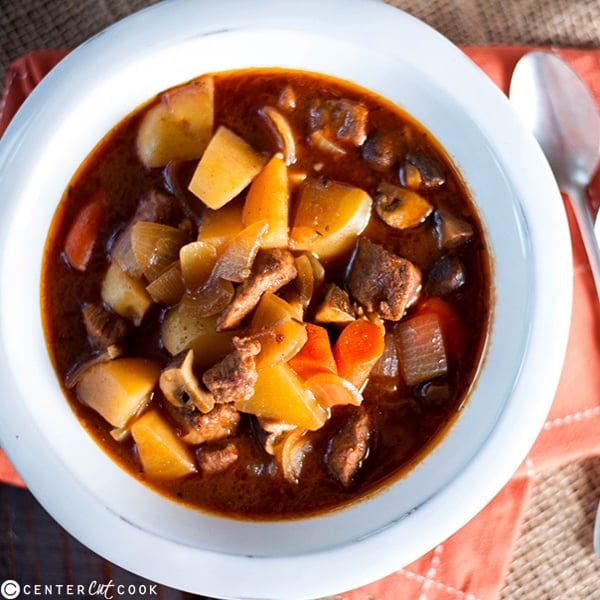 INGREDIENTS
1/3 cup all-purpose flour
1 tsp. dried rosemary
1 tsp. dried thyme
1 tsp. dried basil
1 1/2 tsp. kosher salt
1 tsp. ground black pepper
1 tbsp. olive oil, plus more as needed to brown meat
1 1/2 lbs. beef chuck roast, boneless, cut into bite-size chunks
4 yukon potatoes, diced
4 carrot(s), sliced
1 yellow onion, diced
2 tbsp. tomato paste
5 cloves garlic, minced
4 cups beef broth
1/4 cup balsamic vinegar
2 bay leaf
8 cremini mushrooms, quartered
1 tbsp. cornstarch
DIRECTIONS
Combine the flour, rosemary, thyme, basil, kosher salt, and pepper in a medium mixing bowl. Heat the olive oil over medium-high heat in a large skillet.
Handful by handful, dredge the meat chunks in the seasoned flour mixture until coated, then transfer to the hot oil.
Cook the meat, in batches if too crowded, until well-browned on all sides. It is not necessary to cook through at this time, just to brown.
Add the browned beef to the bowl of the slow cooker.
Add the potatoes, carrots, onion, tomato paste, garlic, broth, balsamic vinegar, and bay leaves to the slow cooker and stir to combine.
Cover and cook for 4-6 hours, or until the potatoes and carrots are mostly tender.
Now, add the mushrooms to the slow cooker. Take about 1/2 cup of the liquid from the slow cooker and pour into a mixing bowl. Add the cornstarch to the mixing bowl and mix until fully dissolved. Add the cornstarch mixture back to the slow cooker and stir to combine.
Cook for an addition 1-2 hours, or until the meat and vegetables are tender and the sauce has thickened.
Taste for salt and pepper before serving.
Servings: 6