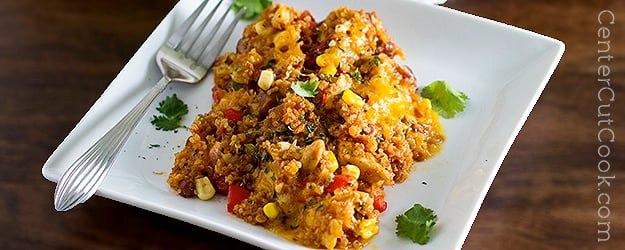 There is SO much goodness packed into this Southwestern Quinoa Casserole that I don't even know where to start describing it! About a month ago I took the plunge and bought a mega bag of quinoa from Costco for the very first time, determined to start cooking with it. I knew quinoa was versatile but I didn't really realize just how versatile it actually was until I started searching for recipes. It can be used for everything from side dishes, to main dishes, to even dessert, yes… dessert!
My goal for this recipe was to create a casserole that was super flavorful and packed full of veggies; a recipe that tastes good AND is good for you! Additionally, casseroles are typically hearty, and comforting, which was another element I wanted to achieve. All of my goals were met with this Southwestern Quinoa Casserole which means it will, without a doubt, be going on our monthly meal rotation list.
Here's what I packed into this all-in-one casserole – there's tender sautéed chicken, a hearty amount of quinoa that I cooked in chicken broth for extra added flavor, and a TON of veggies. I added diced red onion, jalapeños, red pepper, corn, fire roasted diced tomatoes, and a bit of cilantro. Then there's chili beans, some cottage cheese to help with the creaminess I look for in casseroles, and some fresh sharp cheddar cheese. To season it up, I used a packet of taco seasoning and it worked just perfectly.
Most of the casserole is made on the stovetop, after which everything gets put in a casserole dish, topped with a bit of cheddar cheese, and baked until the cheese is ooey gooey and melted, which took about 20 minutes. From start to finish, it took me about 40 minutes to make. I made no side dishes to go along with this casserole because I felt like it was hearty enough and included all of the food groups I'd typically serve for dinner.
If you haven't tried quinoa before, this is a good recipe to start with because it's so flavorful and satisfying. It can also easily be made vegetarian by simply eliminating the chicken, and using vegetable stock instead of chicken stock to cook the quinoa. If you plan to include the chicken, this is a great recipe to use up any leftover chicken you have from previous meals. This would also be a good way to use a rotisserie chicken. Enjoy!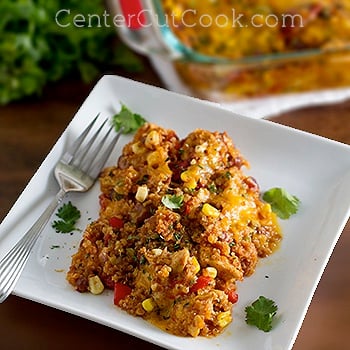 INGREDIENTS
1 cup quinoa, rinsed
2 cups chicken or vegetable stock
2 boneless skinless chicken breasts, chopped into 1 inch chunks
1 packet taco seasoning, divided
1/2 of a medium red onion, diced
1/2 of a jalapeño, seeds and ribs removed, diced
1 red pepper, seeds and ribs removed, diced
1 clove garlic, minced
1 1/2 tablespoons oil
1 cup frozen corn
1- 14oz. can black beans, drained and rinsed or 1 can medium chili beans
1- 14ox can fire roasted diced tomatoes, drained
1 tablespoon fresh cilantro
1/3 cup small curd cottage cheese
1 1/2 cups sharp cheddar cheese, divided
DIRECTIONS
Pre-heat your oven to 400 degrees.
Cook 1 cup quinoa in 2 cups chicken stock. Bring to a boil, then cover, reduce heat, and simmer about 15 minutes, or until quinoa is fluffy, and the liquid has been absorbed. Set aside.
While the quinoa is cooking, heat 1/2 tablespoon oil over medium heat in a non-stick skillet. When the oil is heated, sauté' onion, red pepper, jalapeño, and garlic until the onions are translucent and the rest of the veggies are tender. Remove the veggies from the pan and set aside.
Heat 1 tablespoon oil in the same pan over medium-high heat. Toss the chicken with 1 teaspoon of taco seasoning and cook the chunks of chicken until they are cooked through and the juices run clear, about 8 minutes.
In a large bowl, combine quinoa, cooked chicken, sautéed' veggies, cilantro, corn, fire roasted diced tomatoes, and beans with the remaining taco seasoning, cottage cheese and 1/2 cup of cheddar cheese. Spoon the mixture into a 9×13 inch casserole dish.
Top the casserole with the remaining 1 cup of cheddar cheese. Bake uncovered for about 20 minutes or until the cheese is melted. Allow to cool for a few minutes before serving.
Recipe from
CenterCutCook