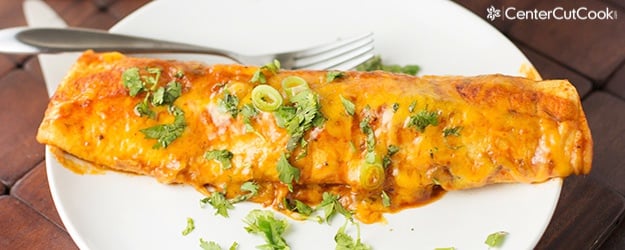 One of my all-time favorite cuisines to cook (and consume) is Mexican. I love cheese, and I love spice, and I can usually find these two things in just about every Mexican dish I cook. This recipe is no exception. Now I don't know just how authentic these spicy cheese and beef enchiladas are, but they are tasty and will definitely be added to my dinner rotation list!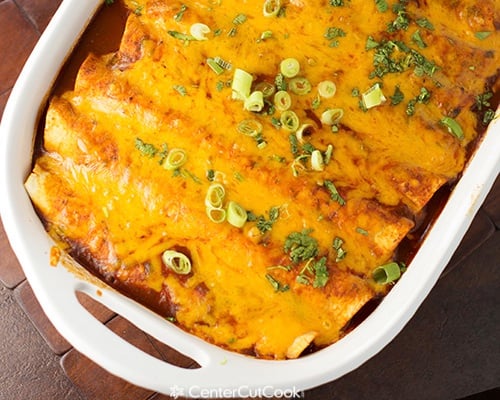 This is one of those recipes that heats up fabulously as leftovers, which I adore because when you're only cooking for two, there's almost always leftovers!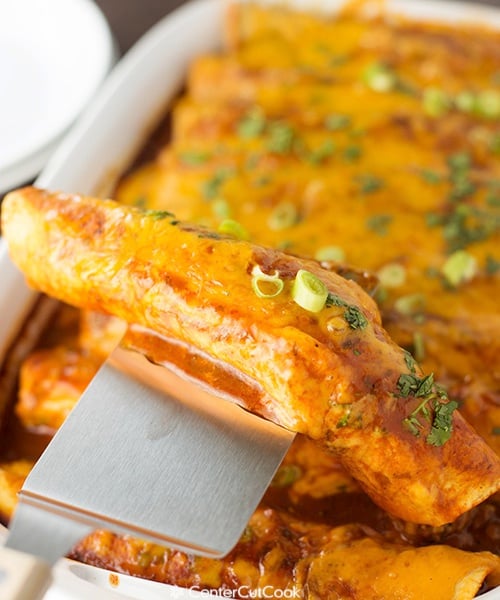 I generally tend to cook recipes that are quick and easy. It's a patience thing (or lack thereof). This recipe, however, does not fall under that category. It's easy, that's for sure, but it is a bit time consuming. Allow yourself an hour to get these enchiladas assembled and baked. It's worth the time, I promise!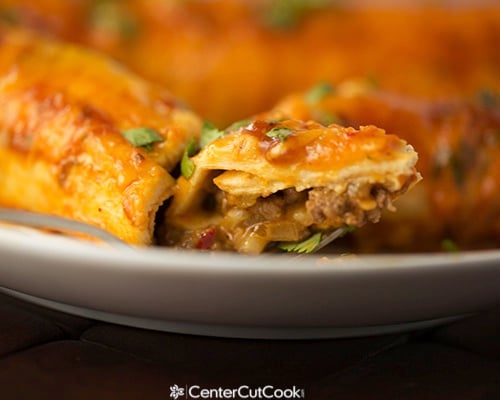 *Note 1: Always, always, always shred your own cheese! It doesn't matter what you're cooking, it'll always turn out better with freshly grated cheese. And it's usually cheaper.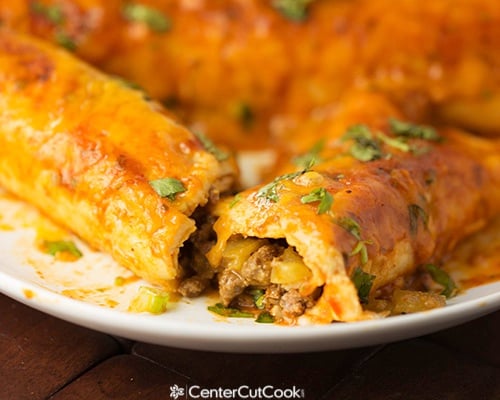 *Note 2:I used fresh cilantro with this recipe because I really like the flavor that it adds. I'd recommend using fresh cilantro too, if it's available, instead of opting for dried cilantro.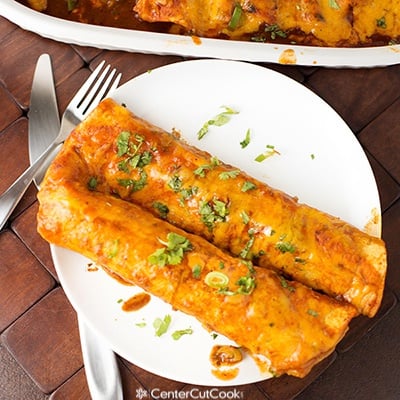 SAUCE INGREDIENTS
1 tablespoon vegetable or canola oil
1 tablespoon all-purpose flour
28-oz can enchilada or red sauce
2 cups chicken broth
1/2 teaspoon salt
1/2 teaspoon black pepper
2 tablespoons chopped fresh cilantro or 2 teaspoons dried cilantro
MEAT INGREDIENTS
1 1/2 pounds ground beef
1 medium onion diced
2 oz diced green chillies (canned)
1/2 teaspoon salt
1 teaspoon chili powder
1 teaspoon ground cumin
1 teaspoon red pepper flakes
ADDITIONAL INGREDIENTS
10 flour (or corn) tortillas
3 cups grated sharp cheddar cheese
5 green onions chopped
1/2 cup chopped cilantro
DIRECTIONS
SAUCE – in a saucepan, combine oil and flour over medium heat to create a paste. After a minute or so, add your enchilada sauce, chicken broth and salt. Bring to a boil, then reduce the heat to low and simmer for about 30-45 minutes. At around the 40 minute mark, add in the cilantro.
MEAT – While the sauce is simmering, brown the hamburger meat along with the onions. When cooked through, drain fat. Stir in the green chillies, salt, chili powder, ground cumin and red pepper flakes.
Preheat the oven to 350 degrees.
Pour about 1/2 cup of sauce on the bottom of a 9 x 13 inch casserole dish.
In a small baking pan (I used a round cake pan), pour some of the sauce into the bottom. Dip each tortilla into the sauce so that both sides are coated, then add the ground beef mixture, shredded cheddar, and a few sliced green onions.
Roll up the tortilla nice and tight and place in the bottom of the pan.
Continue this process until you have no more tortillas and filling left. Pour remaining sauce over the top of the enchiladas and top with remaining shredded cheddar.
Bake for around 20 minutes. You'll know it's done when the cheddar cheese is all gooey and melted!
Top it off by adding a little fresh green onion and cilantro, and a dollop of sour cream.
Recipe adapted from
The Pioneer Woman