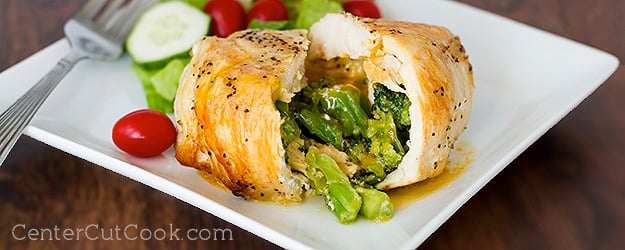 Those of you who have been following CenterCutCook over the last year since I've been around, may have seen this recipe for Broccoli and Cheddar Stuffed Chicken (please, excuse the terrible photo! I'm 100% self taught, and getting better as I go). It's super delicious but involves dredging the chicken in flour, then panko bread crumbs before getting baked in the oven. While it's delicious, I was looking for something that I could make entirely on the stovetop.
Meet Stovetop Broccoli and Cheddar Stuffed Chicken, my revamped version that requires no baking whatsoever! Aside from the fact that it comes together much faster than the aforementioned baked version, it's healthier too! There's no bread crumbs, and no flour. At first I thought I'd miss the crispy crunchy coating, but it turns out I didn't. If you cook the chicken right, without overcooking it, it'll be juicy, flavorful, and just downright healthy and delicious!
The trick with stuffed chicken is to make sure you secure it so that the filling doesn't ooze out, especially the cheese which is obviously the best part! ;) I used about 6-8 toothpicks per piece of chicken to secure it shut, so don't be shy. Use as many toothpicks as ya need!
To sum up this recipe.… Did I miss the crispy crunchy coating? No. Which version of Broccoli and Cheddar Stuffed Chicken would I make if given a choice? That's tough, both are tasty, so it just depends on what you're looking for. If your'e looking for a little crunch, go with the oven version. If you're looking to keep things ultra light, healthy, and simple, this one is your winner! I served the chicken with a side salad, but steamed veggies would also be great. It's ready in under 30 minutes! Enjoy!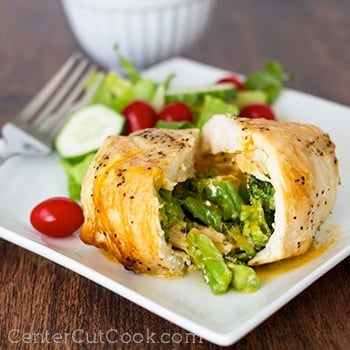 INGREDIENTS
4 boneless skinless chicken breasts pounded out to 1/4 in thickness
Salt, pepper, garlic powder for seasoning
1 cup steamed broccoli
1 cup shredded cheddar cheese
Toothpicks
2 tablespoons olive oil
1/2 cup chicken stock or chicken broth
DIRECTIONS
Steam 1 cup broccoli according to package directions (I usually do this in the microwave)
While the broccoli is cooking pound out the chicken breasts so that each are 1/4 inch thick. Use a meat mallet for the best results.
Liberally season both sides of the chicken with salt, pepper, and garlic powder.
Place 1/4 cup broccoli, and 1/4 cup cheddar cheese down the middle of the chicken.
Fold in the sides and use several toothpicks to secure the chicken shut. The tighter you can secure it, the better.
Heat 2 tablespoons of olive oil in a large skillet to medium high/high heat. Place the chicken in the pan and allow it to brown for about 4 minutes. then flip the chicken to brown the other side for another 4 minutes. If possible, brown the sides as well, but the chicken may be an odd shape, and you may have difficulty doing this.
When all sides are browned, turn the heat down and add 1/2 cup chicken stock to the pan. Cover and cook for another 8-10 minutes, or until the chicken is cooked through.
Internal temp should register 175 degrees. If you don't have a thermometer, just check to see that the juices are running clear, or make a small slit into the thickest part to make sure there is no pink.
Remove the chicken from the pan and allow it to sit for a few minutes, then serve.