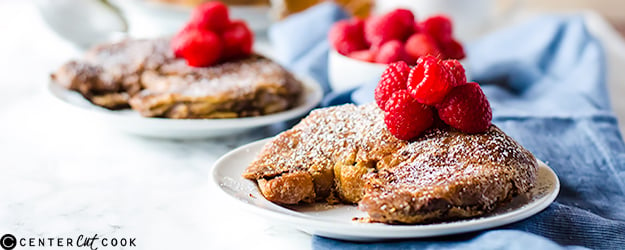 I love breakfast. It's one of my favorite meals besides dessert (yes, that is a meal for me!). There is nothing I love more than a decadent breakfast that borders on dessert on a lazy weekend morning. That's why I am crazy over these stuffed French toast croissants.
French toast is amazing as it is, but when you turn croissants into French toast, it takes it to a whole new level. The buttery, flaky croissants are dipped in a simple custard and fried to perfection. But today we take things even further. Today, we stuff our French toast croissants with Nutella and Biscoff cookie butter, then top with fresh berries and powdered sugar. If that's not a decadent breakfast, then I don't know what is.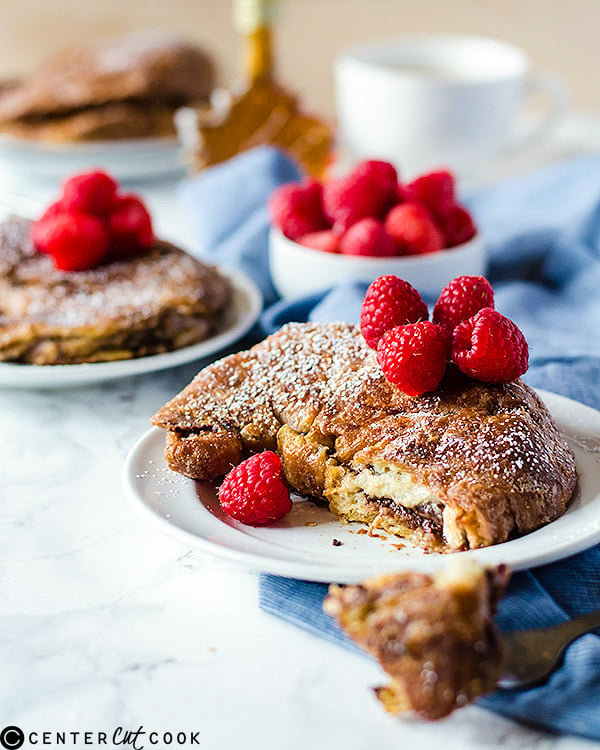 You can choose to stuff yours with either the Nutella or Biscoff, or stuff them with both! You can also get more creative and stuff with any of your favorite fillings, but these two are the best in my opinion. When you make these stuffed French toast croissants, make sure to leave the croissants out so they can get stale. I know I am asking for a lot, but stale bread is the key for delicious French toast. If you don't think the croissants would be able to last long enough to get stale, or you didn't get a chance to plan ahead, you can try toasting the croissants in the oven first. I recommend heating them at 300 degrees F for about 10 minutes. Allow it to cool before you continue on with the recipe.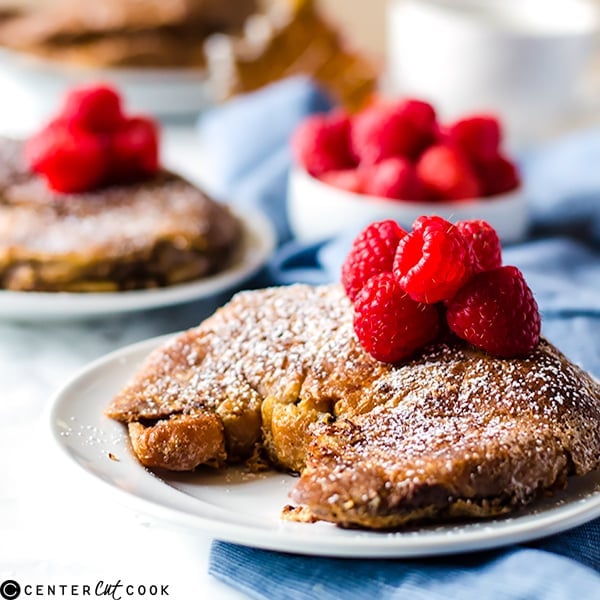 INGREDIENTS
DIRECTIONS
Preheat a skillet on medium heat. Preheat the oven to 200 degrees F. Place a baking sheet with a wire rack over it on the top rack of the oven.
Mix together the eggs, milk, cinnamon, nutmeg, salt, sugar, and vanilla together. To speed up the processes, you can use a blender to mix the ingredients, then place the custard in a bowl for dipping.
Cut the croissants in half and spread the bottom half with Nutella and/or Biscoff cookie butter then top with the top half of the croissant. Tip: do not spread the filling to the edges of the croissant, or it may leak out as you cook them!
Dip in the custard. Add a small nob of butter to the skillet and fry the croissants for 2 – 3 minutes on either side. For best results, only cook 1 – 2 croissants at a time. Place finished croissants on the wire rack in the oven to stay warm as you continue to make more stuffed French toast croissants.
Serve warm with powdered sugar and fruit.
Servings: 6