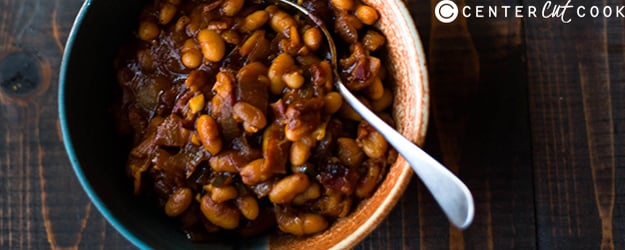 This recipe first came about when I was preparing for a backyard barbecue and I wanted to put an extra oomph in my beans. Because when I have guests coming over, I like to make things tricky on myself, apparently. I have always enjoyed baked beans as a side for barbecue, but often find the flavors are just too sweet for my tastes.
While I do enjoy sweet, I like more depth from my beans – am I asking too much here? I hope not.
So, with this recipe, I was super happy with how it turned out since I was shooting for a flavor profile that started with sweet, then savory, and then finished with the heat. And that's exactly what these beans do. Perfect!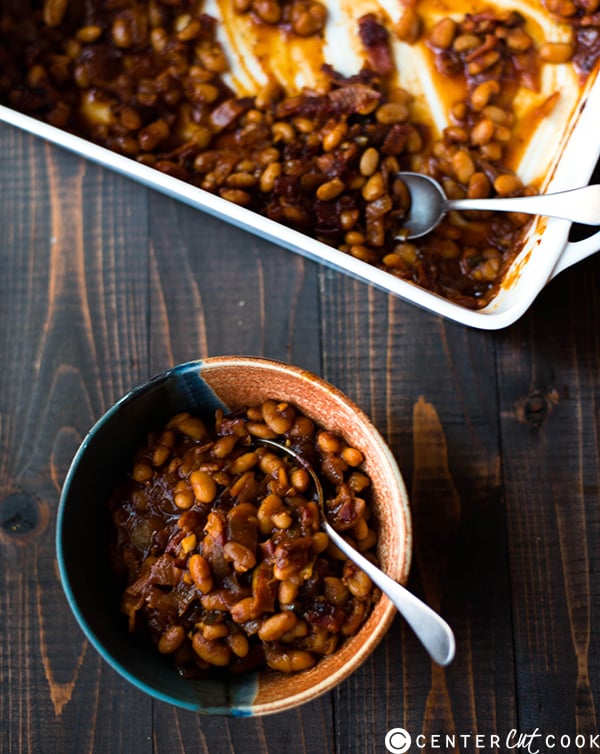 For the sweetness, you can use brown sugar or coconut sugar, depending on whether you're trying to avoid refined sugars. I like using the jalapeno for the heat, but you could also use hot sauce or even a cayenne pepper, though I find the jalapeno gives just the right amount of heat for these beans. I also like the added depth of flavor and texture from the bacon (because: bacon!) and then the molasses which rounds out the flavors.
This is one side dish that will get eaten up at any gathering (assuming they like beans!) and people will ask you for the recipe for sure. Plus, it's works well for the non-summer months as well since it has the nice, warm flavors and is just so darn good to eat!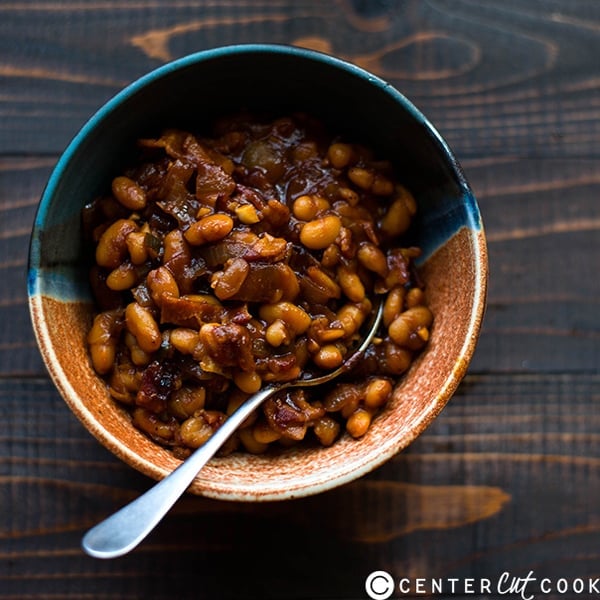 INGREDIENTS
1/4 cup tomato paste
1/2 cup brown sugar, lightly packed
1/4 cup molasses
1/2 tsp. kosher salt
1/4 tsp. ground black pepper
1 tbsp. apple cider vinegar
1/4 tsp. ground ginger
1/8 tsp. cayenne pepper
1 lb. thick bacon, chopped
1 large yellow onion, diced
1/2 jalapeño, seeds removed and diced
2 cloves garlic, minced
32 oz. Great Northern beans, drained
DIRECTIONS
Preheat oven to 350 degrees.
In a medium mixing bowl, combine the tomato paste, brown sugar, molasses, salt, black pepper, apple cider vinegar, ginger and cayenne pepper and mix well. Set aside.
Heat a skillet over medium-high heat and cook the chopped bacon until crispy, but not burned. Remove cooked bacon crumbles from the pan, reserving 2 tbsp. of the rendered bacon grease.
In the 2 tbsp. of bacon grease, cook the onion and jalapeño over medium-high heat until tender, about 6-8 minutes. Add in the garlic and cook for an additional 1-2 minutes, until garlic is fragrant.
Return the crumbled bacon to the pan and add the 2 cans of beans. Add the tomato and molasses mixture and stir to combine.
Pour into a large (9×13-ish) casserole baking dish and place in the oven. Bake for 25 minutes, until mixture is bubbly.
Servings: 6