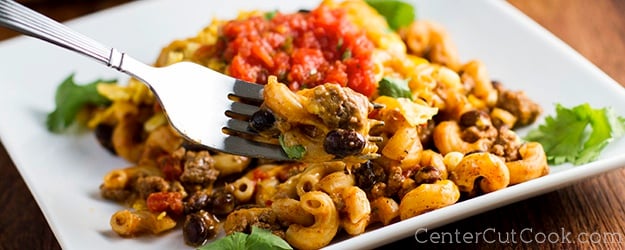 There's no need for Taco Bell on taco night, not when you can make this easy, yummy homemade Taco Pasta Bake! It's everything you love about tacos, but in pasta form. This recipe came to be after I had a taste for tacos, but realized we had no tortillas in the house! With everything else I needed on hand, I decided to get creative and find another way to enjoy tacos. I looked in my pantry to assess the situation and determine what I could use in place of tortillas. Tacos on bread? Gross. Tacos on an english muffin? Even more gross. Tacos mixed in with a box of Barilla Whole Wheat Elbows? Hmmmm….
I wasn't quite sure whether to classify this as a pasta dish, or as a casserole. Ultimately I went with pasta "bake" because after assembling everything together, it gets scooped into a baking dish, topped with cheese, and baked until the cheese is ooey gooey and bubbly — the same method you'd use if you were making baked rigatoni or something similar. It's really quite simple, you start by making ground beef for tacos, just like you normally would with a seasoning packet, or seasonings of your choice. While the meat is cooking, you cook some elbow macaroni pasta. When the meat is done cooking, a combo of Ro-Tel, corn, and black beans get tossed in. Then, to keep things "saucy" I combined a generous amount of taco sauce with a little sour cream and stirred it into the mixture. Finally, the pasta and meat mixture gets tossed together and scooped into a baking dish where it's topped with cheddar cheese and crushed tortilla chips, and baked until the cheese is gooey and bubbly.
Once the Taco Pasta Bake comes out of the oven, you can top it with traditional taco toppings if you desire, such as salsa (Classic Homemade Salsa), sour cream, lettuce, and tomatoes, or you can eat it as-is. I enjoyed some toppings on my pasta, while my hubby preferred eating it as-is with no extra "stuff!"
Options:
To simplify: Use taco seasoning from the store, my favorite store brand is French's.
To go all out: Make your own taco seasoning from scratch!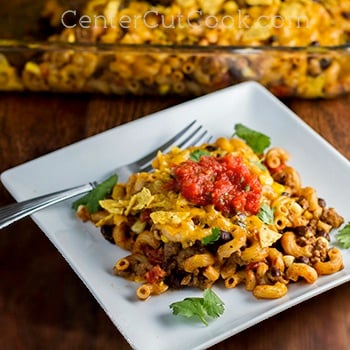 INGREDIENTS
1 pound lean ground beef
1 taco seasoning packet, or homemade taco seasoning blend
10 ounces elbow macaroni, cooked according to package directions (I went with Barilla's Whole Wheat variety)
1 cup frozen corn
1 can black beans, drained and rinsed
1 can Ro-Tel, drained
1 cup Taco Sauce – I used the Ortega brand
1/4 cup sour cream
1 cup cheddar cheese, shredded
Handful of tortilla chips, crushed – about 1/2 cup
DIRECTIONS
Pre-heat your oven to 400 degrees.
In a large skillet, cook 1 pound of lean ground beef until cooked through. Drain any excess fat, and return the meat to the pan.
While the meat is cooking, cook pasta according to package directions.
Add a packet of taco seasoning, and follow packet directions to make taco meat.
When the taco meat is done, stir in frozen corn, black beans, and Ro-Tel
In a medium sized bowl, combine taco sauce with sour cream.
Stir the taco sauce/sour cream mixture into the meat.
Drain the pasta, and add it to the skillet with the meat mixture. Stir well so that all the ingredients get evenly distributed.
Pour the mixture into a 9×13 baking dish.
Top with cheddar cheese and bake for about 15 minutes, or until the cheese has melted.
Right before serving, sprinkle crushed tortilla chips over the pasta bake.
Top with traditional taco toppings if desired (salsa, lettuce, chopped tomatoes, olives, etc.) and serve.
Recipe from
CenterCutCook