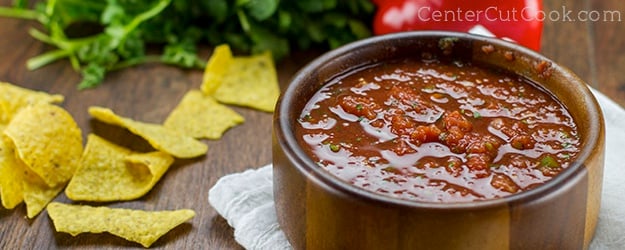 When it comes to salsa, I am picky! As a result of my pickiness, I've tried at least a half-dozen salsa recipes and not a single one met my expectations! I was about ready to give up and just stick to buying Jack's Special salsa from the grocery store when the stars aligned and this recipe for Classic Salsa with Roasted Corn came to be.
The perfect salsa must have just the right ratio of all ingredients, but especially the cilantro. Some people love it, some hate it, I happen to be in the 'love it' camp, and in this recipe, the cilantro shines! Heat is another factor that makes or breaks a salsa. I happen to like my salsa between medium and hot and this salsa did not disappoint. The great thing is that you can SO easily adjust the heat to your liking which makes this recipe so versatile. If you want your salsa extra spicy, don't scrape the seeds out of the jalepeno because that's where the heat lies. This recipe calls for 2 cans of Rotel which is simply diced tomatoes and green chillies. If you want to add a little heat, you can buy the hot variety of Rotel which is diced tomatoes and habanero peppers.
Now, this isn't just classic salsa, this is classic salsa with roasted corn. I know it may sound a little bizarre to put corn in salsa, but trust me when I tell you that it is the perfect compliment to this salsa! And roasting corn is so simple! If you've got 20 minutes to spare, you've got more than enough time to throw together this recipe. Just make sure you've got some yummy corn tortilla chips on hand and some friends to share it with. Enjoy!
Note: Yes, I am aware that there is no corn pictured. The first round of photos included corn, but the pictures didn't turn out quite as good as I had hoped. The second round of pictures turned out much better, until I realized I had forgotten to add the corn! Oops! :)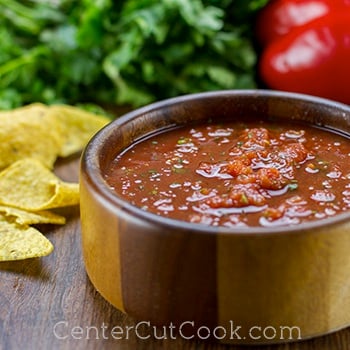 INGREDIENTS
28 ounce can whole tomatoes with juice
20 ounces cans Rotel (Rotel comes in regular, medium, and hot varieties – choose based upon your preference)
1/4 cup chopped onion
1 clove garlic, minced
1 jalepeno, seeds removed if you want to keep the salsa mild, chopped
1/2 cup cilantro, chopped
1 ear of corn, roasted
Butter
Juice from 1 lime
1/4 teaspoon sugar
1/2 teaspoon salt
1/4 teaspoon ground cumin
DIRECTIONS
Heat a grill pan to medium high heat. Clean the husks off of 1 ear or corn. Lightly butter the corn, then wrap it tightly with foil. Place on a grill pan for 15-20 minutes, rotating frequently. Remove the foil from the corn and allow to continue cooking for a few more minutes to get the charred marks on the corn. Remove the corn from the grill pan, and cut the corn off the cob.
In your food processor or a powerful blender like the Vita-Mix, combine whole tomatoes, rotel, chopped onion, minced garlic, chopped jalepeno, cilantro, corn, sugar, salt, cumin, and lime juice. Pulse it a few times until the salsa has reached your desired consistency.
Enjoy!
Recipe adapted from
Pioneer Woman