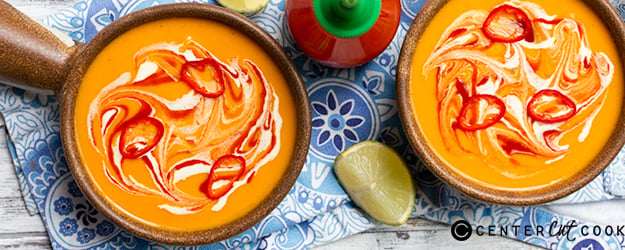 I just love meals where you can throw everything into the same pan in a few stages, and then ta daa – you have a delicious meal.
This soup is full of spicy Thai flavours, whilst making the most of those pumpkins that we're still seeing in the shops.
The spiciness from the soup comes from the red Thai paste, so you can add as little or as much as you like, depending on how hot you want it. I find that the amount of heat in different brands varies hugely, so be careful not to go overboard.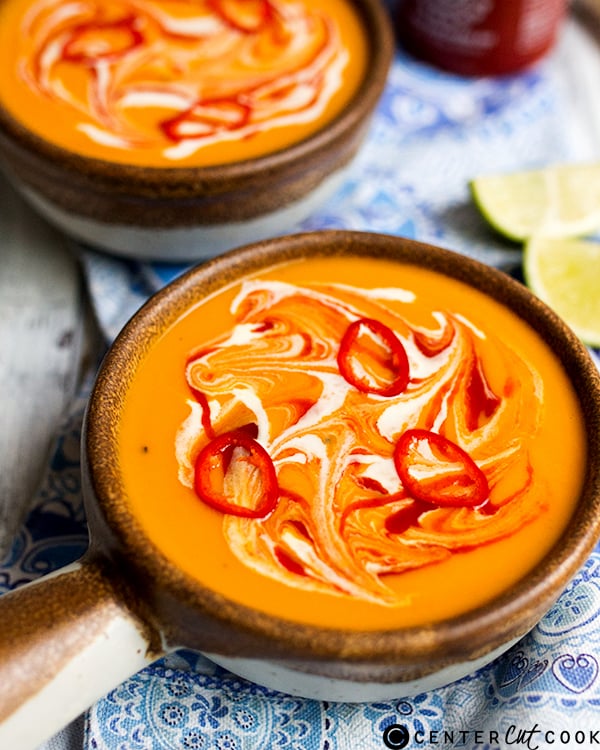 My first batch of this soup left my poor children glugging down a large glass of water after the first few mouthfuls. They still ate it all though, just with an extra glass of water!
Serve it for lunch, or even for dinner with some garlic flatbreads for dipping.
Any leftover soup can be cooled, covered and refrigerated or frozen – so it's worth making a double batch for those busy weeknights.
SOUP INGREDIENTS
1 tbsp olive oil
1 onion, peeled and chopped
1 thumb-sized piece of ginger, peeled and minced
2 cloves garlic, peeled and minced
2 tbsp red thai paste (you could add a little more or less depending on the brand you use – I use Thai Taste – which is tasty, but quite hot)
3lbs pumpkin or butternut squash, peeled, deseeded and chopped
1 large sweet potato, peeled and chopped
3 1/2 cups hot vegetable stock (water plus bouillon powder is fine)
14oz can coconut milk (full fat)
1 tsp fish sauce
Juice of half a lime
1/2 tsp salt
1/4 tsp ground black pepper
TO SERVE INGREDIENTS
1/4 cup heavy cream
2 tbsp sriracha or other chilli sauce
1 fresh red chili, finely sliced
DIRECTIONS
Heat the oil in a large pan and place the onion in the pan. Cook for 5-6 minutes on a medium heat until the onion has softened. Add in the ginger, garlic and thai paste and cook for a further minute, then add in the squash and sweet potato and stir until everything is lightly coated in the paste.
Add in the stock and coconut milk and bring to a gently bubble, then simmer for 20 minutes.
Stir in the fish sauce, lime juice, salt and pepper, then turn off the heat. Carefully blend with a stick blender, then ladle into bowls. Swirl in a little cream and chilli sauce, then top with some chopped red chiles.
Servings: 6