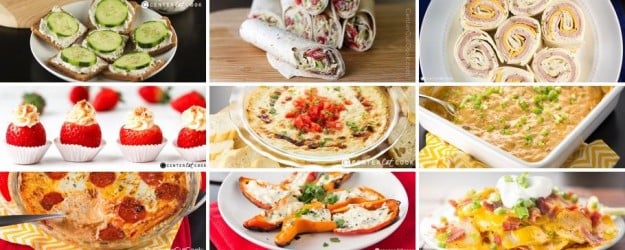 If you are looking for the best appetizers to bring to a party, you have come to the right place. I can't tell you how often friends and family ask me for advice when they are planning a party. They want to know which appetizers and snacks they should make that are going to "wow" their guests and feed a crowd, so I decided to make a collection of the Best Appetizers ever! There's something for everyone in this list, and all of them are sure to be a hit! If you're looking for the best appetizers of all time, look no further!
Whether you are looking for a popular dip, stuffed mushrooms, or some other kind of appetizer. This list is sure to provide some of the best crowd-pleasing appetizers!
So go ahead and browse these awesome recipes below. I'm sure you won't be disappointed!
list;5442,894,118,11170,8793,801,102,325,9761,716,4119,241,4197,654,4362,1591,11514,384,722,436,9845,11243,11001,6133,8,1218,130,335,556,11259,11182,11005,9907,5459,538,1448,9772,1338,11212,10735,474,127,10784,11229,388,11159,541,10795,10797,11511,11512,11503,11500
wide;5442,894,118,11170,8793,801,102,325,9761,716,4119,241,4197,654,4362,1591,11514,384,722,436,9845,11243,11001,6133,8,1218,130,335,556,11259,11182,11005,9907,5459,538,1448,9772,1338,11212,10735,474,127,10784,11229,388,11159,541,10795,10797,11511,11512,11503,11500