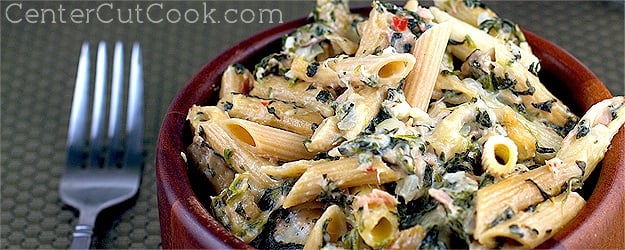 When I think of tuna casserole, I picture a combo of egg noodles, cream of mushroom soup, peas and tuna with either a potato chip or bread crumb topping. It's the more traditional casserole that you might have grown up with and may even consider comfort food. I've never really been a fan, but still wanted to take a stab at creating an updated version with some new flavors.
The end result includes some of the flavors from the more traditional tuna casserole, but some new ones too. I swapped peas for spinach, egg noodles for whole wheat penne, and cream of mushroom soup for a combo of chicken stock, half and half, and a bit of low-fat sour cream. You'll also taste subtle hints of lemon and garlic. And what's a casserole without some cheese? I used a combo of freshly grated parmesan and mozzarella which worked perfectly. In some ways, it actually reminds me of a spinach dip (which I love) that meets a tuna casserole.
If I had to think of one word to describe this tuna casserole, it's subtle. All of the flavors are pretty mild and I absolutely love the addition of spinach and whole-wheat penne. For a quick weeknight meal, this will do the trick as it only requires about 10 minutes of prep time and 10-15 minutes of baking time.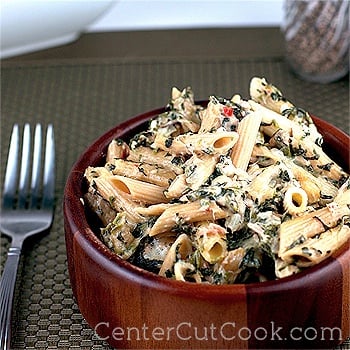 INGREDIENTS
1 pound Whole-wheat penne cooked al dente
1 tablespoon extra virgin olive oil
3 garlic cloves minced
1 small yellow onion finely chopped
2 tablespoons flour
1 cup chicken stock
1 cup half and half
1/2 cup low fat sour cream
1/2 teaspoon salt
1/2 teaspoon pepper
Zest of 1 lemon
Juice from 1/2 lemon
1 teaspoon dried parsley
1 box frozen spinach thawed and drained
12 ounces tuna packed in water (canned) – drained
1 cup parmesan cheese- divided
1 cup mozzarella cheese- divided
DIRECTIONS
Pre-heat your oven to 400 degrees.
In a large skillet on medium heat, drizzle 1 tablespoon of extra virgin olive oil. Sauté' onion and garlic for 3-4 minutes or until the onion starts appearing translucent.
Sprinkle onion and garlic with 2 tablespoons of flour and stir to incorporate. Allow to cook for 1-2 minutes.
Slowly whisk in 1 cup chicken stock and 1 cup half and half and continue whisking until the sauce has thickened.
To the pan add in salt, pepper, parsley, zest of one lemon, and the juice from half of a lemon. Stir.
Next add in spinach that has been thawed and drained. I usually drain my spinach in a clean kitchen towel, or place it in a strainer and place another bowl on top and push down on the spinach to drain it. Essentially you want to get rid of the excess water, otherwise your casserole will be runny.
Stir in tuna, 1/2 cup parmesan cheese and 1/2 cup mozzarella cheese.
Lastly, stir in low fat sour cream. Allow to cook for a few minutes so that the flavors incorporate, then stir in the cooked pasta.
Pour the mixture into a 9 x 13 inch casserole dish. Top with remaining 1/2 cup parmesan cheese and 1/2 cup mozzarella cheese.
Bake in a 400 degree oven for 10-15 minutes or until the cheese is melted.
Serve immediately.
Recipe adapted from
Rachel Ray