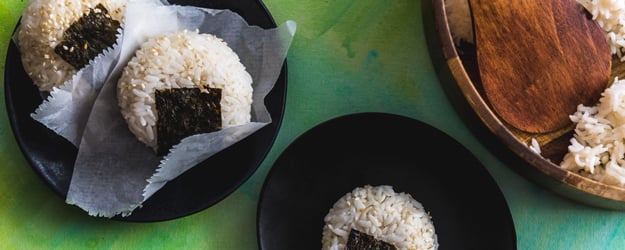 When I was living in Japan, there were all sorts of small rice balls with delicious fillings in 7-eleven, and they were my favorite choice for a quick lunch or afternoon snack. They seemed tiny, but in fact were very filling. They usually had a protein filling and were wrapped in flavorful seaweed, and gave me good energy throughout the day.
When I moved to the US, I missed these rice balls. Fortunately, they are very easy to make at home. Today I'll introduce the classic flavor that everyone loves – tuna and mayonnaise. All you need to do is to cook some rice, whip up some tuna-mayo salad, and wrap it together like a dumpling.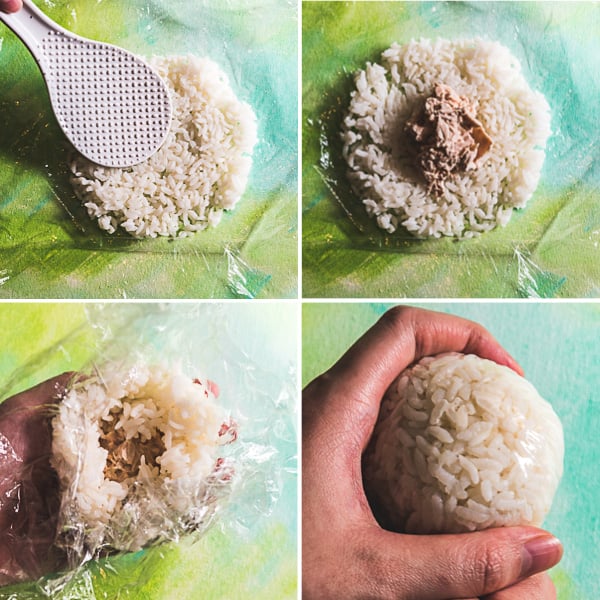 They stay fresh in the fridge for two days and freeze well. If you make them on the weekend, you can heat them up in microwave at any time and have a great side dish almost instantly. They are a great item for picnics too, because they are designed to be eaten cold. One note, if you are planning to leave them in your car for a few hours, make sure to place ice packs under them, to keep the tuna and mayo fresh.
If you plan to make a lot of rice balls, I suggest you purchase a triangle sushi mold. It will save you tons of time and let you make perfectly shaped rice balls effortlessly. If you do not have a mold, no worries! You can still make them with a piece of plastic wrap.
Ready to cook? Let's start!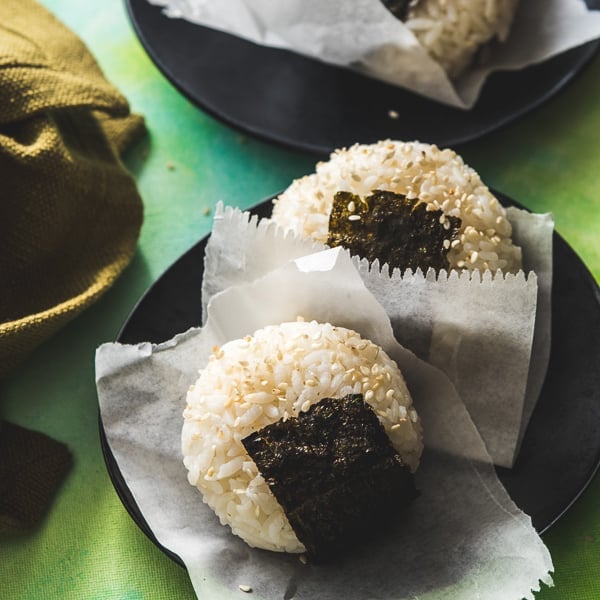 INGREDIENTS
2 cups short grain white rice
2 and 1/2 cups water
2 tablespoons rice vinegar
1 teaspoon sugar
10 pieces seaweed
2 tablespoons sesame seeds, toasted
MAYONNAISE FILLING INGREDIENTS
1 (5-oz.) can tuna, no salt added
1/4 cup mayonnaise
1 teaspoon soy sauce
1/2 teaspoon salt
DIRECTIONS
Rinse the rice with tap water, gently wash rice with hands, and discard the water. Repeat 3 times.
Cover rice with water again and soak for 30 minutes. Transfer rice to a sieve and drain well.
Transfer the rice to a medium-sized dutch oven (or heavy pot with a tight fitting lid) and add the 2.5 cups water. Cover and cook over medium heat. As soon as the water is boiling, turn to low heat. Cover and simmer for 12 minutes. Uncover and take a quick peek at the rice. If there is water left, cover and cook for another 1 to 2 minutes. Remove the the pot from the stove. Let rest, covered, for 10 to 20 minutes.
Fluff the rice with a rice paddle. Add the vinegar and sugar. Mix well with rice paddle. Transfer to a large plate to cool.
Mix all the ingredients for the filling in a bowl. Set aside.
When the rice is completely cooled, assemble the rice balls.
Spread 8 inches of plastic wrap on a working surface. Divide the rice into 10 equal portions. Transfer 1 portion rice onto the plastic wrap. Flatten with rice paddle and shape it into a round sheet. Add 1.5 tablespoons of filling on top. Wrap the rice in the plastic wrap and press it into a ball, and then gently press it into a cylinder. Remove the plastic wrap. Continue making the rest of the rice balls in the same way
Wrap a piece of toasted dried seaweed around each rice ball. Sprinkle toasted sesame seeds onto each ball.
Wrap each individual rice ball in plastic wrap and store them in a large container. Place an ice pack in the container if the weather is hot.