Stroganoff is one of those comfort foods you just never get tired of. Then, all of a sudden, you forget you haven't had it in a while and randomly decide to make it again. And – poof – you're instantly back in love with the flavors and can't wait to have it again and again.
Given that our family really enjoys stroganoff AND we want to eat healthy, however, something had to give. So, I decided to lighten up the usual beef stroganoff we all loved. It was a little scary at first, I must admit, because we really, really liked the original version.
For starters, I replaced the ground beef with lighter ground turkey and then the regular sour cream with non-fat plain greek yogurt (love that substitution!). Then, I removed the flour I used to thicken the sauce and reduced the amount of salt and oil.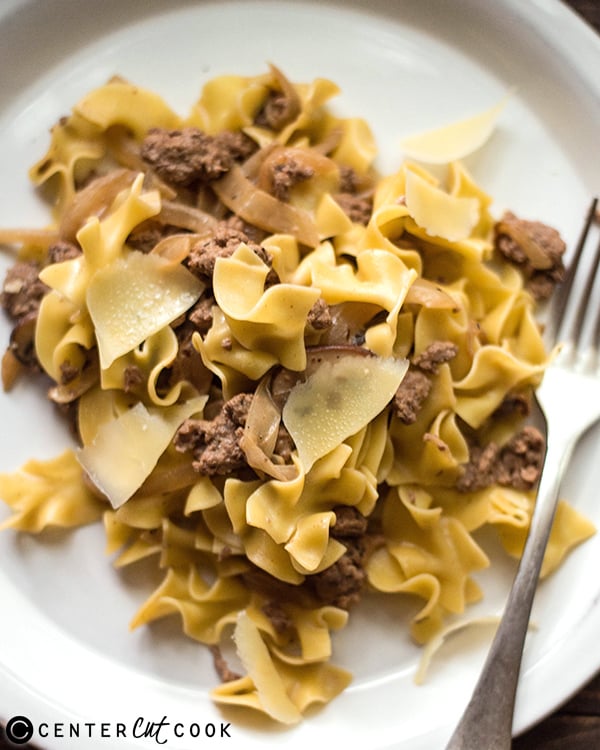 And…it was just as delicious! Yay!
To make it even healthier (and bonus: low-carb and gluten-free), you could substitute the egg noodles with spaghetti squash noodles. That's if you're wanting to get crazy, which we do every now and then and it's quite tasty as well. All in all, this light turkey stroganoff is a new favorite and is just as comforting and satisfying as the original.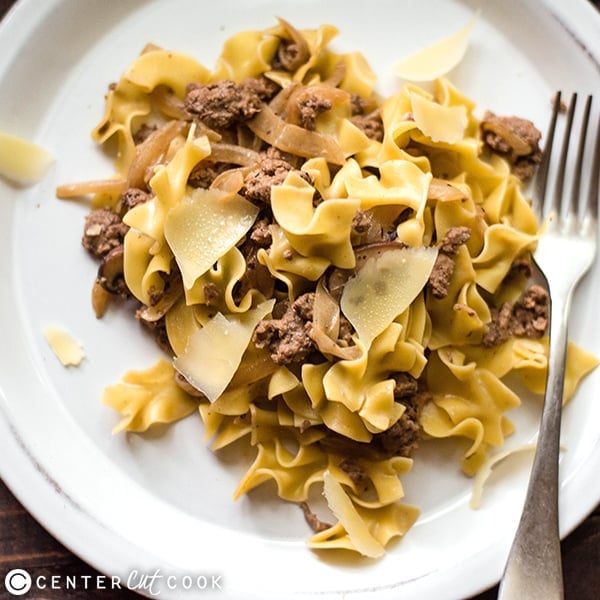 INGREDIENTS
1 tbsp. kosher salt
1/2 tsp. kosher salt
1 lb. egg noodles (can substitute spaghetti squash noodles for low-carb or gluten-free)
1 tbsp. olive oil
1 lb. ground turkey
1 yellow onion, diced
12 cremini mushrooms, sliced into thick slices
2 tbsp. Worcestershire sauce
2 cloves garlic, minced
1 1/2 cups chicken stock
2 tbsp. plain greek yogurt (can substitute low-fat sour cream)
3 tbsp. parmesan cheese, grated (for garnish)
DIRECTIONS
Heat a large stock pot full with water and 1 tbsp. salt. Bring to a boil.
Once boiling, add the noodles and cook until almost tender, approx. 8-10 minutes.
Once fully cook, drain and prepare to use in the stroganoff.
In a large, deep skillet, heat the olive oil over medium-high heat. Add the turkey and cook, stirring frequently for 5 minutes.
Once the meat starts to turn golden-brown, add the onions and cook until translucent and soft, about 4-6 minutes.
Then, add the mushrooms and Worcestershire sauce and cook for an additional 3-4 minutes.
Add the garlic and cook for 1 minute, until fragrant. Add the chicken broth, stir to combine. Then, cover and cook for 5 minutes.
Remove the lid and cook for 5 more minutes to allow the liquid to evaporate some. Turn the heat off and stir in the greek yogurt (or sour cream).
Add the drained noodles to the pan and stir everything together.
Garnish with grated parmesan cheese, if desired.
Servings: 4