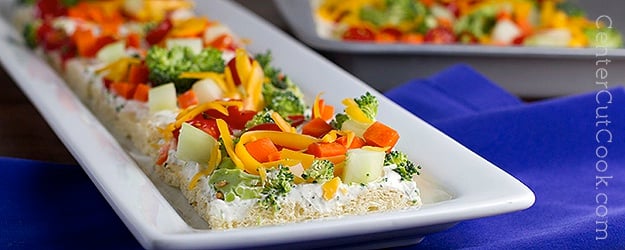 Veggie Pizza is one of those appetizers that I see at so many parties and events that I attend. If I don't bring it, usually someone else does. It's so easy to make, and it's typically loved by all. I was first introduced to Vegetable Pizza nearly 10 years ago when my sister-in-law made a pan, and insisted I try it. Since then, it's turned into one of my favorite appetizers! I've also been known to make a batch to snack on during the week, and we've even made dinner out of it on more than one occasion!
While I love the original recipe as-is, the only healthy part about it is of course, the veggies. The rest of it, 2 packages of cream cheese, and a full cup of mayo, doesn't translate into health food. I decided I'd try to lighten it up, and hope that in the process, I wouldn't compromise flavor. I started by ditching a whole package of cream cheese, and using just 1 package of the reduced fat kind. Then, I swapped 1/2 cup sour cream for the 1 cup of mayo, again using reduced fat, and, I even bought reduced fat crescent rolls! Ready to hear how much fat these changes save?
After doing the calculations I was amazed at the reduction in fat with the changes I made. The original recipe packs a whopping 400 grams of fat for the entire pan of veggie pizza. Let's say you divide the veggie pizza into 25 servings, that's 16 grams of fat for one little slice of veggie pizza! This reduced fat version is only 192 grams of fat for the entire tray, or about 7.6 grams of fat per slice. What a HUGE difference!
Now you're probably thinking, okay Ashley, that's great that the fat has been reduced by more than half, but how does it taste? We LOVED this version! It's less saucy for sure, but that helps the wonderful flavor of the veggies to shine! The ratio of sauce, to bread, to veggies was just perfect!
This is one of those recipes that you can easily adapt to your tastes by including any veggies that you like. I typically use carrots, broccoli, cucumber, and little grape tomatoes, but I've also included green or red bell pepper, and even mushrooms. Additionally, I like to add a little fresh shredded sharp cheddar cheese to top it off.
This lightened up version of veggie pizza is an easy, delicious way to get a serving of vegetables squeezed into your day, with half the fat of the original version. Enjoy!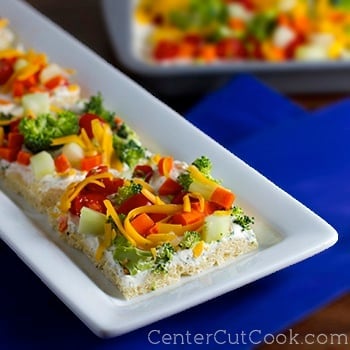 INGREDIENTS
2 packages reduced fat crescent rolls
1 package 1/3 less fat cream cheese, softened
1/2 cup reduced fat sour cream
1/2 teaspoon garlic powder
1 teaspoon dill weed
1 teaspoon minced onion
1/2 teaspoon black pepper
1/4 teaspoon salt
1/4 cup shredded sharp cheddar cheese
Chopped carrots, broccoli, cucumber, and grape tomatoes (sub any veggies you'd like)
DIRECTIONS
Preheat your oven to 350 degrees. In a 9×13 inch jelly roll pan, arrange two packages of crescent rolls so that the entire pan is one sheet of dough. Pierce with a fork. Bake according to package directions, for about 10-12 minutes, and allow to cool completely.
In a small bowl combine cream cheese, sour cream, garlic powder, dill weed, minced onion, black pepper, and salt. Set aside.
Chop all your veggies into bite sized pieces. If you have a good sharp knife, this process will go quick. You could also use a food processor to help speed the process along.
When the crescent rolls have cooled completely, spread the cream cheese/spice mixture evenly over the top of the rolls. Top with veggies and shredded cheddar cheese (optional). Allow to chill in the refrigerator before cutting into pieces and serving.
Recipe adapted from
My Sister-in-law