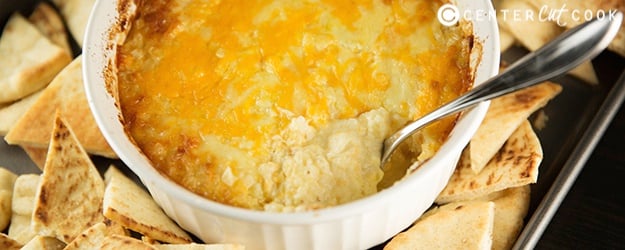 This Vidalia Onion Dip is possibly one of the easiest appetizers ever! You just combine all of the ingredients together and bake it. The list of ingredients is pretty simple too, just cream cheese, mayo, sour cream, swiss cheese, cheddar cheese, vidalia onions of course, and a little garlic powder. Don't let the simple list of ingredients fool you, however, this creamy cheesy dip is just bursting with flavor and pairs perfectly with pita chips.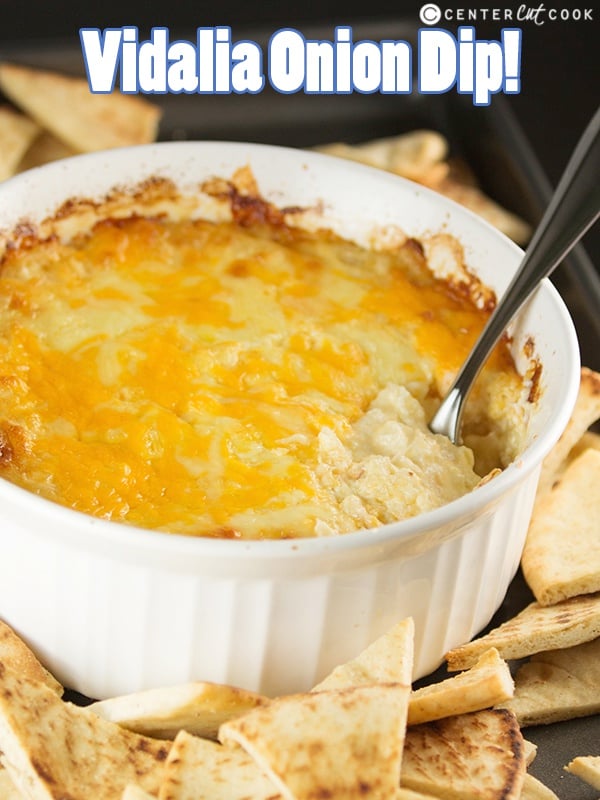 The reason that you specifically use Vidalia onions is that they are a sweet onion which works perfectly in this dip. If you wanted to, you could sauté the onions before adding them to this dip, but it works perfectly with raw onion as well. You will just want to be sure to finely chop those onions.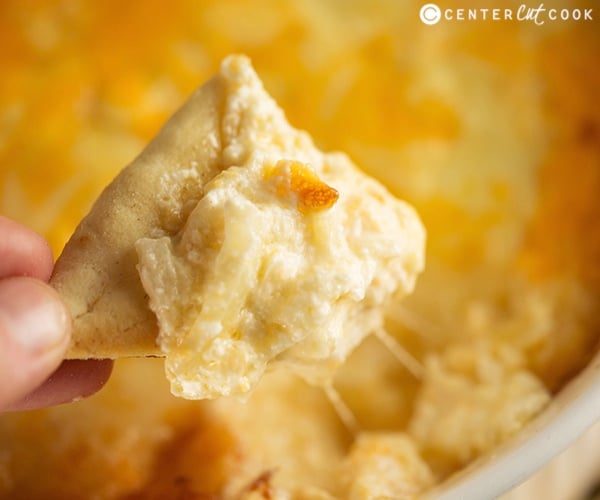 The cheesiness factor that I just love in this onion dip comes from the cream cheese, the swiss cheese and the cheddar cheese. Even if you don't like swiss, don't worry, by the time it is combined with everything else, you don't taste the swiss cheese. It combines with all of the other ingredients and the result is creamy cheesy dip that you'll find irresistable.
Serve with whatever dippers you'd like, pita chips are my favorite although corn chips also work really well too. Enjoy!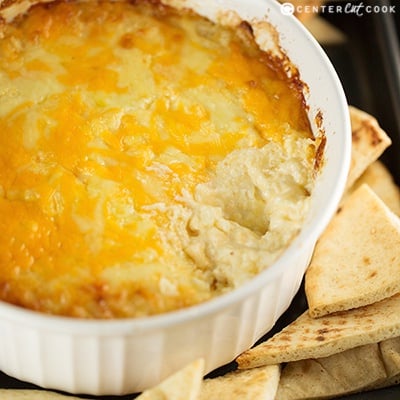 INGREDIENTS
2 cups mayo
1/2 cup sour cream
3 ounces cream cheese
1 cup swiss cheese, grated – reserve 1/2 cup for the top
2 cups cheddar cheese, grated – reserve 1/2 cup for the top
3 cups finely chopped vidalia onions
1/2 teaspoon garlic powder
DIRECTIONS
Pre-heat your oven to 350 degrees.
Spray a 1 and 1/2 quart or 2 quart casserole dish with non-stick cooking spray.
In a large bowl combine all of the ingredients, then pour it into the prepared casserole dish.
Top with remaining 1/2 cup of swiss cheese and 1/2 cup cheddar cheese.
Bake for 35-40 minutes or until the top is lightly browned and bubbly.
Serve with your favorite dippers on the side. My favorite is homemade pita chips!
Recipe from
CenterCutCook