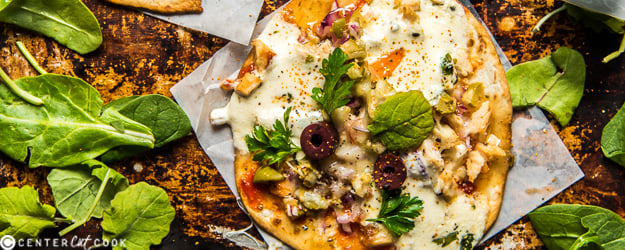 What do you make for dinner after you discover that the only things left in the fridge are: old tortillas, tiny bits of leftover roast chicken, and antipasto? Mini pizzas!
I discovered this dish after Thanksgiving, when our fridge was almost empty. The idea came to me so naturally. Since I had the perfect thin crusts and all the toppings, why not cook pizza?
When the pizzas were ready, I found they tasted so great, even better than I imagined. The flour tortillas turned so crispy and tasted just like thin crust pizza.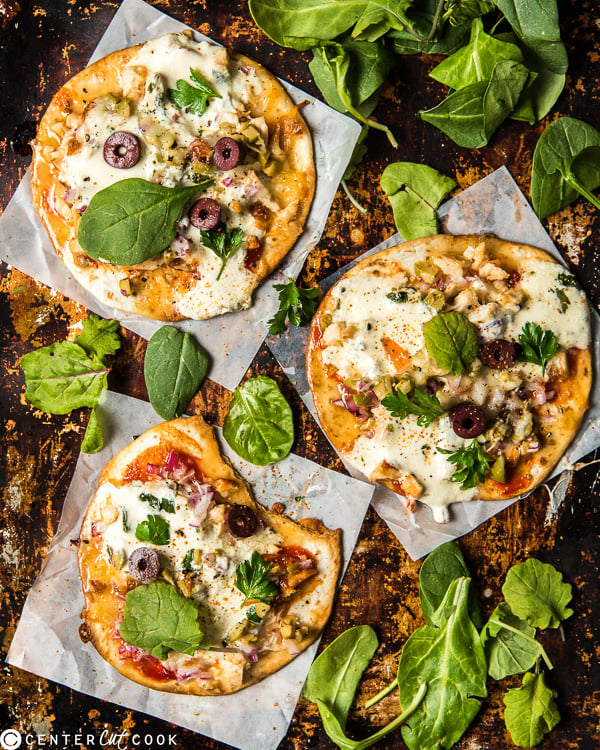 We didn't have any pizza sauce left, so I simply brushed some ketchup on the tortillas instead. The choice of toppings was really random and you can replace them with anything you like. Do remember, just like when making real pizza, the rule of thumb applies: less is more. Do not pile a small mountain onto a tortilla.
On the other hand, DO add plenty of cheese! I once had a grilled pizza in a French restaurant and they used both fresh mozzarella balls and mixed shredded cheese as toppings. It was a veggie pizza but tasted super delicious. If you want to make your pizza taste extra good with very few toppings, try combining mozzarella balls with other cheeses. It makes the pizza so creamy and fresh.
I found this mini pizza would be a perfect party food, too. You can easily prep them ahead of time, and they take only five minutes to cook. They're easy to serve and can be eaten with the hands. It will make everyone happy with minimal effort!
INGREDIENTS
4 flour tortillas (the small type – taco or taquito sized)
4 tablespoons ketchup
1 cup cooked meat (roast chicken, beef, canned tuna etc.)
4 tablespoons finely chopped red onion
12 fresh mozzarella balls
4 tablespoons shredded mixed cheese
4 olives, sliced
Basil, parsley, or green salad to garnish
DIRECTIONS
Preheat oven to 350 F.
Spread a thin layer of oil on a baking tray (Do not line the baking tray with aluminum foil. The tortillas won't turn crispy this way).
Place tortillas on the tray without overlapping. On each tortilla, brush on 1 tablespoon ketchup, spread the cooked meat and 1 tablespoon red onion, top with 3 mozzarella balls and 1 tablespoon mixed cheese, and garnish with olive slices.
Bake until the cheese is melted and the tortillas turn crispy. You don't need to wait for the oven to preheat before baking them. They usually take 5 to 8 minutes to bake, depending how quickly the oven warms up.
Let the cheese sit for 2 to 3 minutes before eating. Garnish with herbs or a green salad. Serve immediately.