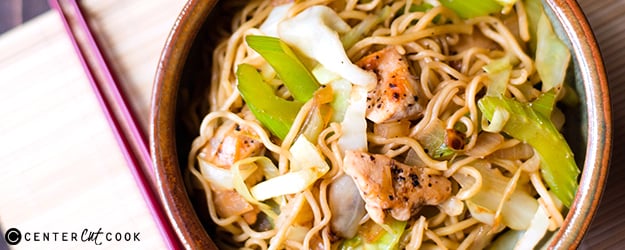 For most of my life, I've considered chow mein as more of a side that you'd get instead of the fried rice at fast food Chinese restaurants. I never really considered the possibility of flavors if prepared fresh and with added protein, like chicken, until very recently.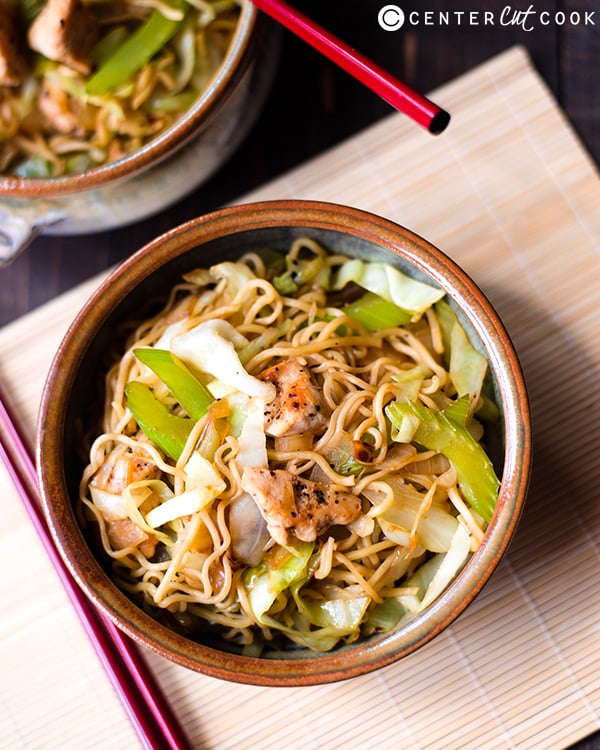 Why, oh why, did I wait so long?
Life: changed. Chicken chow mein made at home is absolutely amazing! There's a depth of flavor and freshness I've never tasted in the restaurant versions and it is so darn easy to make.
I LOVE when I create a delicious meal that is full of vibrant, delicious flavors, feeds my whole family for cheap, AND takes less than 30 minutes to make.
If you're like me and you have trouble finding fresh yaki-soba noodles at your grocery store, remember that you can either use fresh yaki-soba which is often located in the produce section or you can, in a pinch, you can use the dried, packaged yaki-soba which is located in the soup section. If you buy the dried version, just toss the flavor packs that come with it because what you're gonna add is so much healthier and full of flavor.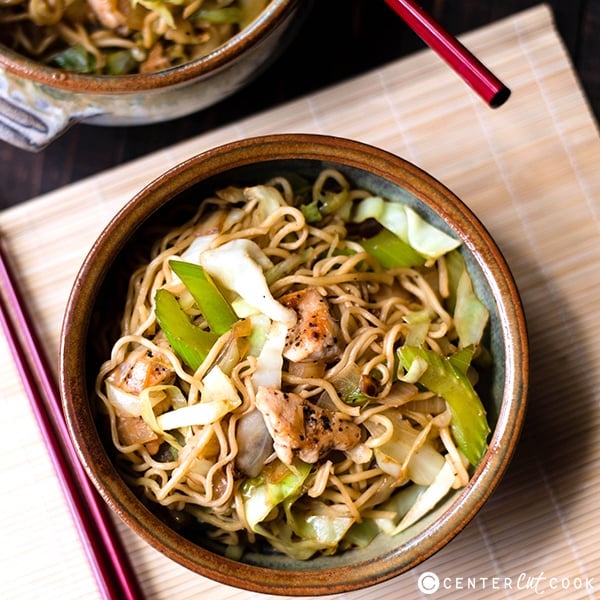 INGREDIENTS
2 tbsp. sesame oil, divided
2 chicken breasts, boneless and skinless, diced into bite-size cubes
1 tsp. kosher salt, to coat chicken
1/2 tsp. ground black pepper, to coat chicken
1/4 cup low-sodium soy sauce
3 cloves garlic, minced
1 tbsp. brown sugar
2 tsp. fresh ginger, minced
2 packages fresh Yaki-Soba
1 yellow onion, diced
3 stalks celery, sliced diagonally
2 cups cabbage, shredded
DIRECTIONS
Heat a large stock pot with water and bring to a boil. You will use this boiling water to cook the noodles in a little bit.
Combine the soy sauce, garlic, brown sugar, and ginger in a small mixing bowl and set aside.
Heat 1 tbsp. of the sesame oil in a large fry pan over medium-high heat.
Generously season the chicken with salt and pepper.
Add the cubed chicken to the pan and cook on medium-high until well-browned and cooked all the way through, about 6 minutes.
Once the chicken is well-browned, remove from the pan and set aside on a plate. Reserve the pan drippings from the pan.
Now, add the noodles to the hot boiling water and cook until broken apart and tender, about 2-3 minutes.
Add the remaining sesame oil to the pan and heat over medium-high heat.
Add the onion and celery and cook until tender, about 6 minutes. Stir in the cabbage and cook for 2 more minutes.
Add the noodles, soy sauce mixture, and the cooked chicken to the pan. Stir to combine. Cook for 2 more minutes.
Servings: 4