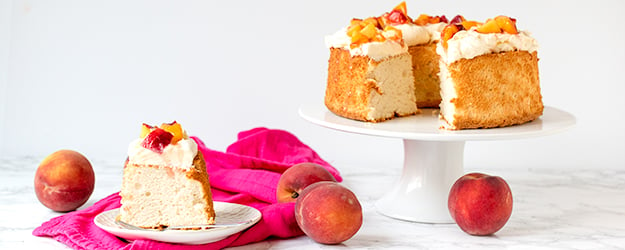 Never have egg whites been put to better use!
Forget the cake mix, this homemade angel cake – adapted from Alton Brown's amazing recipe – tastes so much better. A few drops of almond extract turns it into something really special that can be eaten on it's own, or topped with fruit and cream.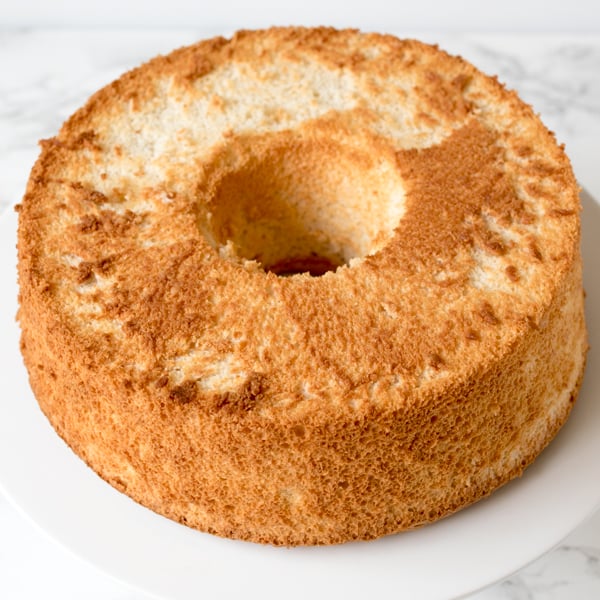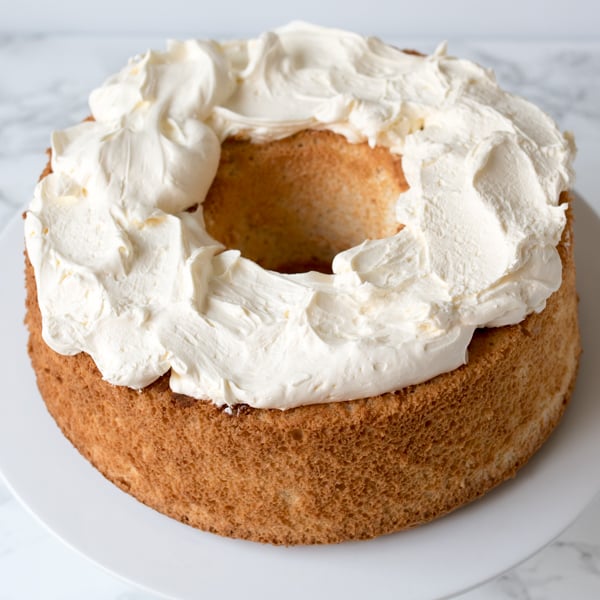 I decided to lightly poach some chopped peaches in brown sugar and amaretto (you can use water and another drop of almond extract if you prefer). Poaching in this way means you can even use quite hard peaches that aren't fully ripened. The poaching process softens and sweetens, bringing out the peachy flavor. Pile them on top of the angel cake with plenty of whipped cream and you've got an amazing summer dessert.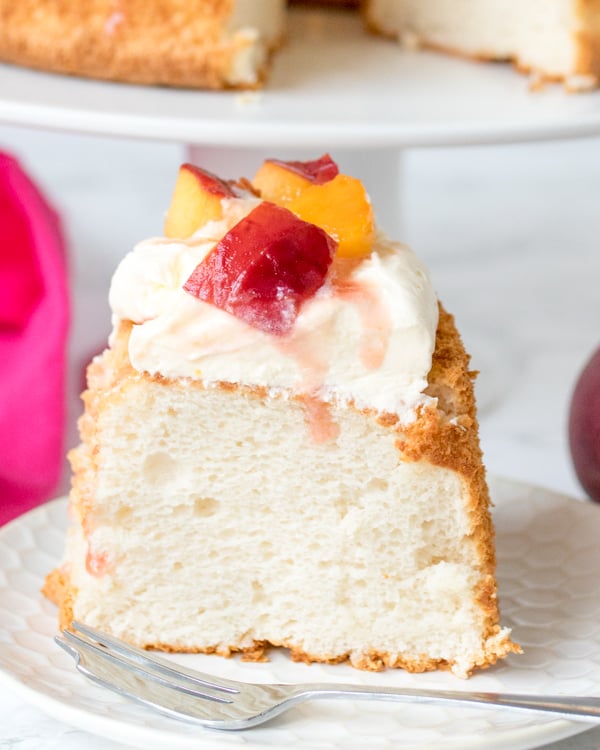 A few tips:
This cake uses 12 egg whites, so I find it more economical to buy a carton of eggs whites (unless I'm making custard or mayonnaise – in which case those yolks can be put to good use).
Be sure to invert your cake tin and place on a rack or plate to cool completely when it comes out of the oven. Inverting the cake prevents it from sinking, and you'll have a much lighter cake.
Use an angel cake tin. Bundt tins don't make a good substitute. Angel cakes are supposed to stick to the tin so that they stay put when the tin is inverted. The top and sides are flat so you can cut the cake away from the tin when cool – leaving that classic rough edge. Trying to cut the cake out of a bundt tin neatly is very difficult!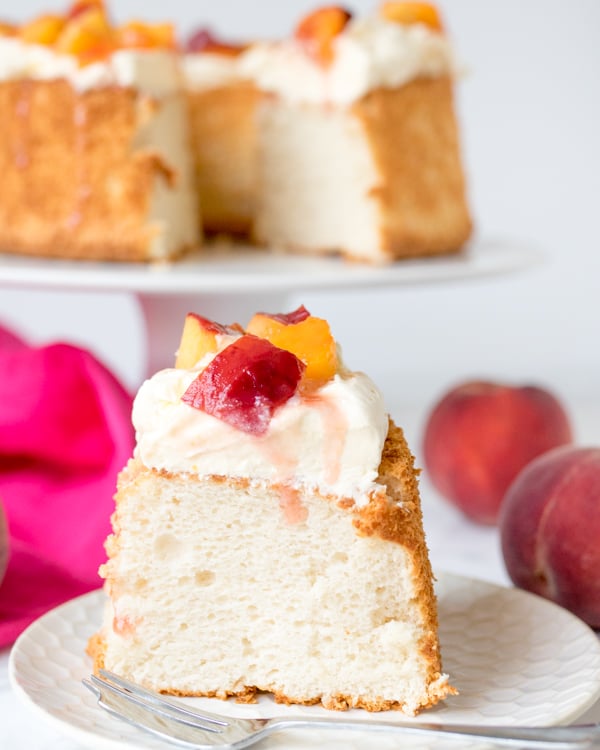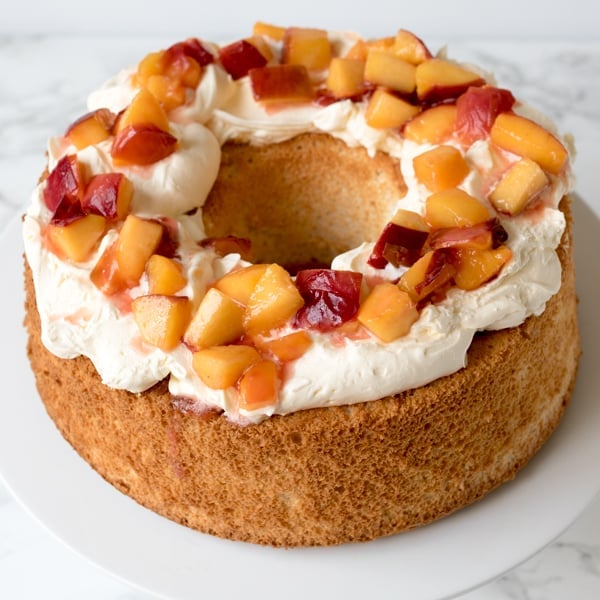 INGREDIENTS
1 3/4 cups caster or superfine granulated sugar
1/4 teaspoon salt
1 cup cake flour, sifted (if you don't have cake flour, use all-purpose with 2 tbsp taken out and replaced with 2 tbp cornstarch)
12 egg whites
1/3 cup warm water
1 teaspoon almond extract
2 teaspoons cream of tartar
CAKE TOPPING INGREDIENTS
3 peaches, chopped into chunks
2 tbsp light brown sugar
2 tbsp amaretto (replace with water plus 2 drops of almond extract if you prefer)
2 cups heavy cream, whipped to soft peaks
DIRECTIONS
Preheat the oven to 350f
Place half the sugar in a bowl along with the salt and the cake flour. Mix together and put to one side.
Add the egg whites, water, almond extract and cream of tartar to the bowl of a stand mixer. Whisk on low for a few seconds to combine.
Turn the speed up to medium and whisk whilst slowly pouring in the remaining sugar. Continue to whisk until you reach the medium peaks stage (about 6-8 minutes). The mixture should hold it's shape but not be really stiff.
Sprinkle a light coating of the flour mixture on top of the whisked eggs and fold in using a spatula. Continue doing this until all of the flour is used up. Don't be tempted to put too much flour in at once – if it's more than a dusting at a time you'll get small pockets of flour in the cake (don't worry too much if you do, but you'll have to fold more to find the flour pockets – then break them up as you find them).
Carefully spoon the mixture into an un-greased 9.5 inch angel cake pan. Place in the oven and cook for 35 minutes or until a wooden skewer inserted into the cake comes out clean.
Remove from the oven and place the cake tin upside down on a rack too cool completely.
Whilst the cake is cooling, poach the peaches. Place the peach chunks into a small saucepan with the sugar and amaretto. Heat on a medium heat, stirring a couple of times for 5 minutes – until the peaches are just soft. Turn off the heat and leave to cool.
Once the cake is cool, remove from the pan using a knife to carefully loosen the edges. Place on a plate with the flat edge on top.
Top with spoonfuls of whipped cream, then spoon on the cooled poached peaches before serving.
Any leftover cake can be covered and stored in the refrigerator for up to a day (it will stay light and soft due to the lack of fat in the cake – meaning it can be served straight from the fridge).
Servings: 10-12
Recipe adapted from
Alton Brown