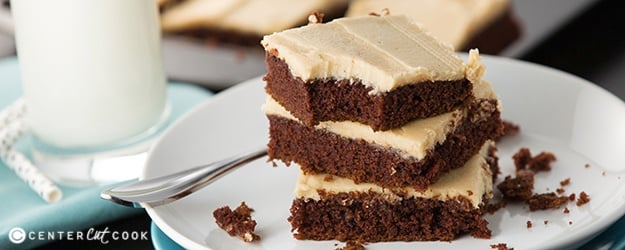 I know, I know, the start of the new year means swearing off chocolate cake and delectable peanut butter frosting and focusing on spinach and kale. Right? Except it's frigid cold in Chicago, and spinach and kale just doesn't scream warmth and coziness. To those of you who pretended you were going to follow through with your new years resolutions, but have already given up, come on over, this Chocolate Sheet Cake made from scratch (in only 20 minutes!) topped with the most decadent peanut butter frosting, is calling your name.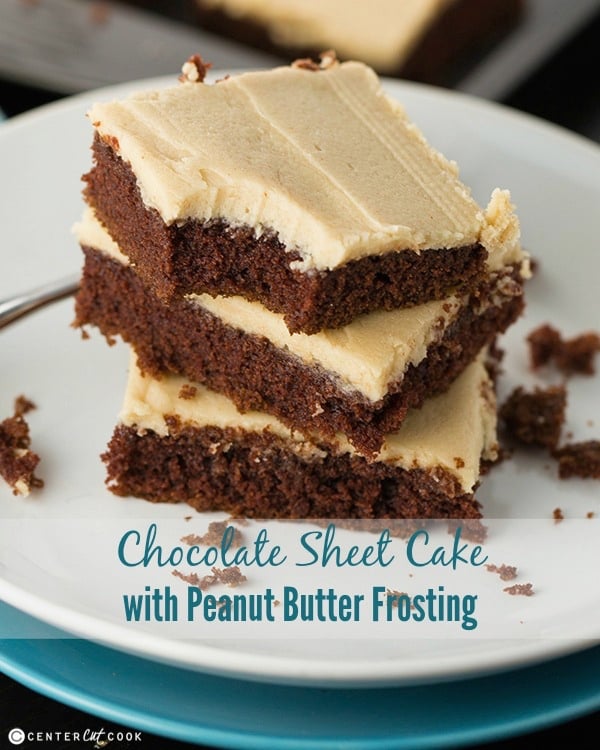 Now, in all seriousness, we really try to limit sweets around here. In fact, it has been a long LONG time since I've made anything sweet. When Ryan told me he had a taste for his favorite Chocolate Cupcakes with Peanut Butter Frosting, I felt obligated to pull through for him because he never requests sweets these days. Chemotherapy has changed his tastebuds and sweets usually don't sound very good. The problem? I just didn't have the time (I blame it on a baby that's in kidney failure) it took to make the cupcakes, and frost them all pretty which is when this cake was born. Sheet cakes in general bake FAST, and this one is no exception. Even better than the fact this cake is baked in 20 minutes is the fact that no mixer is required. You can mix the batter all by hand.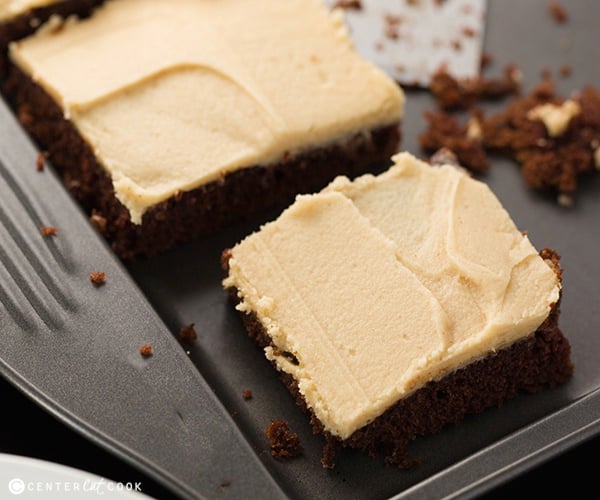 Once the Chocolate Cake has baked and cooled, you'll whip up the most decadent peanut butter frosting and slather it all across the top. It's so much easier to frost one cake instead of individually frosting a bunch of cupcakes. Cut the sheet cake into small squares and dessert is ready. This is the type of cake that you'll be tempted to munch on all day long (you know, to keep the row even), which gives you the perfect opportunity to practice self-control. :)
If you have dutch process cocoa powder on hand, use it. If not, regular cocoa powder is fine. If you cover the cake well, this cake stays fresh for a good 5-7 days. Enjoy!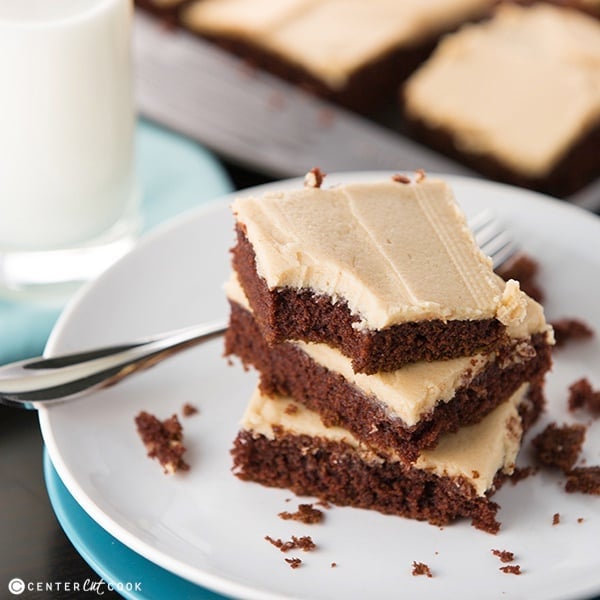 CHOCOLATE CAKE INGREDIENTS
2 cups all-purpose flour
2 cups granulated sugar
1 teaspoon baking soda
1/2 teaspoon salt
2 sticks butter
1 cup boiling water (2 minutes in the microwave does the trick)
1/3 cup cocoa powder (dutch process if you have it)
1/2 cup milk (I used 1%)
1 tablespoon vinegar
2 large eggs, lightly beaten
2 teaspoons vanilla
FROSTING INGREDIENTS
8 ounce package cream cheese, softened to room temperature
1 stick unsalted butter, softened to room temperature
4 cups powdered sugar
2/3 cup creamy peanut butter
DIRECTIONSt
Pre-heat oven to 350 degrees.
In a large bowl, sift together flour, sugar, baking soda, and salt. Set aside.
In a large saucepan, melt butter. When butter has melted, add in cocoa powder and whisk to combine. Add in boiling water, stir to combine. Allow mixture to boil for about 1 minute, then remove from heat.
Pour the cocoa mixture into the bowl with the flour mixture from step 1 and stir to combine.
In a large measuring cup, combine 1/2 cup milk with 1 tablespoons vinegar. Allow it to sit for 3 minutes, then add in eggs and vanilla and stir to combine.
Pour the milk mixture into the large bowl with the flour mixture and cocoa and stir to combine.
Prepare a sheet cake pan by spraying it with non-stick cooking spray – I used a 17 x 12. You can also use an 18 x 13.
Pour the cake batter into the pan and bake for about 20 minutes.
While the cake bakes, prepare the frosting. With your mixer, beat together cream cheese and butter until fluffy. Add in powdered sugar, one cup at a time. Add in peanut butter and mix until it's blended well, making sure to scrape down the sides of the mixer bowl to ensure everything is combined.
Allow the cake to cool, then spread the frosting evenly over the top of the cake.
Recipe from
CenterCutCook