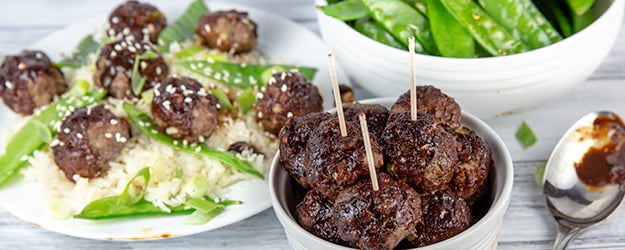 Looking for a quick and easy weeknight meal? How about an appetizer that will impress? This recipe for Asian Glazed Meatballs with Snow Peas is super simple, delicious, and can double as a meal or an appetizer.
Asian Glazed Meatballs are saucy and delicious and glazed with Hoisin sauce. Paired with snow peas, rice and garnished with sesame seeds, this is a satisfying, comforting meal that the whole family will enjoy.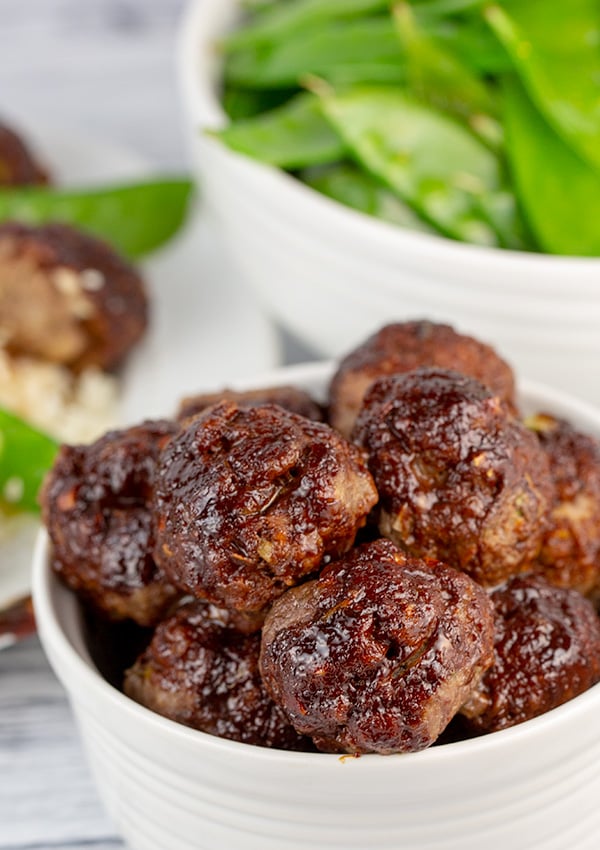 What is hoisin sauce?
When I think hoisin sauce, the first thing that comes to mind is Chinese cooking. Often times you'll find hoisin sauce in Asian marinades, stir fries, with noodles, or brushed on meats like chicken and pork . It is a versatile sauce, much like ketchup in the American culture, that tastes delicious in a variety of different ways.
Do you have a recipe for authentic hoisin sauce?
I personally do not have my own recipe for authentic hoisin sauce. I usually just buy mine from the Asian section at my grocery store. But, if you search Google, you will find several really terrific options for homemade authentic hoisin sauce.
I personally like the convenience and taste of the already prepared hoisin sauce that my grocery store has.
What can I use instead of hoisin sauce?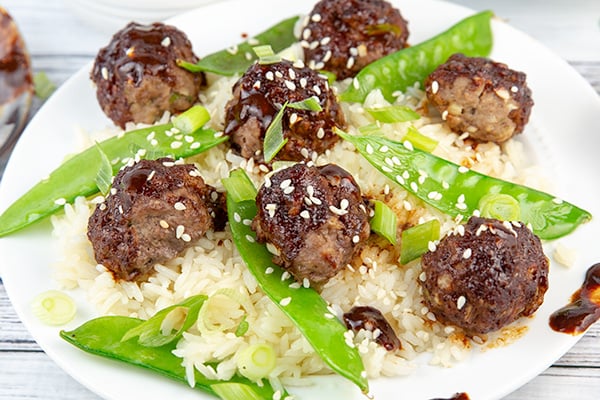 If you do not have hoisin sauce, and don't plan to make homemade hoisin sauce, skip this recipe and come back to it when you have it. This recipe is ALL about the hoisin sauce and it would not be the same with any substitutions.
What can I serve with Hoisin Glazed Meatballs?
My favorite way to serve these delicious little saucy Asian meatballs is to serve them over rice with snow peas and garnished with sesame seeds. There's something about the combination of snow peas and rice that I just love.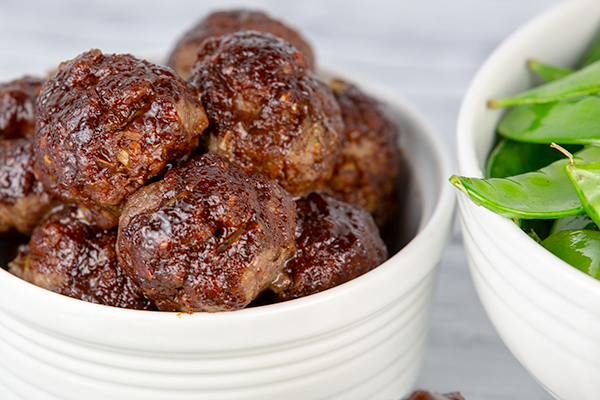 Recipe notes: The fresh ginger in this recipe really makes this recipe so if you can, make sure you use the fresh ginger!
Instead of steamed rice, another great alternative would be to serve these meatballs with my super delicious Chinese Fried Rice!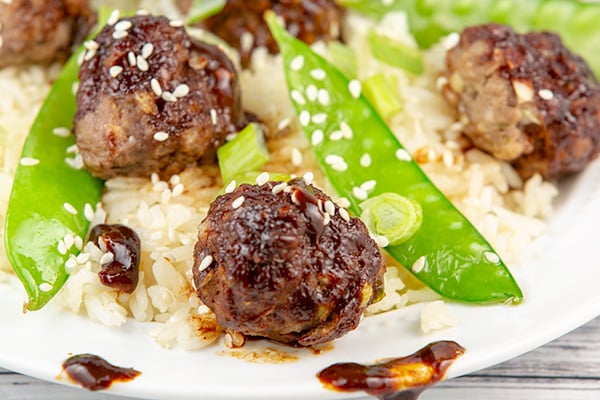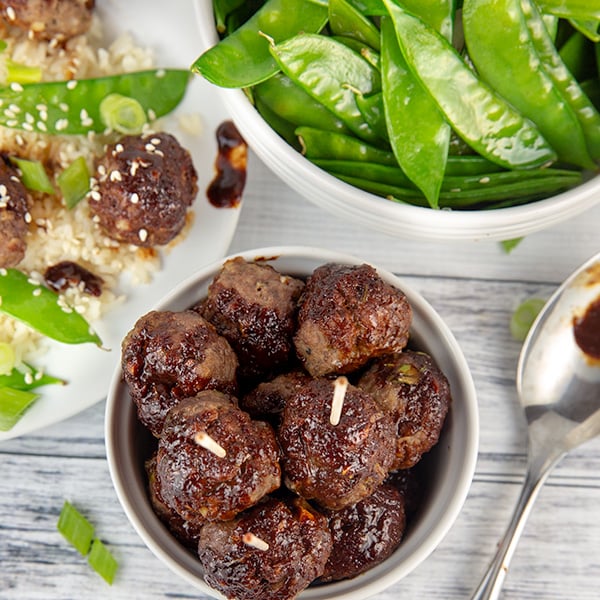 INGREDIENTS
1 cup steamed/cooked rice (white rice, basmati, jasmine, all good options)
1 1/2 pounds ground beef (about 24 ounces)
1 1/2 cups panko breadcrumbs
1 – 1 inch thumb of ginger, peeled and finely minced
3 scallions, finely chopped
Salt and Pepper to taste
1/4 cup Hoisin Sauce (more if you'd like)
1/2 pound fresh snow peas
Sesame seeds for garnish (about 1 tablespoon)
DIRECTIONS
Cook recipe according to package directions.
In a large bowl, combine ground beef with panko bread crumbs, minced ginger, scallions, and salt and pepper to taste (about 1/2 teaspoon salt and 1/2 teaspoon black pepper)
When the meat mixture is well combined, create 1 inch meatballs and place them evenly spaced on a large baking sheet prepared with cooking spray.
Bake for about 15 minutes, then remove the baking sheet from the oven.
Use a pastry brush or spoon to evenly coat all of the meatballs with Hoisin Sauce. I used about 1/4 cup of sauce but feel free to use more if you wish.
Bake for an additional 5 minutes.
While the meatballs cook, heat 1 tablespoon olive oil in a large skillet over medium-high heat. Sauté the snow peas for about 4-5 minutes. Season with salt and pepper to taste. Set aside.
To serve, divide the rice evenly among 4 plates. To each plate add the desired amount of meatballs and snow peas.
Garnish with sesame seeds.
Servings: 4