Enjoy Chinese Fried Rice at home with shrimp or chicken. This quick and easy fried rice recipe comes together in less than 15 minutes!
When you're feeling like ordering Chinese take-out, try Chinese take-in! This recipe for Chinese Fried Rice is easy to make and comes together surprisingly quick. Not only is it easy to make, it's so good! I've made many Chinese Fried Rice recipes over the years and it always seemed like it was missing something. This time, the flavors come together perfectly — you are going to love it!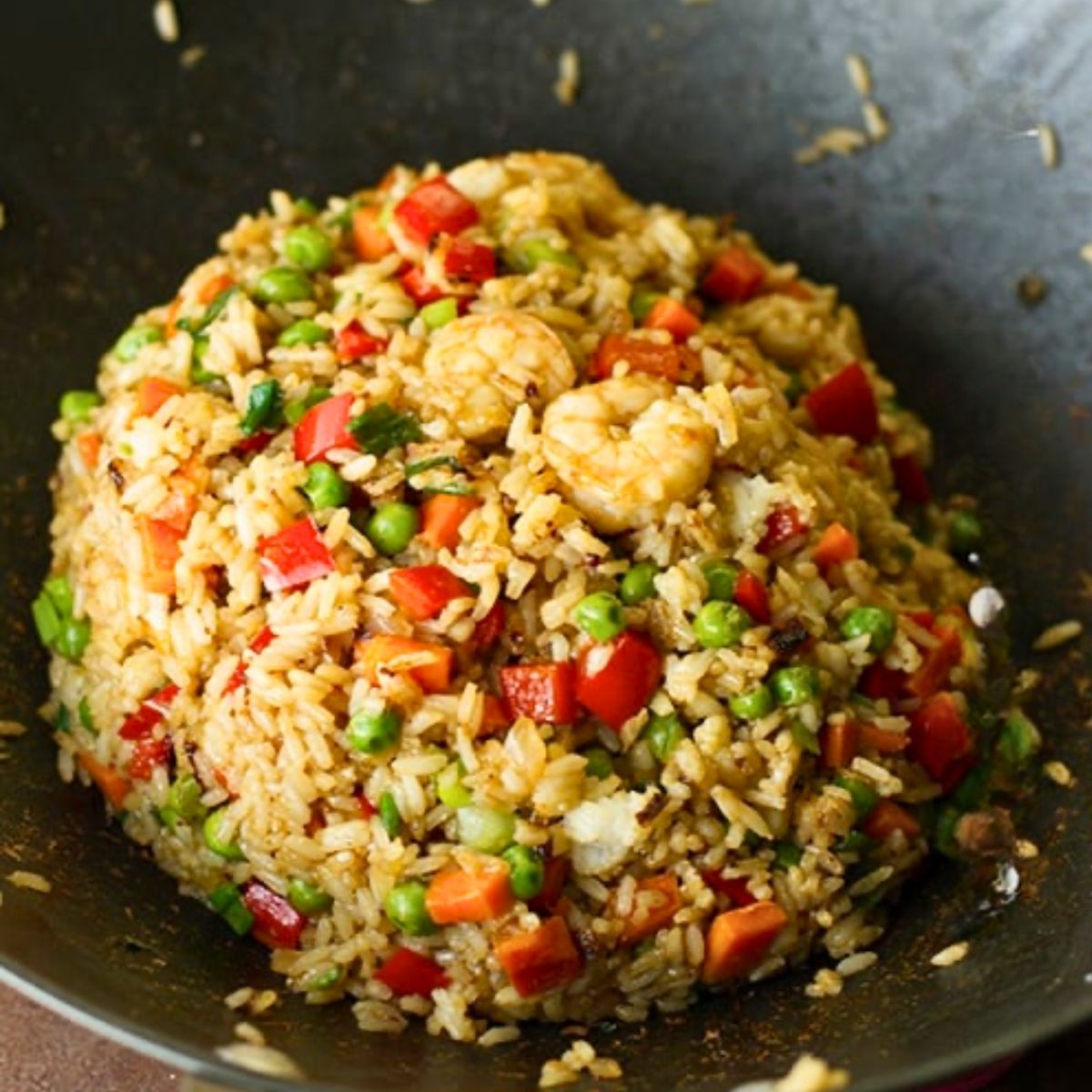 Fried Rice Ingredients
First things first, you'll want to start with cold rice. This means you do have to plan ahead a little. I made the rice I was going to use for this the night before. Day old rice works best.
In addition to the rice, you will need the following:
Shrimp or chicken – If using shrimp, make sure to use peeled, deveined, raw shrimp in the 41-50 count variety. If using chicken, use chicken breasts or chicken thighs sliced thin. Toss the shrimp with sesame seed oil and soy sauce.
Egg – fried rice can be made without egg. Simply skip the egg step in the instructions. If using egg in your fried rice, you'll need two eggs.
Veggies – feel free to use whatever veggies you enjoy in your fried rice. We use onion, red bell pepper, peas, carrots, green onion, and garlic.
Cold rice
Seasonings – oyster sauce and soy sauce season fried rice perfectly along with salt and pepper to taste.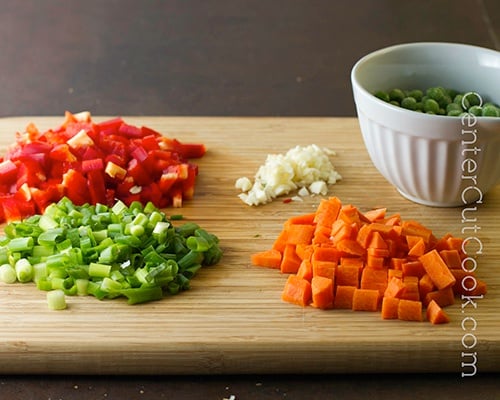 How to make Fried Rice
Prep all of the ingredients – make sure carrots and onion are finely diced
Start with a large wok or skillet – the key to a really great fried rice is to use high heat.
Sauté the veggies – choose any veggies that you enjoy to customize this recipe.
Stir-fry the protein – shrimp will cook a bit quicker than chicken. Make sure your chicken is thinly sliced so that it cooks quickly.
Add in garlic and green onions
Scramble the eggs – not everyone likes egg in their fried rice. Feel free to make this fried rice without the eggs and skip this step.
Add in the rice – remember to start with cold rice.
Season with soy sauce, oyster sauce plus salt and pepper to taste. If you've never bought oyster sauce before, you can easily find it in the Asian section of your grocery store.
Enjoy!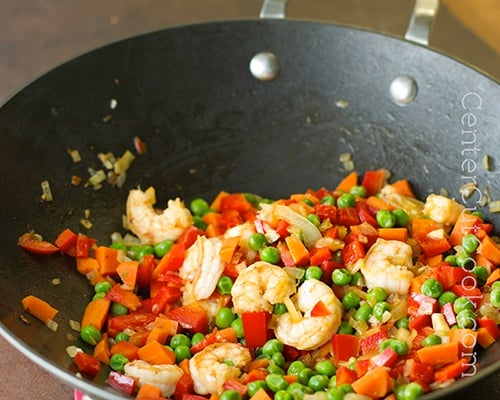 How to reheat fried rice
Reheating fried rice is quick and easy and can be done on the stovetop or in the microwave.
On the stovetop:
Heat a skillet or wok over medium heat – add a bit of oil to prevent the rice from sticking.
Add the rice – use a spoon to break up large clumps of rice.
Add in water or broth – just a bit of liquid will prevent the fried rice from drying out. Use a tablespoon or two of water or chicken broth.
Stir – occasionally stir the fried rice so that it heats evenly. When warm throughout, serve.
In the microwave:
Use a microwave safe container – transfer the rice to a microwave safe container.
Ice cube – place an ice cube in the middle of the rice.
Cover – use a damp paper towel to cover the rice.
Heat – microwave for one minute, then in 30 second increments until it is heated through. Discard the ice cube (it won't melt entirely).
Use Cold Rice
Cold, day old rice will work best in a fried rice recipe because it is less sticky.
Can I freeze fried rice?
It is best to eat fried rice fresh. However, you can freeze fried rice. You will want to reheat fried rice directly from the freezer and use it within 1-2 months. Follow the reheating instructions above.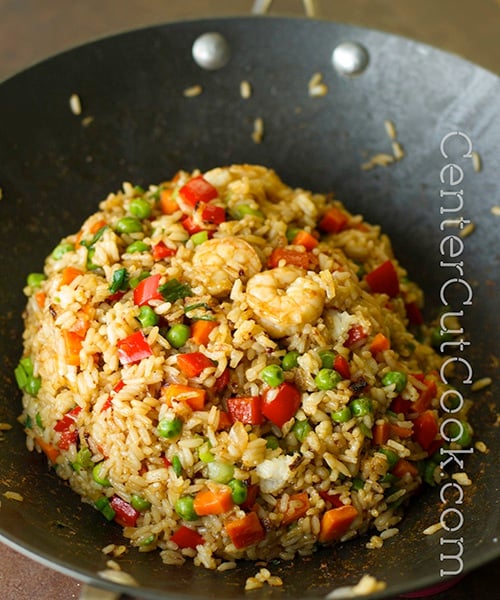 What to serve with fried rice
Fries rice is delicious as a main course and equally delicious as a side dish. Here are some of our suggestions:
If you try this Chinese Fried Rice with shrimp or chicken, please leave a comment and let us know what you think!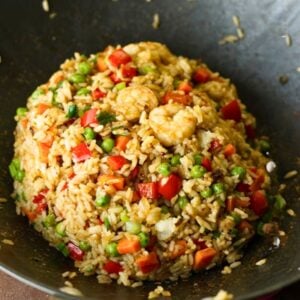 Ingredients
1

pound

raw shrimp (41-50 count) – peeled, deveined, tails removed or thinly sliced chicken

3

drops

sesame seed oil + ½ tsp soy sauce

2

tbsp

canola or vegetable oil, divided

1

small

yellow onion, finely diced

1

red bell pepper, chopped

½

cup

frozen peas

½

cup

finely chopped carrots

3

cloves

garlic, minced

3

green onions, sliced

2

large

eggs

4

cups

cold cooked rice

3

tbsp

oyster sauce

3

tbsp

soy sauce
Instructions
Toss shrimp or chicken with 3 drops sesame oil and ½ teaspoon soy sauce. Set aside.

Heat a large non-stick wok or skillet to high heat. Add 2 tablespoons oil.

Add the yellow onion, bell pepper, peas and carrots to the pan and stir fry for 3-4 minutes until they start to soften.

Add in chicken or shrimp. Stir-fry until shrimp or chicken is cooked through.

Stir in minced garlic and chopped green onions.

Push vegetables and shrimp or chicken to the side of the pan and add in beaten eggs. Scramble until cooked then stir to combine the eggs with the vegetables and protein.

Stir in oyster sauce and soy sauce. Stir to combine.

Adjust seasonings with salt, pepper, and/or additional oyster sauce and soy sauce.

Stir-fry for 4-5 minutes longer, then serve hot.
Recipe from
CenterCutCook