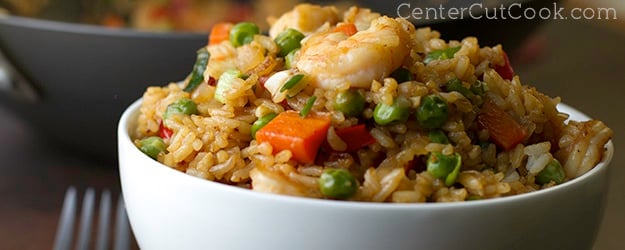 Happpppy Friday to you! Friday seems like the perfect night for Chinese take-out, doesn't it? Or how about Chinese take-in? This recipe for Chinese Fried Rice comes together surprisingly quick, and it's tasty, darn tasty! I've made many Chinese Fried Rice recipes over the years and it always seemed like it was missing something. This time, the flavors come together perfectly and I finally feel like my life is complete knowing I have the perfect Chinese Fried Rice recipe to share with you all today.
First things first, you'll want to start with cold rice. This means you do have to plan ahead a little. I made the rice I was going to use for this the night before. For whatever reason, day-old cold rice works best here.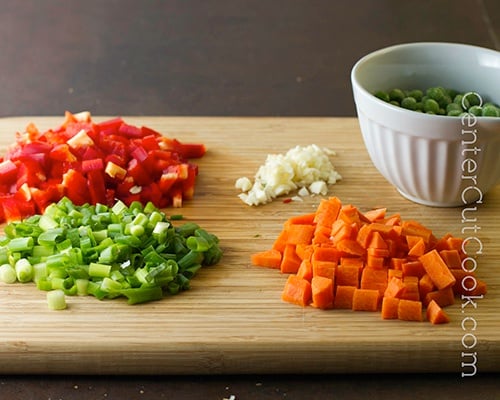 In addition to the rice, you will need one red bell pepper, chopped. I went with red instead of green, mainly because I love the color that it added to this recipe. Sometimes, it's not all about how it tastes, it's about how a recipes looks too! You'll also need some finely chopped carrots, about 1/2 cup frozen peas, 3 minced garlic cloves, and 3 green onions. Because I'm a goofball, I totally forgot to picture the chopped yellow onion, so don't forget it!
There are few foods I despise more than egg. While I didn't use scrambled egg, its sort of tradition to include scrambled eggs with fried rice, so feel free to add them. You'll start by scrambling the eggs first in a large wok or skillet, then removing them from the pan.
To the pan you'll add about 1 tablespoon of oil, and sauté the chopped yellow onion until it's translucent. Remove the onions from the pan.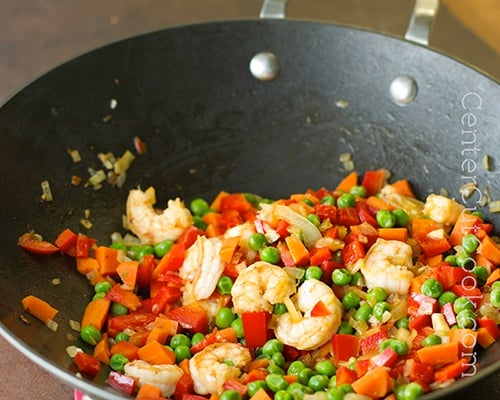 Next, comes the protein if you'd like. If you're a vegetarian, skip this step! You'll want to toss either 1/2 pound of shrimp or thinly sliced chicken with a little sesame seed oil and soy sauce. Add another tablespoon of oil to the pan, then toss in the shrimp or chicken, along with the red peppers, carrots, and peas. You'll stir-fry those for a few minutes, until the chicken or shrimp is cooked through. The shrimp will cook a little faster than the chicken.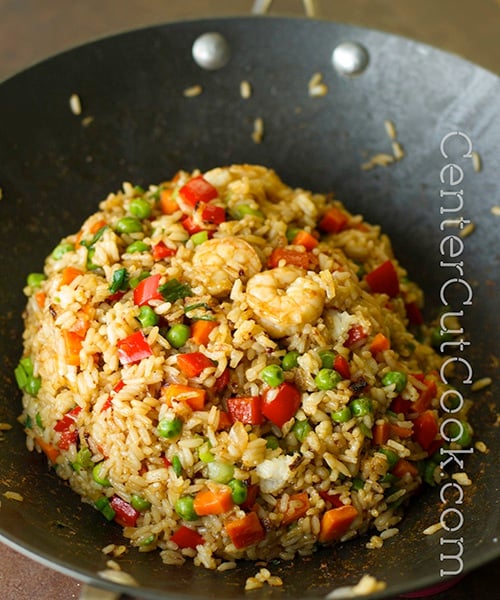 Next comes the cold rice, about four cups worth! Toss the rice in along with the green onions. The last step is to season it all. To do that, you'll stir in 3 tablespoons of soy sauce and 3 tablespoons of oyster sauce. If you've never bought oyster sauce before, you can easily find it in the Asian section of your grocery store. At this point you'll add back in the cooked yellow onions and the cooked scrambled eggs. Mix it in well, and ta-da…. you're done! Tasty Chinese Fried Rice in the comfort of your very own home.
Serve alongside your favorite Chinese inspired dish like Sweet and Sour Chicken (one of our favorites!) or as a main dish! Enjoy!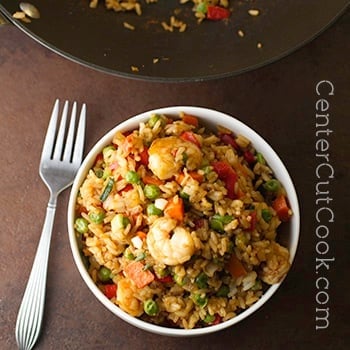 INGREDIENTS
2 large eggs, scrambled *optional
1 small yellow onion, finely diced
3 cloves garlic, minced
2 tablespoons canola or vegetable oil, divided
1 red bell pepper, chopped
1/2 cup frozen peas
1/2 cup finely chopped carrots
1/2 pound shrimp (I used 41-50 count size) or thinly sliced chicken *optional (toss with 3 drops sesame seed oil and 1/2 teaspoon soy sauce)
4 cups cold cooked rice
3 green onions, sliced
3 tablespoons oyster sauce
3 tablespoons soy sauce
DIRECTIONS
If you're using chicken or shrimp, toss it with 3 drops sesame seed oil and 1/2 teaspoon soy sauce. Set aside.
If you want egg if your fried rice, heat a large non-stick wok or skillet to medium heat. Add in the eggs and cook for a few minutes, until they're are cooked through. Use a spoon to break the eggs apart into small pieces. Remove from the pan and set aside.
Heat 1 tablespoon oil in a large skillet or wok over medium high heat. Add in the diced yellow onion and cook for a few minutes, until the onions are tender and translucent. Add in the garlic and suate for a minute or two longer, until fragrant. Remove from pan.
Add in an additional tablespoon of oil if needed. If using protein, toss in chicken or shrimp along with the chopped red bell pepper, chopped carrots, and peas. Stir-fry for a few minutes, or until the chicken or shrimp is cooked through and the veggies are just starting to get tender.
To the pan add in cold cooked rice and green onions. Add in 3 tablespoons oyster sauce and 3 tablespoons soy sauce. Stir to incorporate. Add the cooked yellow onions back in along with the scrambled egg. Stir to incorporate. When everything is just about heated through, remove the fried rice from the heat and serve immediately.
Feel free to adjust the seasoning with salt and pepper. I found that because of the salty soy sauce, no additional seasoning was needed for my tastes.
Serves 4 as a main dish.
Recipe from
CenterCutCook