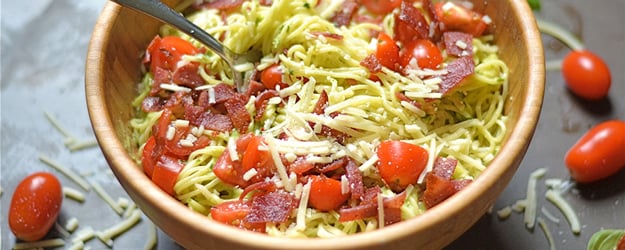 Let's talk about bacon!! Turkey bacon to be exact, just making things a bit healthier around here! In honor of our Turketarian Tuesday meal, I whipped up something my family adores: pesto pasta. And with everyone's favorite ingredient: bacon. I mean, can you really go wrong here? Butterball makes this dish super easy with a healthy turkey bacon that is simple to cook on a skillet. Adding just the right amount of protein, flavor, and texture, this crispy bacon is the star of the dish!
I've lightened up this Turketarian dish with avocado in place of parmesan cheese (rest assured the parmesan makes a great addition as a topping). Why you may ask? Avocado pairs so well with bacon, the two are the perfect combo. Plus, with the turkey bacon, this avocado just enhances the nutrient density. My kids aren't huge on avocado, and they had NO idea it was even a part of their meal….Winning!!!!
This pasta dish comes together with simple ingredients for an easy weeknight meal. No worrying about what's for dinner tonight, you may already have some of these ingredients on hand:
I mentioned above that this dinner can come together in 20 minutes, but with a few tips and perfect timing, you can have this on the table in about 15 minutes! While your turkey bacon is sizzling in the skillet, boil your pasta (I used angel hair which only takes 4-5 minutes). At the same time, you can blend together the pesto in your food processor. Fresh basil, avocado, a little lemon to preserve the avocado, garlic, optional pumpkin seeds, olive oil, and salt. You may want to add in some water to get the perfect consistency. Blend for a few minutes until the basil is well incorporated and the pesto is smooth.
Chop up your turkey bacon, and fresh cherry or grape tomatoes. You'll toss all ingredients together.
Serve immediately and top with some parmesan, and salt to taste.
I can't wait for you to try this simple summer weeknight dinner!
This is a sponsored conversation written by me on behalf of Butterball. The opinions and text are all mine.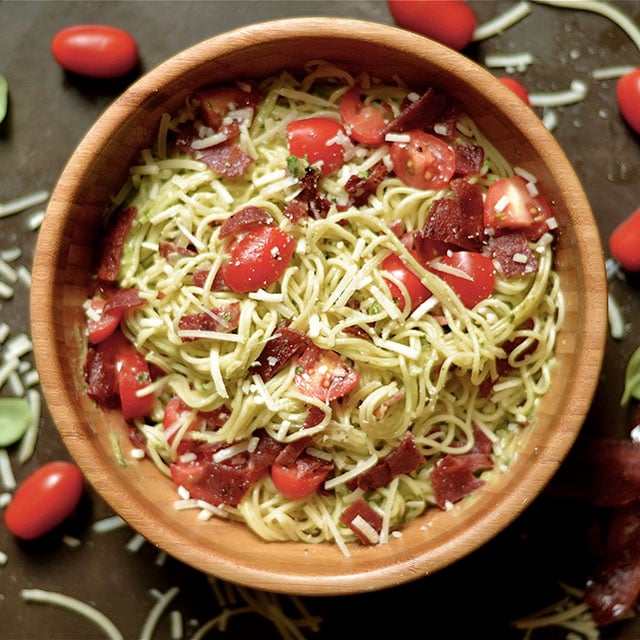 INGREDIENTS
12 slices Butterball Turkey Bacon
16 oz angel hair pasta
1 cup fresh basil leaves, roughly chopped
1 avocado, skin and seed removed
3 cloves garlic, minced
1/4 cup olive oil
Juice of 1 lemon
3 tbsp pumpkin seeds (optional)
1/4 cup water (plus more if needed)
1 tsp sea salt (plus more to taste)
1 cup cherry or grape tomatoes
1/4 cup grated parmesan cheese
DIRECTIONS
Begin by placing bacon in one layer on a large skillet, unheated. Cook on medium heat 4-9 minutes, turning several times.
While bacon is cooking, boil a large pot of water and cook your pasta according to package directions.
Meanwhile, make the pesto. Toss basil, avocado, garlic, olive oil, lemon, and pumpkin seeds (if using) in a high powered food processor or blender. While motor is running, slowly add in water and sprinkle with sea salt.
Once bacon is crispy, remove to a paper towel to cool. Chop bacon into small pieces.
Chop cherry or grape tomatoes in half or quarters.
Toss together cooked pasta, pesto, tomatoes, and bacon. Tope with parmesan cheese and more salt if needed. Serve warm.
Servings: 6 servings