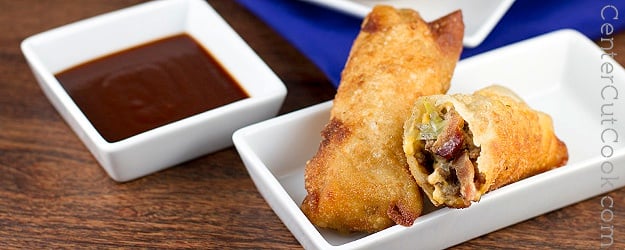 I'm a play-by-the-rules kind of girl, so when I realized that there are no rules that state that an egg roll must be a Chinese Egg Roll, I decided that it was perfectly acceptable to make an American Egg Roll. And what food describes America more perfectly than the cheeseburger?
I'd like you to meet the Bacon Cheeseburger Egg Roll, the American version of the Chinese Classic! This egg roll includes all of the typical things you might find on a cheeseburger, and everything is better with bacon, so I threw that in as well! One of my favorite flavor combinations is bacon with smoky BBQ sauce, so it took no pondering on my part to figure out the perfect dipping sauce for these bacon cheeseburger egg rolls!
The process is simple, you start by cooking ground beef, and adding in some seasonings. Then, shredded lettuce gets stirred in after the meat comes off the heat. A piece of cheese is placed on an egg roll wrapper, then it gets topped with a conservative amount of filling (for good reason, you don't want over-stuffed egg rolls!). Finally, you carefully roll it up and fry each egg roll in a wok or skillet for a few minutes until it's crispy and brown. Simply serve each egg roll with bbq sauce, or any other of your favorite burger toppings and enjoy!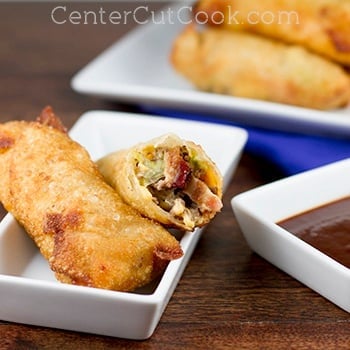 INGREDIENTS
1 pound ground beef
1/2 cup pickle relish
1 heaping cup full of shredded lettuce
1/2 teaspoon garlic powder
1/4 teaspoon salt
1/4 teaspoon black pepper
1/2 teaspoon onion powder
15 egg roll wrappers
15 slices american cheese
6 slices bacon cooked and crumbled
Water
BBQ Sauce for dipping
Sesame seeds, 1 egg and 2 tablespoons water (optional)
Vegetable oil or canola oil for frying
DIRECTIONS
In a large skillet, cook ground beef until cooked through. Drain any excess fat from the meat.
In a large bowl stir together cooked meat, crumbled bacon, pickle relish, shredded lettuce, salt, black pepper, garlic powder, and onion powder. Set aside.
Layout your egg roll wrapper so that a point is facing you. Place a piece of american cheese towards the corner of the wrapper with a point facing you. The cheese should not hang off the edge of the wrapper.
Spoon 1/4 cup of the filling on the cheese. Then use your finger or a pastry brush to brush the edges of the wrapper with water. This will help the egg roll seal.
Begin rolling up the egg roll by folding the corner over the cheese and filling, and roll until you get towards the center. Fold in each side of the wrapper, then finish rolling. The package of egg roll wrappers I purchased also explained how to arrange the filling and roll them, so you can use that as a reference as well. *Make sure you roll each egg roll tightly so that oil does not seep in while you're frying them.
If you want to coat the egg rolls with sesame seeds (I chose not to), combine 1 egg with 2 tablespoons water. Brush the egg roll with the egg wash, and sprinkle sesame seeds on top.
In a wok or large skillet, heat a few inches of oil to about 375 degrees.
Fry 3-4 egg rolls at a time until they are brown and crispy, which only takes about a minute and a half to two minutes.
Serve with BBQ sauce and enjoy!
Recipe adapted from
Cuisine at Home April, '12