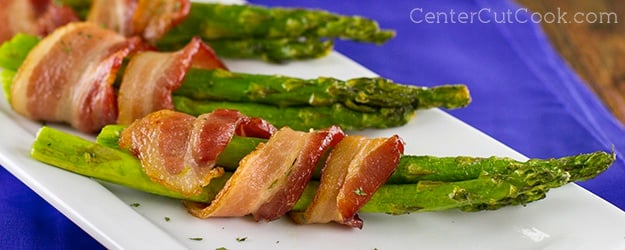 Never ever, in a million years, would I be able to keep a straight face and seriously proclaim that "I hate bacon" because the truth is, I love bacon more than any person should love ANYTHING. Okay, that's sort of an exaggeration, but it ranks pretty high up there on the list of things I love. Everything is better with bacon is a phrase that is heard quite often around this house. And everything is better WRAPPED in bacon, like asparagus!
When I was trying to put my Thanksgiving meal together, I realized I should probably find a way to incorporate bacon into it. And what better way to use bacon than in a veggie dish! Ha! We wouldn't want vegetables to be too healthy now, would we? The key to this recipe is to pre-cook the bacon a bit so that it ends up crisping up. Mushy bacon is no bueno, so you'll definitely not want to skip this step. To pre-cook the bacon, I just placed it in the oven for about 10 minutes before wrapping it around the asparagus.
Another huge benefit about this recipe? It looks awesome! It's a great recipe to use when you're going to be entertaining, such as Thanksgiving because it just looks cool!While it's a little tedious to try and wrap asparagus with bacon, I think you'll be happy with the end-result. You'll need about 3 asparagus spears, per bundle, along with one piece of bacon. I simply drizzled the asparagus with some olive oil, salt and pepper, and called it good.
Note: The woody, hard ends of asparagus need to get trimmed off. To do this, hold the asparagus with both hands and bend it until it snaps. Wherever it snaps is where the woody part ends and the good part begins. Typically it's about an inch or so. Once you do this with one spear of asparagus, trim the other spears to the same length. Hopefully this makes sense.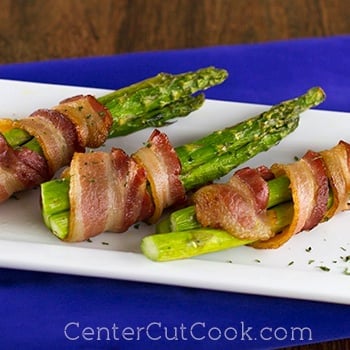 INGREDIENTS
3 spears of asparagus, per bundle (washed and trimmed)
1 piece of bacon, per bundle
Olive oil, salt and pepper
DIRECTIONS
Line a rimmed baking sheet with foil. Arrange bacon pieces in a single layer and place in a COLD oven. Turn the oven on to 400 degrees and cook the bacon for anywhere between 8-12 minutes, depending on the thickness of your bacon. Remove the bacon from the oven and allow it to cool for a few minutes.
Plan for 3 pieces of asparagus and one piece of bacon per bundle. Drizzle asparagus with olive oil, salt, and pepper. Just eyeball it.
When bacon is comfortable to touch, wrap bacon around three pieces of asparagus, making sure that it doesn't overlap. Use toothpicks to secure, if needed.
Place an oven safe wire rack over a rimmed baking sheet and arrange the asparagus bundles on it. This will prevent the excess bacon grease from absorbing into the asparagus.
Bake for 10-12 minutes, or until bacon is crisp and asparagus is tender.
Recipe from
CenterCutCook