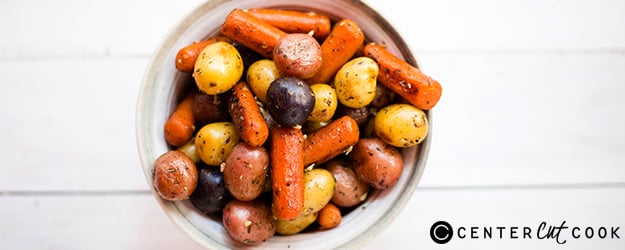 These Garlic Roasted Potatoes and Carrots are so easy and delicious – just pop them in the oven to roast and you're set!
I've been working on a garlic roasted potato and carrot dinner side for a while now and am happy to have finally created the winning recipe. The problem, I've found, with so many roasted potato sides is that the potatoes tend to dry out too much before cooking through or aren't flavorful enough. Neither of which is what you want.
To combat this, I chose to use a roasted potato medley with baby potatoes (aww, so cute, right?) so they have less of a chance of drying out. I also use baby carrots, rather than sliced, larger carrots because it just felt right to keep all the babies together.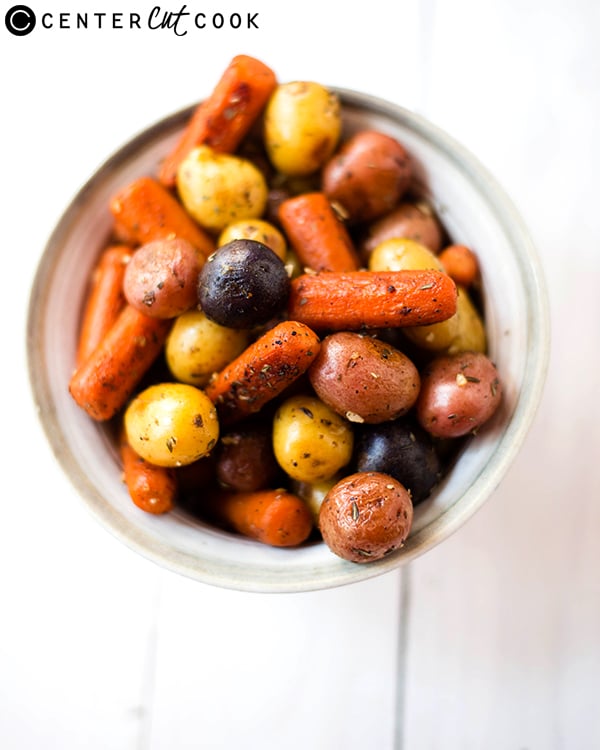 I also wanted to make sure the potatoes and carrots were well-seasoned, so I generously season with salt and pepper, and also add in the fresh garlic and minced fresh thyme. The flavor combination, after roasting in the oven, is amazing, especially considering how darn simple it is to put together.
I cook this side using an oven-safe skillet that can transfer into the oven, but you could also use a casserole dish or some other oven-safe dish – just be sure to grease it well with the oil so the vegetables don't stick to the bottom.
Also, feel free to add additional fresh herbs, like rosemary, that roast well and give off a delicious aroma and flavor.
This side goes very well with a simple steak, and can also be used next to seared lamb, chicken, or fish.
Roasted veggies are always an excellent side choice to go along with a variety of main dish entrees – two other favorite roasted veggie options include this recipe for Easy Oven Roasted Fingerling Potatoes and this recipe for Oven Roasted Baby Carrots.
INGREDIENTS
1 lb. (bag) small potato medley, whole (can substitute with baby red potatoes)
1/2 lb. baby carrots, whole
1 tbsp. olive oil
1/2 tsp. kosher salt
1/2 tsp. ground black pepper
1 clove garlic, minced
2 tsp. fresh thyme, mined
DIRECTIONS
Heat oven to 400 degrees.
In a large mixing bowl, combine the potatoes, baby carrots, olive oil, salt, pepper, garlic, and thyme.
Stir to mix well.
Pour the potato-carrot mixture into an oven-safe large skillet (or can spread out on a rimmed baking sheet lined with tin foil).
Place the skillet into the oven and roast for 25-30 minutes, stirring occasionally. The potatoes and carrots are done when they are tender when pierced with a fork.
Servings: 4